The Philippines is a perfect destination for great family holidays. You have 7107 islands to choose from, each with its own different customs and traditions, making for an extremely fun and educational experience. Prices are cheap and package deals are easy to find, so it's easier to stay at luxury resorts. Most importantly, locals are friendly and nature is breathtaking. Wherever you go, there's always plenty of adventure suited for all family members.
To make your family vacation here in the Philippines even better, let us plan your entire itinerary. We'll be delighted to share our expert opinion and recommendations so you can take advantage of better group deals. We also create exclusive itineraries to match your family's travel preferences and requirements. Should you need our assistance, we are also available throughout the duration of your trip.
[diving cat="Family"]
Above are the most popular pre-made holiday packages for families. They are fully customizable, so feel free to edit them if there's anything you'd like to change. We made them deliberately simple, as it makes sense to keep the amount of transfers low while travelling with kids. More complex travel plans are of course possible, and even going off the beaten path. That, however, requires careful planning. So, If you want one of our agents to help with the planning, contact us now for free advice.
Where To Go? Top Family-Friendly Destinations
There's no shortage of beautiful destinations in the Philippines. The challenge isn't really finding where to go, but picking the right ones for your family's needs and preferences. It becomes even harder with time and budget constraints in mind. Don't worry! our experienced agents are here to help you plan the perfect vacation.
We are fully aware that there are a lot of factors to consider, especially when traveling with small children. Poor planning can ruin an otherwise amazing family getaway. With our help, the entire family can focus on having fun and creating memories together. Below, you can find the most recommended locations for families, or you can visit our destinations page and find more.
Manila – Something For Everyone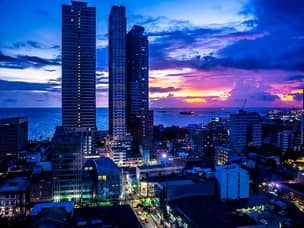 If there's a place perfect for kids of all ages, it's Manila. The capital has everything a family would ever need. Child-friendly hotels offer playgrounds, swimming pools, and other facilities that cater to kids. In case the kids (both young and older) get bored in the hotel, there are numerous amusement parks, zoos, botanical gardens and museums perfect for having fun and learning at the same time.
Many places offer family discounts and are also perfect for parents – Manila Ocean Park, Star City, Enchanted Kingdom, Park Avilon Zoo, DreamPlay, Kidzania, The Mind Museum, 3D Art Museum, Flying trapeze, Manila zoo, and trampoline parks. If the kids still have a lot of energy to spare, the old walled city of Intramuros would be perfect for them to pass the time while learning a bit of Manila's history.
Furthermore, Manila is also the shopping capital of the country. Here, you can find 3 out of the 10 biggest shopping malls in the world. Options are endless and prices are low. Parents can easily find different brands of kiddie nappies, lotion, shampoo, creams, baby foods, baby powder and other kiddie stuff they might need. Malls also offer a large variety of restaurants to choose from, and most are familiar Western brands. If your kid is picky with food, then it's a great solution.
People usually spend only a few nights in the city, before heading to the islands. However, it's also possible to explore the area around Manila first. There are many family friendly sites just a few hours away. For example, Subic bay offers fancy hotels overlooking a stunning bay, and many attractions for kids such as a large safari and the Ocean Park where you can swim with dolphins. For more information simply contact us, or check our guide to Manila.
Boracay – Beach Paradise For Kids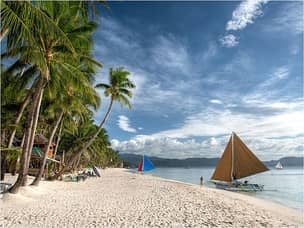 Boracay may not appeal so much to couples who prefer a quiet respite, but the island is great for couples with kids since there's nonstop action to keep the whole family busy. Being the country's most popular tourist destination, exposing the kids to different nationalities can help them learn and accept different cultures.
Families will not run out of things to do in Boracay. The younger kids can play in the sand and build castles. They can swim in the clear blue sea or snorkel. Parents can also hire a boat for the entire family and do island hopping. If the kids are old enough (ages 12-16 and older) and are into sports and water activities, there are banana boat rides, para-sailing, jet-skis and kite surfing offered on the island.
Restaurants are also abundant with a lot of international cuisines suited for every family. At night, watching the fire dancers and local bands can be fun for the whole family. You can also arrange a bonfire with the hotel and have fun with the children while camping under the stars.
Since Boracay is only a small island, we recommend that you combine it with other nearby islands so you'll be able to see and experience more. If your holiday is limited to a few days, our Boracay packages are enough but if you have more time to spare, we suggest that you incorporate Boracay into a larger travel plan. Nearby islands like Cebu and Bohol would also be perfect for the entire family.
Palawan – Center for Nature Trips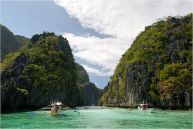 The capital city of Palawan, Puerto Princesa, is ideal for families. Some of the things you shouldn't miss in the city are: the butterfly garden, crocodile farm, Mitra's ranch, the mangrove forest of Sabang, Ecological tribal village and Irawan Eco Park. These are all great ways to introduce kids to local nature and animals in a laidback setting.
Fun activities that will most definitely bring out the child in you include: Honda Bay Island hopping, watching the dolphins, firefly watching, Sabang Zip Line, and of course, the world-famous Subterranean River and Underground River National Park. Outside the city, families can also ride a bicycle and explore Port Barton.
If you aren't short on budget, Miniloc Island resort or similar private island resorts in El Nido are highly recommended. The trip will be long but the resort staff will ensure your comfort throughout. Once there, your enjoyment and relaxation is guaranteed with the best amenities and facilities imaginable. The views are stunning, and even kids who love the city will fall in love with the place. Having a full board stay as offered by our all inclusive packages, means you don't have to worry about a thing.
Palawan is one of the biggest islands in the country and so it's typically a standalone package. If you wish to explore Palawan, one week will not be enough to visit the 3 main touristic municipalities: Puerto Princesa, Coron and El Nido. Traveling between these locations is quite long, and can be nerve wrecking with small kids. In that case, we think it might be better to fly from Puerto Princesa directly to Coron and El Nido, instead of taking a long bus or ferry ride. Just make sure you book these flights in advance, especially during the high season.
Where To Stay? Find Child Friendly Accommodation
There's no problem finding child-friendly hotels or resorts in the Philippines. Whatever destination you choose, we can always help you find accommodation most suited for your needs. However, it is important to note that in some places options are limited. All hotels will have a swimming pool, but not necessarily anything else for families staying there. Also, When you venture into more remote areas, there won't be any shopping malls or many restaurants to choose from.
Parents who need help with nanny care or babysitting, can find hotels that provide these services only in popular tourists spots. Some hotels even offer free buffet meals for kids. Entertainment rooms are also available in most luxury hotels. These are perfect for teenagers with game consoles, billiard tables, karaoke, Free Wi-Fi, tennis fields and fish ponds.
Keep in mind though, that these type of services are only available at a few selected hotels. Such all inclusive resorts are typically found at the most popular islands only. That doesn't necessarily mean you have to limit yourself – there are family oriented mid-range and budget accommodation in almost every island. Pick the destinations you wish to visit, let us know what your budget is, and we'll find the best hotels for your holiday.
To get the best deals from hotels, we advise that you book in advance so you can choose family rooms at affordable prices. Booking in advance guarantees better deals. Another way to save on hotels is by joining a group, or booking a group package if your family is big enough. These packages also include day tours and activities outside the resort, so everything combined will be much cheaper.
What To Do? Attractions and Activities For Families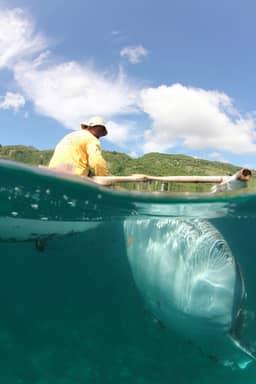 There are literally hundreds of things to do in the Philippines for the entire family. Depending on your travel plans and how much time and money your'e willing to spend, there is a wide array of fun activities your whole family can enjoy. From sunrise till sunset there will always be something to do.
Diving: The Philippine waters are rich in marine life and colorful corals. Malapascua and Moalboal in Cebu Island are two of the most popular spots for diving. Anilao in Batangas is also one of the best dive sites in the world and Coron in Palawan is famous for sunken war ships. Minimum age for open water diving is 10 years but some dive resorts in the country do not accept children below 12. Younger kids could always try out snorkeling as part of island hopping tours instead.
Swimming with whale sharks: Even kids as young as 7 years can swim with the gentle giants provided they are accompanied by adults. It's easily one of the best family adventures so don't miss on this one. The best spots for whale shark diving are Donsol or Oslob.
Island hopping: One of the most rewarding experiences in the country as a family is to go on island-hopping tours. Every island is unique and there's always something new to see and discover. It's also possible to camp on one of the islands and spend the night there. Ideal places for island hopping are: The Hundred Islands in Pangasinan, Palawan and Bohol.
Caving and Spelunking: There are hundreds of caves in the country but the most popular is the underground river in Puerto Princesa. The whole family can enjoy a boat ride inside the cave and explore the wildlife inside the national reserve. For older kids who are more adventurous, the caves in Sagada are best for a difficult but more rewarding spelunking adventure.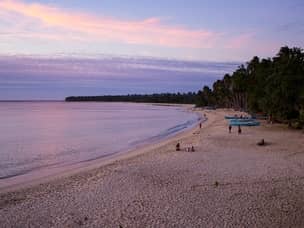 Hiking: The rugged landscape of the country is suitable for families even with younger kids. Mount Pinatubo is the best place for hiking with children aged 10 years or less. The trail is very easy and the views are spectacular. Trekking only takes 20 minutes from the jump-off point to the crater. More advanced hikes are available all throughout the country – offering stunning scenery and views. Check our hiking packages for a full overview of locations and offers available.
Beach-bumming: Any family vacation to the Philippines will never be complete without going to the beach. Boracay and El Nido are a must include in most vacations, as they are both among the best beaches in the world. If you are on a tighter budget, Puerto Galera or Pagudpud in Ilocos Norte will be a cheaper but equally beautiful alternative.
Travel Planning and Safety
The Philippines is generally a safe and easy country to visit but it's important to plan ahead. You'd want to avoid unnecessary delays and inconveniences especially when traveling with kids. Before arriving, make sure the kids have all their vaccinations and check with your physician if any special treatment is needed. Malaria is only present in south Palawan, far away from touristic locations.
Prepare all the necessary documents including their passports and booking tickets. We can help you make sure all paperwork is sorted quickly, and even handle your visa request and extensions. Do not forget insect repellents and important medications as well as some of them might not be available in the Philippines. Lastly, it will help tremendously when you seek out help from travel experts like us. Our goal is to provide a safety net for our clients in case something goes wrong, so planning with us will save you a lot of time and effort.
Why Choose The Philippines For Your Family Vacation?
Filipinos are naturally friendly to kids. Accompanied kids are welcome to every restaurant, cafes, and all types of hotels. Weather in the country is also fantastic. In terms of tourism, the Philippines lags behind its neighbors but it's this very fact that also gives the Philippines an advantage. Not only is it beautiful but its tourist spots are less crowded compared to other Asian nations.
Filipinos speak better English than anywhere else in the region, so communication isn't a problem anywhere you go. Foreign kids of younger age can easily converse and play with local kids of the same age. Foods in the Philippines are typically sweet so it appeals to children of all ages, although some parents might find it a bit problematic.
In any case, the Filipino cuisine is generally known to have mild tastes – so it's easy to get used to. There are branches of every known food chain practically everywhere, so that's also an option if your kids are picky with their food. Western baby brands can be easily found, so your chances of finding Zwitsal, Cerelac or Pampers are higher.
Furthermore, the country's capital is much more adventure-packed compared to Bangkok for example. Older kids and teenagers will find tons of things to do in Manila even without their parents tailing behind. The broad cultural diversity in Manila makes it more fun, more colorful and exciting for kids and kids at heart.
The Perfect Family Package – Let Us Plan Your Itinerary
Family Promo Package 2021
Customized by our experts for your specific requests. packages include:
Child friendly accommodation
Private or group tours
All transfers and logistics
VIP service throughout your trip
Limited time offer : Rates as low as 60 USD a day!
In most families, parents naturally prioritize their children. It's important that your kids have fun but sometimes it means you tend to neglect your own enjoyment. With us, everything will be smooth and there will be nothing to worry about. As parents, you deserve to have a ton of fun yourselves.
Traveling with your family doesn't have to be chaotic and stressful. From planning your family vacation to the actual tours, we guarantee we will be with you every step of the way. We'll build a flexible itinerary with you so changing your plans along the way will also be possible.
Things can be unpredictable especially when traveling with the whole family, and we understand it perfectly.
With our collective experiences, local knowledge and strong connections, we will help you create the family getaway you've been dreaming of. After all, nothing is better than looking back and remembering how beautiful the entire experience was.
8 Comments