Malapascua island is at the northernmost tip of Cebu Island, and famous for its world class marine sanctuary. Specifically, thanks to the fact you are almost 100% guaranteed to see thresher sharks. The island also has long strips of beautiful white sand beaches, restaurants and resorts, and is perfect for a calm beach vacation.
The island is highly recommended for anyone who has time to spend in Cebu, not just for divers. Due to its remote location, Malapascua isn't ideal for families with small children, but rather for couples or group of friends who want to clear their head at a beautiful beach location far from civilization.
All of our Malapascua tour packages include transfers from Cebu, accommodation of your choice and guided day tours throughout your stay. Our van can pick you up from anywhere in Cebu, not just the city. For people coming from other locations, airfare can be included in the package as well.
[diving cat="malapascua"]
It's not advisable to visit Malapascua as a day tour, since getting there takes too long. For the same reason, staying for just one night doesn't make sense either. To fully enjoy this place, a minimum of 2 nights is recommended, but 3-4 nights will make it so much better. This island is one of the best locations in the country for people who want to get away from everything and just clear their minds, so it doesn't work so well for those on a tight schedule.
Visiting Malapascua is slightly more expensive than other small islands, since there are not as many decent hotels there. Also, all our packages include diving, since that is the main attraction in Malapascua and the reason most people come there. We only work with the best hotels and dive clubs, as it is our utmost priority to ensure you are in trustworthy and professional hands.

Where to Stay? Our Top Rated Hotels in Malapascua For 2023
Being a small island, most resorts are located in one spot, and that's Bounty Beach. Bounty beach is one of the best beaches in Malapascua, and you will find many bars, restaurants, resorts and dive clubs there.
It's very nice to stay at Bounty Beach, and there different options for any budget. However, if you wish to stay away from the action we'll help you find the quiet accommodation you seek. Below you can see our top 4 picks for accommodation in Malapascua, but if none of them seem like a good fit, you can always just contact us for assistance.
Malapascua Travel Essentials:
Location : 6.8km north of Cebu Island.
Flights : Fly to Mactan Cebu Airport, then take a bus+ferry from there. Private transfers can also be arranged upon request.
Ferry : The ferry to Malapascua Island takes off from Maya Port, Cebu island.
Getting around : The island is very small, and there are no taxis/jeeps/tricycles. Renting a bike, habal-habal, or walking are your only options.
Best time to visit : Malapsacua has good weather all year round, so anytime will do. Summer (June – September) is hot and wet, but rain usually falls in the late afternoon and evening. Winter (October – January) can bring some heavy rains, but it's the perfect season for diving.
Attractions : Scuba diving, island hopping, beach bumming and relaxing.
Extra tips : Bring cash with you as there are no ATMs on Malapascua Island. Booking in advance over the high season is a must as places tend to be overbooked.
How To Get To Malapascua Island?
The way to get here goes through Cebu City. There are many daily flights to Cebu from Manila as well as many other islands in the Philippines, and even some international flights as well.
From Cebu airport take a taxi to Northern Bus Terminal. From there you'll need to take the Ceres Company bus heading to Maya. The trip to Maya takes around 3-4 hours. The last stop is in Maya port, the port leading to Malapascua. From there, a public boat leaves every 30 minutes or so (when full). Alternatively, you can book a private boat to take you across. When booking with us we can schedule an airport pickup and private boat combination. This will cost a bit more, but will be the easiest and most convenient way to get to the island. While getting there on your own isn't overly complicated, for less than 50$ per person you can enjoy a private transfer, and allow us to take care of everything – leaving you with a worry-free vacation.
What to do in Malapsacua?
Most of the tourists that come here do it for the diving. Malapascua has a rich marine sanctuary, and is one of the few places in the world you are almost guaranteed to see thresher sharks all year long.
If you are not into diving then this stunning island near Cebu still offers a serene atmosphere – a very good combination between comfort and placidity.
Dive with sharks at Monad Shoal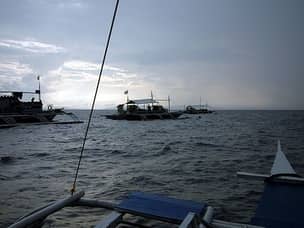 As said above, this is one of the few places that you can see thresher sharks all year around. Moreover, during the colder months you have a great chance to see manta rays, and other sharks like hammerheads and white tips. Winter makes the best time to dive in Malapascua if you are into big fish diving.
Spring is the high season, and the waters are rich with all sorts of animals like ringed octopus, manta rays, devil rays, mating squids, cuttlefish and so much more. Summer (June – September) is considered the wet season (though rain usually hits in the late afternoons or nights), and water are warmer. The sea life is plentiful, and offer good diving allover. Because it's low season the island gets quieter and the prices tend to drop.
Keep in mind that in order to do some of the dives here you must have an advanced open waters (or its equivalent), as you need to dive deeper than 18 meters. But there is no need to worry, check out our Malapascua diving catalog and see what kind of training appeals to you. Our experts can easily organize your stay and certification in Malapascua.
Malapascua island hopping tours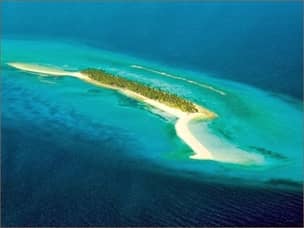 Island hopping is a great way to spend your days here. You can snorkel, chill on the beach, and visit hidden spots on Malapascua Island and its surrounding smaller islands.
Dakit-dakit Islet is rocky, and going on top is not an option, but it makes an excellent place for snorkeling, especially during the warmer seasons. Coral Garden is a magical place, rich with fish and corals. It's primarily a diving site but also has parts which aren't so deep, and easier to explore.
Another underwater spot is a sunken Japanese wreck in front of the island's lighthouse. The small boat was sunk during WW2, and what you can see nowadays is the remains of its starboard. Lapus Lapus Island is a gorgeous place, with cliffs covered in green. There's even a 50 ft. cliff to jump off from if you feel brave enough.
Another island accessible from Malapascua is Kalanggaman Island, but it'll require a day trip on its own. Kalanggman became famous on 2013 when a cruise ship stopped and let its passengers enjoy the island. It's actually part of Leyte, and the trip from Malapascua takes 1.5-2 hours. Once you get there you'll discover one of the most beautiful islands you've seen. It has some palm trees where you can enjoy the shade under, and a very long white sandbar – a couple hundred meters long of soft white sand. There are no amenities on the island so you'll have lunch made by your crew members.
Relax on the white beaches of the island
If you just want to relax on the beach Malapascua is a very good place to do so. The main beach here is called Bounty Beach, which is long and white. It has many restaurants and bars around it, as well as hammock hanging around for you to lie down on and relax. Motorized vehicles are not allowed near the beach so despite its popularity it's still very calm ad quiet.
There are beaches more secluded than Bounty Beach that will make a great trip. You can either go by foot to the ones close to your resort, or take a motorbike ride. If you are going on an island hopping tour, the boat will stop in some of these beaches. It's a great opportunity to visit the more remote beaches of Malapascua. Notable mentions are Guinbitayan Beach near the island's lighthouse, Logon beach, and Langob Beach. Your time in each one will be remarkably pleasant, so be sure not to overlook the island's beaches while your'e here.
How does Malapascua fit into your travel plan?
Promo Malapascua Package Deal
Customized by our experts for your specific requests. packages include:
Beachfront resort of your choice
Private tours and 1 group diving session
All transfers and logistics
VIP service throughout your trip
Limited time offer : Rates as low as 150 USD a day per person!
Malapascua can be an overnight destination if you are focused on what you want to see and do, but in order to really enjoy what is has to offer, it's advised to stay here for a couple of nights. You could book the package by itself, or include it in a larger itinerary for Cebu island.
Since Getting to Malapascua takes quite some time, you should allocate at least 3 to 4 days if you plan to visit this island. For that reason, it mostly suites either hardcore divers or people who come to the Philippines for a longer time.
If you're traveling around Cebu Island, and into diving or a quiet beach vacation, this is a great spot for you. It's easily accessible from Cebu City, and if you're flying directly into the city you should take it under consideration.
You could also consider discussing a full diving package across the Philippines with our experts, and we'll make sure Malapascua is included.
8 Comments