With an average of 120,000 visitors a year, Oslob has become a prime tourist spot in Cebu thanks to the guaranteed whale shark sightings all year round. What most people aren't aware of is that there is a growing number of alarming incidents concerning the whale sharks and the harmful effects of feeding them.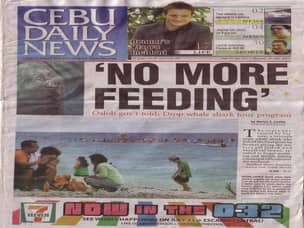 After much consideration, we will no longer promote the oslob whale sharks tour. It doesn't fall in line with our business philosophy of promoting only safe and responsible tourism in the Philippines. We apologize for the inconvenience, but encourage you to read through this page and understand our reasons.
While the local government tries to promote an educational experience of watching whale sharks and environmental awareness, they fail to emphasize on any prudent moves to protect the sharks from the repercussions of feeding. This leaves the tourists insufficiently informed which ultimately results in different infractions committed against the whale sharks.
For this reason, we must inform our clients about responsible tourism and environmental safety. This article is written to enlighten tourists about the reality of what's happening in Oslob, and to help them make an informed decision before embarking on their journey. We also offer other wonderful alternatives like going to Donsol, Sorsogon for more responsible whale shark encounters. There are also other places we offer where tourists can see wild animals in their natural habitat without damaging the eco-system.
We would also like to extend our gratitude To Rudy, owner of the Dolphin House Resort in Moalboal. Rudy has been living in the Philippines for many years now, and is one of the leading advocates against the Oslob whale shark tours. Apart from opening our eyes to the severity of the issue, we would also like to thank him for providing the images and links to scientific researches used on this page. Moalboal is a perfect place for diving in a well preserved marine ecosystem, and there's no better place to do so than the Dolphin House resort. The house reef has the widest selection of marine species ever to be scientifically surveyed, and it's the only resort in the country with an in-house marine biologist, who escorts you on dives and gives out free seminars to guests.
Top 5 Reasons Why Oslob Whale Sharks Tour Should Be Avoided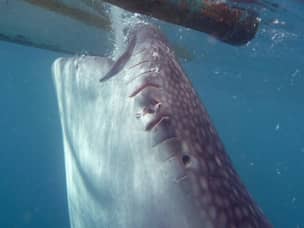 After much consideration, we have decided we will not be sending any tourists to the Oslob whale shark watching tour. Until the experience is regulated, we can not in good conscience be a part of this harmful practice. If you really want to go, we respect that. After all, this is the best chance you'd have at being up close with these beautiful creatures. We will give you all the necessary advice and support so you could organize and book the tour yourself.
If you're adamant on visiting Oslob, we simply ask you first read the article below. We just want to make sure you know exactly what's involved with this tour package. We do not judge, but it's important to us that our guests make a well informed decision. Philippinestravelpackage.com supports responsible tourism wholeheartedly, and we only promote tours which support the local culture and ecological system. For more about Eco tourism in the Philippines, please read our Eco tourism article.
1. Feeding the whale sharks disrupts their migration patterns
Whale sharks, just like other fish species are highly-migratory. They normally swim great distances in search of food following the seasonal patterns of plankton aggregation. They typically migrate across countries and continents. In Oslob, whale sharks stay longer than they should because they are being fed by fishermen for tourism purposes. One particular whale shark named Mr. Bean (each whale shark surveyed is tagged by marine biologists for studies) actually stayed for 392 days!
This activity clearly disrupts the migration pattern of the fish that is already an endangered species to begin with. The breeding cycle is affected negatively because the sharks do not migrate and so they don't fulfill their biological purpose. When the breeding cycle is interrupted, it follows that the reproduction and survival of the species will greatly be in danger.
2. Change in their Feeding Behavior and Injuries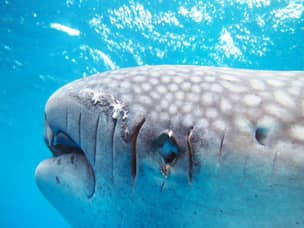 When whale sharks naturally feed in the wild, they glide in the waters with their huge mouth open and suck in large amounts of water to filter planktons with their gills. Scientists and marine biologists say such natural feeding behavior is almost non-existent in the whale sharks in Oslob. Instead, they exhibit a vertical feeding position, passive feeding and surface feeding behaviors which are quite unnatural.
The most dangerous aspect of feeding practices in Oslob is that the whale sharks have learned to associate food with boats and so they immediately approach boats and beg for food, which puts them in great danger especially outside the feeding zone. The whales are unable to differentiate between a feeder boat (in the interaction area), and a motorized boat outside the activity zone. They have grown so accustomed to the boats that they are not afraid anymore regardless if the boats are motorized or paddled.
Researchers have observed that whale sharks in Oslob approach and bump motorized boats outside the interaction area in their search for their usual provisioned food. As a result, they often obtain a series of wounds and injuries caused by the propellers as evident in their scars.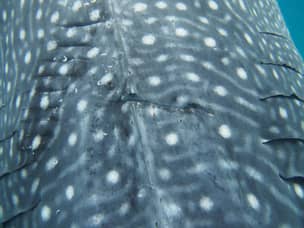 One particular whale shark named Fermin obtained multiple propeller cuts in his face and eye. As a result, Fermin did not go to the interaction zone for a few days because surface feeding and contact with the boat is painful. Though the injury has healed, it has permanently damaged his eye. Constant friction from rubbing their mouth against the side of the feeder boat also damages the shark's skin. The white scars found around their mouths and dorsal fins are evidence to such injuries.
3. Whale sharks' food in Oslob has poor nutritional content
Whale sharks are the largest fish species in the world and they can grow up to a length of 12 meters. Because of their massive size, they are also heavy eaters. They feed for an average of 7.5 hours a day and consume up to 44 kilos of plankton depending on their size. Whale sharks feed mainly on zooplanktons, sergestid shrimps, arrow worms and fish larvae. Contrary to their natural feeding habit, whale sharks in Oslob are fed only with sergestid shrimp and sometimes, according to reports, they are not fed when there are no tourists.
According to experts, whale sharks consume only 30-50% of the food. Due to the inefficient nature of feeding from a boat, these sharks don't receive sufficient amount of nutrition in contrast to when they are naturally feeding in the wild. Their diet is mainly sergestid shrimps and thus they miss out on a lot of nutrients available to them in the wild when they feed in naturally high-plankton environment.
As the price of sergestid shrimp in Oslob rise, more fishermen tend to buy from different places far from Oslob. This affects the quality of the food as well because the shrimps are often frozen and stored a few days before they are served to the sharks. As a result, the sharks often refuse the food leaving them in a hungry and even more malnutrition state.
4. Tourists in Oslob are not educated on proper etiquette in the wild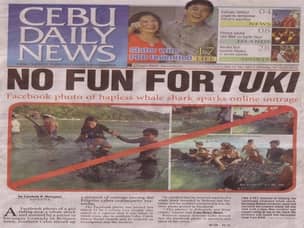 Republic Act 9147 (an Act for the conservation and protection of wildlife resources and habitats in the Philippines) determines it is illegal to hunt, sell or harass whale sharks. Unfortunately, this policy is often unimplemented in Oslob. Educational value in the whale shark encounter in Oslob is non-existent. The tour organizers provide no information about the animals and their protection policies are not sufficiently emphasized. They inform the tourists about penalties but they do not implement them. Compliance to no touch policy and diving regulations are always overlooked.
According to the survey by LAMAVE (Large Marine Vertebrates Project Philippines) 89% of the physical contact with the whale sharks were by the feeders themselves. LAMAVE recorded 1823 active touches throughout the duration of their surveys with a total of 3849 cumulative minutes. This means that every hour the whale sharks are physically touched 29 times. All in all, LAMAVE's report found that rules and guidelines regarding responsible whale shark sighting were being broken a whooping 97% of the time. Whenever an infraction occurs, there is no one to oversee the whole thing and no one to impose penalties.
5. The Tour is Extremely Over Populated and Chaotic
You would think that with so many years of experience operating this tour, the locals would have learned by now how to make it all go seamlessly. However, that is simply not the case. Even if you couldn't care less about the environmental implications of supporting the whale shark feeding, you should be expect this tour being a far from pleasant experience.
First of all, you'll need to be there before 8AM, which means leaving Cebu at around 5 in the morning. Otherwise, you risk the lines being too long, packed with both local and foreign tourists. Even worse, chances of actually seeing one of the whales decrease as the day progresses. So if you arrive late, or the tour operator delays for whatever reason, there's a good chance you have come there for nothing.
Even if you make it on time and manage to actually see the sharks, you'll be in a small bay full of other boats and hundreds of tourists. It is noisy, chaotic and the waters are full of sunscreen and motor oil. These by themselves have a very negative impact on local environment, but they also make the tourism experience extremely unpleasant.
More Information About Oslob
Historical hunting data shows that Oslob has been an important habitat for whale sharks since the 1980s. This means that even before that, the whale sharks have already been migrating to the waters around Cebu and Bohol. During the 1980s, commercial hunting became a major problem as the demand for shark fins and whale shark meat increased. This led to the creation of Fisheries Administrative Order 193 – a law that protects these gentle creatures.
What was once a simple strategy for fishermen to catch more fish led to the tourism boom in this small fishing village in the South of Cebu island. Whale Sharks in Oslob started to feed off the bait intended for catching fish resulting in the interruption of local fishing practices. Fishermen would then lure the sharks away from their fishing ground by giving them "Uyap", a local shrimp species traditionally caught at night and used as bait for fishing. When tourists around the area saw what happened, they documented it and words spread like wild fire, giving birth to the Oslob whale encounter. People started visiting Oslob and paying the fishermen just to have a glimpse of the gentle giants.
Physalus and Studies Conducted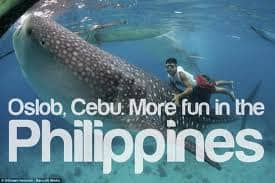 Physalus is an Italian NGO dedicated to protecting marine wildlife. They do not support the feeding of large marine animals especially the likes of whale sharks as they are highly migratory. They promote environmental education through research and collaboration with local communities.
Physalus created LAMAVE whose aim is to assess the current situation of marine mammals and whale sharks, raise environmental awareness, and restore and develop marine wildlife. The team also conducted several surveys to evaluate the effects of the provisioning on the behavior of the whale sharks and consequently develop a viable alternative for the local community.
The surveys, research and studies initiated by Physalus with the collaborative efforts of local NGO's and research volunteers are significant. Their findings have contributed greatly in the evaluation of the current situation concerning the tourism practices and the impact of human activities on the behavior of the whale sharks and other marine species. The research and surveys were conducted with the purpose of educating both the tourists and the local government units on how to improve their tourism practices to ensure the protection of the whale sharks.
At this juncture, we believe that this article will better inform the public and educate them on the proper environmental conservation. We don't aspire to stop tourism in Oslob altogether. Instead, this article serves as an eye-opener for tourists who want to go to Oslob and for the local government to improve on their tourism practices. That said, as the situation stands at the moment, we recommend you strongly consider going somewhere else instead.
Eco Friendly Alternatives To The Oslob Whale Shark Tour
Whale Sharks in the Wild in Donsol, Sorsogon
There is no better alternative to Oslob than seeing the whale sharks in the wild. It is so exhilarating when you see them swimming and feeding in their natural environment. Whale sharks are majestic creatures and it is disheartening to see them beg for food. They are supposed to follow their own will and their own biological map while fulfilling their biological purpose. They shouldn't be tied in one place and be forced to show a spectacle for food.
Fortunately, whale sharks are not only found in Oslob. They have been sighted in many areas in the Philippines as they pass by our coastlines while on their migration. One of the best places to see them in the wild is in Donsol, Sorsogon. Here, whale sharks can be seen from December to May as part of their migration process. The best time for sightings is between February and April. It has to be mentioned though, that due to the feeding at Oslob, whale sharks sightings everywhere else has decreased dramatically.
What's good about the tourism practices in Donsol is that the local government is strict and vigilant. They educate the tourists properly and they impose the rules strictly. Protecting the whale sharks is their priority. Here, a strict no feeding policy is imposed and violators will be apprehended and penalized. They also limit the number of boats and the number of tourists to ensure that they can properly monitor each and every one.
You can also combine Donsol whale shark encounter with other tourist spots in the region. One spot you shouldn't miss is the Mayon Volcano – the volcano with the most perfect shape in the world. Other places close-by are Calaguas and Caramoan which are both perfect to rival the beaches of Boracay.
Swim with the sea turtles in Apo Island
Apo island is off the coast of Zamboanguita – a fishing town in Negros Oriental. If you love turtles, you will fall in love with the island. Turtles of varying sizes are found everywhere. You can find turtles as big as a table! Some are even right under your nose in the shallow waters. You don't have to venture out far from the shore to see these beautiful creatures. Within 3 feet from the shore, you can already snorkel with them and watch them eat sea grass.
Apo is a marine sanctuary with one of the largest population of sea turtles in the world. This is place is heavily monitored to ensure the safety and well being of all animals living there. This makes Apo island one of the best diving spots in the Philippines. You can even spend the night there, but most people choose to visit it as part of a day tour.
Diving Safari in the Tubbataha Reef
One of the best diving spots in the Philippines and probably in the world is the Tubbataha Reef. It is very far from the shoreline of Palawan and thus guarantees the safety and well-being of its coral reef system. People who want to dive in Tubbataha will have to Live Aboard and travel for 10 hours from Puerto Princesa. Tubbataha is a protected marine sanctuary and here you can find large marine species like tiger sharks, big schools of barracuda, cetaceans, trevallies and turtles.
Liveabroad diving safaris to Tubbataha usually take between 5 and 7 days. This is highly recommended for anyone who is really into diving, as it's one of the best diving adventures in the world. For more details, visit our Tubbataha diving safari tour page.
Watch Thresher Shark in Malapascua
Thresher sharks are rare and they often swim in very deep waters. This is the reason why not so many divers can see them in other parts of the world. Fortunately for divers in Malapascua, thresher sharks seem to love the place and so they go there every day. If you are lucky you can also come close to giant manta rays as big as 6 meters across and of course, the migrating whale sharks also come for a visit.
So What Should You Do Now?
Responsible tourism calls for a thorough research before visiting a place. Sometimes, in our quest for a perfect selfie we tend to forget that we might be doing something damaging to nature. It is always advantageous to know beforehand the real situation of the places we visit. We should all be responsible for our environment. We need to consider all the factors concerning the environment before booking tours.
This article is for every one and hopefully it will be shared with others. If you want to help protect the whale sharks in Oslob, now is the best time to do it. It is not too late yet to change the ways in Oslob and we know this article can help make a difference. Let us all make a conscious effort to protect our wildlife because in the long run, when they are gone, we only have ourselves to blame for not doing anything when we can.