Palawan is a constant feature on every 'best islands in the world' list, usually grabbing first place. It's hardly a surprise, since this place is as close as it gets to paradise. With some of the world's most beautiful beaches, world-class private island resorts and an endless amount of activities and attractions, Palawan is the perfect vacation getaway for couples and families.
Our tour packages offer everything you need to enjoy the perfect holiday in all three major locations: El Nido, Puerto Princesa and Coron. You can edit all packages anyway you'd like, include any tour or hotel, and create your ultimate Palawan package. All tour packages include airfare, transfers, and your choice of hotels and tours.
Book our complete Palawan package to enjoy everything the island has to offer, or build your own custom package, based entirely on your interests and budget. Our premade Palawan vacation packages are built to cater to different budgets and group compositions. All you have to do is pick the one which suites you the most, and ask our experts to help customize it if needed. We'll help make sure you make the most out of your time in Palawan and enjoy a worry-free holiday.
Our Most Popular Palawan Tour Packages
Budget Package
Airfare and transfers
Accommodation
Group tours
Highest value for money, ideal for short stays
4 nights
90 USD
Inquire Now
Classic Palawan Package
Airfare and transfers
Accommodation
Day tours and attractions
Best way to experience everything Palawan has to offer
6 nights
140 USD
Inquire Now
All Inclusive Palawan
Airfare and transfers
Luxury beach resorts
Private tours
Fully tailor made vacation, highest standards guaranteed
7 nights
250 USD
Inquire Now
It doesn't matter if you're after an all inclusive vacation or looking for the cheapest package possible, we'll help you have the perfect holiday. Visiting Palawan is especially recommended for couples and families, so make sure to ask us about our honeymoon and group packages.
Almost all of our pre-made vacation packages include Palawan, as it is one of the most popular destinations in the country. So if you want to combine Palawan with other islands, that's a good place to start. Once you identify a tour package you like, we can help you customize it and turn it into the best possible holiday for you.
Continue reading this page for information about all major tourist spots in Palawan, as well as popular tours and activities. You can add anything you like to your wishlist, and let our agents build a travel plan for a complete Palawan experience.
Where to Stay? Our Top Rated Hotels in Palawan For 2023
There are small nuances between the different areas of Palawan, but generally speaking you can find a wide selection of hotels no matter where you choose to stay at. While El Nido and Puerto Princesa mostly offer luxury 5 star resorts, budget accommodation is still easy to find. Same as with Coron – although most hotels will be simple bungalows, you can still book an all inclusive beachfront resort.
Our list of hotels is deliberately short, and yet greatly diversified. The reason is that we choose to work with only the selected elite for every price range. The hotels we work with aren't more expensive, but are best suited for you and provide the most value for money. The hotels presented below are based on our expert valuation, and have all been handpicked to ensure your satisfaction. Our exclusive deals allows us to guarantee you enjoy the best deals, while still getting resorts in the best locations, close to all the nice beaches and tour operators.
Palawan travel essentials
Capital : Puerto Princesa
Flights : There are 3 different airports in Palawan: El Nido Airport, Puerto Princesa City Airport, Francisco Reyes Airport in Busuanga. There are several daily flights from Manila to Puerto Princesa and Busuanga, and 1 daily flight from Cebu to Puerto Princesa. Reaching El Nido directly is more complicated, as only boutique airline run that line namely Airswift. We work with these companies and such flights are included in the packages we offer.
Ferry : Although there are ferries from Manila, and other destinations to Palawan, it is not recommended at all to take them due to Palawan's distance from other neighboring islands and provinces. However, taking a ferry is sometimes the only way to get from one island to another. For additional information and help, contact us directly.
Getting around : The usual way tourists get around Palawan is by vans or buses. There are many vans from different companies which travel from Puerto Princesa to El Nido and back. Trips take between 5 to 6 hours. Taking a bus is slower and more comfortable, but the trip takes between 6 to 8 hours.
Best time to visit : October to May is the high season in Palawan. The north east winds bring a dry climate to this area. The south east winds bring storms and rains to this region lasting from June to September.
Nightlife : Palawan is the destination for nature lovers, and for those who seek to escape from society for a while. It is not a good destination for those who like to party. Night life in Palawan is limited to some bars and restaurants you can visit, drink in, and meet new friends. It is only common in the provincial capital Puerto Princesa.
Local festivals and holidays : Palawan is known for its people's love of festivals, and therefore there are plenty of festivals in the province. The Baragatan sa Palawan (every third week of June), is a festivity where numerous people from all of the provinces of Palawan flock to the city of Puerto Princesa to take part in the grand parade. There you can watch dancers in flashy costumes and body paint dancing on the street, celebrating the establishment of the government of Palawan. In the Kulambo festival (March 15 – March 18) El Nido town's people are parading the streets in colorful costumes, showcasing local delicacies and crafts. When booking with us we will let you know if your travel dates coincide with local festivals. This will give you a unique experience that many travelers to Palawan don't get.
How to get there?
Taking a ferry to Palawan is a complete waste of time, so the only reasonable way of reaching the island is by air. There are 3 gateways – El Nido Airport, Puerto Princesa City Airport, and Francisco Reyes Airport in Busuanga.
There are several daily flights from Manila to Puerto Princesa and Busuanga. There is also a flight from Cebu city to Puerto Princesa and both flights take 1 hour and 15 minutes. Only Airswift fly to El Nido from Manila daily. This aircraft is smaller than most commercial airlines and can only accommodate 50 passengers. The flight takes 55 minutes and the ticket is very pricey.
Up until now there were no flights connecting El Nido to Puerto Princesa. Land transport was the only way if you are on a budget, however there is also an option to make your transfer into private. Still, taking a flight is a great option for people on a tight itinerary, as it'll only take you 20 minutes instead of the grueling 5-6 hours van ride.
If you are coming from Boracay, there is also a flight from El Nido at least once daily. With a very limited schedule of flight, it gets sold out quickly as  a lot of tourists find it very convenient to travel to these ideal places with a direct flight instead to connect to another island and to travel the whole day.
Don't want to waste time worrying about transportation? Let us take care of everything and enjoy a worry free vacation!
What to do in Palawan?
All tour packages can be combined to create a personal itinerary for your Palawan trip. Browse through the tours featured below to get a better idea about the different things to do and see. Since Palawan is large, and there are many places to visit, we recommend spending at least a week there. Add day tours based on your preferred activities, choose how many nights to spend at each location, or just let our team plan your customized Palawan package.
To get a full taste of Palawan, it's best to visit a few different locations. The most popular destinations on the island are Puerto Princesa, El Nido and Coron. Apart from those, there are many less famous locations, also full of wonderful attractions – such as Port Barton for example. Below we present a quick overview for each area, which will help you figure out how to best plan your trip.
Average price per day :

70 USD

This price includes: Airfare, Accommodation, Tours and Living costs.

Ease of reaching : Easy

Accommodation options

: 1 to 5 stars

Best time to visit : October to May

Main attractions

:

Underground River
Honda Bay
Family resorts

Nightlife : Plenty of options

Suitable for : Romantic, Family
Average price per day :

80 USD

This price includes: Airfare, Accommodation, Day Tours and Living costs.

Ease of reaching : Moderate

Accommodation options

: 1 to 5 stars

Best time to visit : November to May

Main attractions

:

Diving
Island hopping
Private beaches

Nightlife : Only during high season

Suitable for : Romantic, Adventure
Average price per day :

60 USD

This price includes: Airfare and Transfers, Accommodation, Day Tours and Living costs.

Ease of reaching : Moderate

Accommodation options

: 1 to 5 stars

Best time to visit : October to May

Main attractions

:

Diving
Island hopping
Hiking and nature

Nightlife : Non existent

Suitable for : Romantic, Adventure
These three destinations are all among the best in the Philippines. The average price is about the same. El Nido and Coron are superior to Puerto Princesa when it comes to island hopping, diving and snorkeling. Puerto Princesa on the other hand is much more tourist friendly – if you're traveling with children it's a better choice, and will save you all a lot of hassle.
To summarize, Puerto Princesa is most suitable for families and older people, since you can get almost the same things, but much more conveniently. El Nido is perfect for a romantic vacation, and for adventurers too. Coron is the roughest of the three, and will suit tourists who don't mind a more spartan vacation. That being said, all are wonderful and it would be a shame to choose just one. If you really have to, first read our detailed comparison between El Nido and Coron.
Puerto Princesa – The Best Destination for Families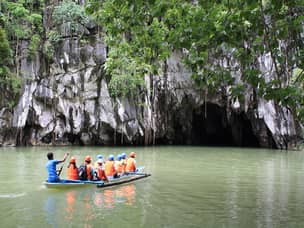 Puerto Princesa City will most likely be your starting point in Palawan, as it's the capital and center of transportation. It has the largest airport and naval port in the region. Puerto Princesa is a popular destination on it's own merit, with a number of must see attractions. The city is also the gateway to many other sites such as southern Palawan, Cuyo Islands, and the Tubbataha reef liveaboard safari.
Puerto Princesa is most renowned for the underground river national park – a UNESCO world heritage site and one of the new 7 wonders of nature. It's an 8.2 km (5 miles) long underground cave, famous for its major formations of stalactites and stalagmites. Since the underground river connects directly to the sea, it's home to an extremely large variety of plants and animals, all concentrated in a small area.
This place is perfect for families and first timers to the Philippines. Getting around is very convenient and there are a lot of child friendly attractions. You can visit the crocodile farm, butterfly garden, Mitra's ranch and more. You can even go on a firefly watching boat tour through the mangrove forests. You can check our catalog of Puerto Princesa day tours for a complete selection of all available attractions in the area.
Another great attraction is island hopping around Honda Bay. This scenic bay sprinkled with tropical islands is ideal for visiting several islands on a day tour. Lilu Island and Cowrie Island both offer world class beach experience. It's also a perfect place for snorkeling. Diving is also possible at Puerto Princesa, but we suggest going to El Nido or Coron for a better diving experience.
Two nights is the very minimum required to fully appreciate what this place has to offer, but ideally you'd want to spend 3 nights and 4 days there. Of course, longer stays are warmly encouraged – you can easily spend a whole week here if you'd like. Read our detailed Puerto Princesa guide, pick the hotels and day tours you like the most, and let us plan your entire itinerary.
El Nido – Romantic Vacation and Amazing Nature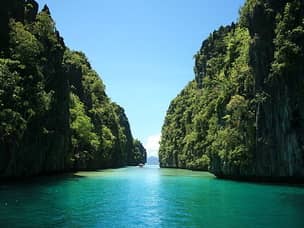 El Nido is everything you imagine when dreaming of the perfect tropical island. Untouched beauty, pristine beaches, azure waters, rich biodiversity – El Nido has it all. It's a true nature lovers' destination, both underwater and on land. The town itself is very simple, but this simplicity only enhances the divine nature around you.
Peaceful El Nido town is full of beachfront resorts, ranging from the most expensive in the country to cheap hostels and bungalows. Luxury resorts are mostly out of town on private beaches or islands. The most exclusive resorts are all inclusive and only accessible by helicopter or boat. If you wish to stay in El Nido, we advise to book in advance. Booking with us will get you the best deals and most value for money so don't hesitate to call us.
Island hopping in El Nido is a must-do activity. Miniloc Island with its three lagoons is one of the most beautiful and most popular spots. Miniloc is a private island, so the residential part of the island is limited only for resort guests. The lagoons however, are available to the public.
You can only access the secret lagoon by swimming underwater or with a kayak – but it's worth doing so for the spectacular views. Tall limestone cliffs and crystal blue waters await those who dare explore this secret paradise. El Nido is also one of the best diving spots in the Philippines so we strongly encourage trying that. If you haven't done any diving before, you can always try, and even get certified in El Nido. Not many people are lucky enough to be certified in a place where the underwater scene is as spectacular as the landscape surrounding it.
We promise to make your visit to El Nido a once in a lifetime experience, customized to your personal taste. If you're looking for diving we can arrange this for you. The beauty of nature, all inclusive resorts and private beaches make El Nido perfect for couples – so it's no wonder it's included in all of our honeymoon packages.
Most people choose to spend at least 3 nights at El Nido, since any less is really not enough. This area and the nearby islands are some of the most beautiful in the world, so you'll be wise to spend as much time here as you can. Read our El Nido review, pick the hotels and day tours you like best, and we'll build a complete package for you.
Coron – Best Dive Spots and Secluded Beaches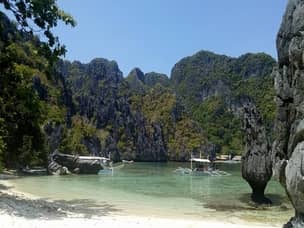 Coron is a laid back town in the undeveloped island of Busuanga. There are no luxury hotels in town, no fast food joints and no fancy restaurants either. The nearest beach is 30 minutes away on a boat ride. But don't be fooled by what you see, endless adventures await those brave enough to stay there. The luxury resorts are typically the island resorts there which take about 30 mins. boat ride from the nearest port going to their resort.
The easiest way to get to Coron is by flight from Manila, though a ferry from El Nido is also a common route. The fast craft (4-5 hours) is also an option. Most resorts are specialized dive resorts, typically in the smaller islands.
Coron is best known for its breathtaking island hopping, and for being one of the best places in the world for wreck diving (and diving in general). Even if you don't dive, snorkeling is enough since the water are just teeming with life. You can take one of the tours provided by local shops and resorts or let us build a custom made island hopping tour for you.
If diving is your top priority Coron is the best place to be. You'll find great diving sites for both novice or experienced divers. The most famous diving spots are the Japanese ship wrecks from WW2 – frozen in time underwater. Other types of diving are also available, like free diving and spearfishing – we'll be happy to introduce you to the clubs offering these activities.
Other fun activities include hiking up the stairs of Mt. Tapyas and climbing Mt. Darala (it will take 5 hours of hike to reach the summit where you can get a spectacular view of the bay); kayaking, mountain biking, motorbiking, kitesurfing and more. Just tell us about your interests and we'll do our best to incorporate them in your package.
Coron is perfect for those who seek a quieter environment, and an opportunity to admire nature. If you are into diving, you must include this place in your Palawan diving package. But in any case, consider spending at least a few nights in Coron, to experience a different side of Palawan, away from the more crowded tourists spots and beaches. Read our detailed Coron guide, book any tours and hotels you like, and we'll help you plan your whole itinerary.
Off the beaten track – Palawan's less famous attraction
We've already presented the most popular locations Palawan has to offer. Still, we are always on the look out for even more exotic and audacious activities that may interest our customers. We feel it's our obligation to allow people who choose to use our services to enjoy the most unique experience possible.
Visiting the Batak people in their village is a different experience, which can't be compared to anything else. The Batak tribe is one of the indigenous peoples of the Philippines, believed to be among its first inhabitants. This once nomadic people continue to maintain their traditions and lifestyle. From Puerto Princesa, the village is 2 hours away by bus or van. This tour will inspire the inner anthropologist in you. Being able to witness one of the world's dying traditions is an experience you will never forget.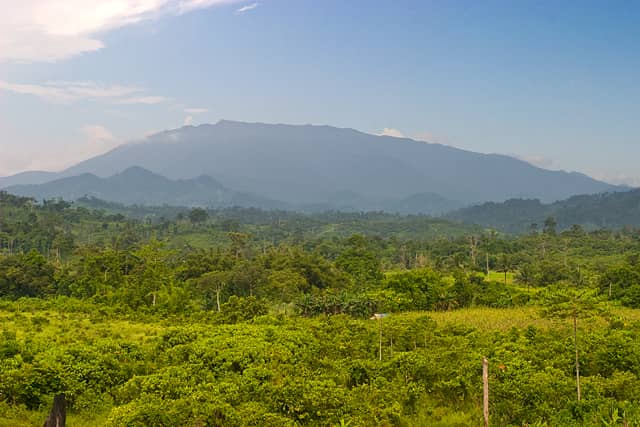 Mountain climbing is another fun activity in Palawan. Mt. Dalara (600m) in Coron, Mt. Beaufort (1124m), Mt. Bloomfield (787m) around Puerto Princesa, and Mt. Mantalingajan (2,086m), are only few of the great hikes you can do in Palawan. The whole island is full of thick tropical jungle and wild animals are everywhere. When you book with us, a local guide and camping gears are also included.
Traveling from El Nido to Coron is also an adventure in itself. You can do this journey in a most marvelous way with a bangka (a traditional Filipino boat). Instead of going straight from one destination to the other, you'll stop at many small islands along the way. You'll get as close as you could ever get to a true Robinson Crusoe experience, getting to uninhabited islands only visited by few.
For a more luxurious way to enjoy the most exotic places, we'll send you to Pamalican Island which is the Philippines' version of the Maldives. It's a perfect destination for couples on their honeymoon or just an ordinary romantic vacation. You can also stay at one of the most expensive and private resorts in the country, The Amanpulo resort. Pamilican is part of the Cuyo Island group, a remote destination reachable only by air from Puerto Princesa.
How does Palawan fit into your travel plan?
Palawan is a destination that you should not miss in your lifetime. The province is one of the largest in the country and so it can be a stand-alone travel destination. One week is not enough for you to extensively explore the beautiful island. There is so much to see and do. In such a short time we recommend limiting yourself to just 2 locations on the island. If you have more money and time to spare, then you can add other beautiful destinations to your travel package.
By using our services we believe you can truly experience Palawan to the fullest. We work hard to ensure that we always plan in accordance to your time and budget restrictions, wishes and personal taste. Just add any of the items and tours we offer to your cart. Our team of experts will review your order and make a relevant proposal regarding your itinerary before making any actual payment.
If you still feel you need more information, just contact us, and one of our experts will be happy to help you with your holiday. Palawan is an important part of most vacations in the Philippines, so we will do our best to make sure you don't miss out on anything.
7 Nights Palawan Ultimate Tour Package
Tailor made for you by our experts. Package inclusions:
7 Nights Accommodation
Daily Breakfast or full board
Domestic Flights, Ferries and Private Van Transfers
Puerto Princesa Underground River + Zipline (Day 2)
El Nido Private Island Hopping Tour A + Tour C (Days 3+4)
Coron Island Tour + Reefs and Wrecks Tour (Days 5+6)
All Fees, Permits and Taxes
Limited time offer : $850 per person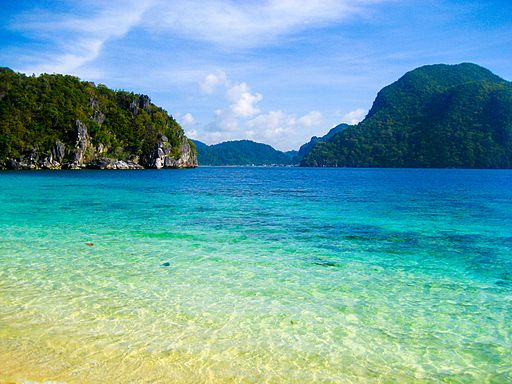 "It was worth every cent. they took care of me from the moment i stepped out from the plane."
-Jeff shulman, usa, toured with us on nov 18-27, 2017
16 Comments