The Philippines is among the best scuba diving destinations in the world. This 7,107 island country is located right at the middle of the coral triangle, and offers some of the best dives you can possibly find. Because of that, every island in the Philippines offer really amazing and unique dives.
Dives in the Philippines cater to all type of scuba divers, from novice to expert. Thanks to its corals, fauna and flora, or wreck diving, the variety the Philippines has to offer is endless. Due to the warm tropical weather, it is also possible to dive in the Philippines all year round. Whether you're new to diving or an expert diver, make the Philippines the destination for your next vacation.
Our Most Popular Diving Tour Packages
Beginner Friendly
Bohol / El Nido / Cebu / Boracay
PADI 1 star, 2 stars optional
Accommodation
3 dives per day
Coffee, lunch and snacks
Professional guides and gear
3-4 days
Professional training in fun environment, lifetime certification
Inquire Now
Diving Vacation
Bohol, Malapascua, and Palawan
3 dives per day
Accommodation
Advanced training (optional)
Coffee, lunch and snacks
Professional guides and gear
7-9 days
Diving in the best locations, and enhance your skillset
Inquire Now
Luxury Liveaboard
Apo Reef/ Tubbahata/ Visayas
4 dives per day
On board accommodation
Meals, snack and drinks
Professional guides
Optional equipment rentals
Airport or hotel pickup and drop off
6-10 days
Once in a life time experience in the best locations
Inquire Now
The
beginner's package
is best for people who never dived before, or only did introductory dives. In the beginners' course you'll get a good taste of scuba diving, and upon graduation you'll be a professional diver with an international diving certificate. We only work with the most professional clubs to ensure your maximum safety and complete enjoyment. There is nothing worse than having to worry about personal safety or diving quality. We take great care that the courses are given in a fun and beautiful environment, and only by professional instructors with the newest equipment.
The full diving vacation package puts scuba at the center of your vacation. It includes the best sites in the Philippines, while maintaining high standards of accommodation, nightlife and tours. You can choose the pace, decide to take some days off diving and book inland tours instead. There are many locations in the Philippines that offer amazing dives, so changes are welcomed in the package offered above – you can add any other destination presented on this page. During your vacation you can also undergo further training, and we'll adjust your schedule accordingly.
The luxury liveaboard safaris are for experienced divers only, as it requires some skills and technical knowledge. Also, you don't want to commit to such a vacation without having similar experiences in the past. This is a unique holiday, a once in a lifetime experience, with the best scuba diving in the world. This kind of vacation is for people who truly have a passion for diving. Read below the designated section for liveaboard tours for more information.
Top 5 dive sites in the Philippines
Tubbahata reef is one of the best diving destinations in the world. It's only for the hardcore divers who will spend a couple of days living on a boat in order to explore the wonders of Tubbahata.
Don't forget to dive back in time in Coron, Palawan and witness the historic remains of the US and imperial Japanese navies battling each other in the pacific during WW2.
The only place in the world that you're almost 100% guaranteed to meet thresher sharks! Moand Shoal in Malapascua is a must for divers.
Apo reef is really remote, but it's considered by many as the "mini Tubbahata". If you're adventurous by nature, consider this unexplored destination which is full of surprises.
Stare into the abyss through the blue hole of Romblon. Dive through the sink hole to a depth of 35 meters and enter a tunnel at the end of it. There is a great chance you will see some sharks resting on the bottom.
Where to dive in the Philippines?
The Philippines is entirely situated in the coral triangle, the richest and most biodiverse ocean region on the planet. It's home to more than 75% of the known coral species, 37% of the world's reef fish and contains 30% of the entire world corals. It's also home to 6 out of 7 of the marine turtles and many shark species, the Dugong, and a migration route for many large fish like manta, shark whales and whales.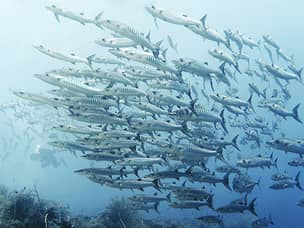 On top of that, the Philippines was a naval battleground during most of WWII, between the Japanese Imperial Navy, and to U.S. Navy. Therefore there are plenty of shipwrecks from this period, out of which many lay in relatively shallow waters accessible for scuba divers.
For these reasons, anywhere you'll visit in the Philippines you'll find really good diving spots. However, there are places better than others. When you're on a scuba diving vacation you want to take several factors under consideration: The quality of the dive sites and underwater environment, the infrastructure of the dive clubs and establishments on the island and the accessibility of the destination. These all play a key role in determining the best place for you to dive at.
Diving instruction and training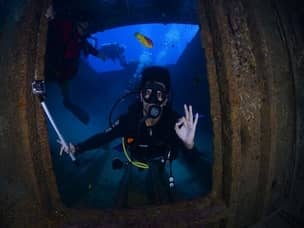 All of the dive shops and schools we work with are run by a foreign management, and foreign instructors. These establishments have the most professional personnel, and the most updated and high quality equipment and gear. All of the shops offer instruction in English, as well as multiple other languages. If you're language specific, please mention it to us in your application.  Booking a diving vacation package through us will take the pressure away, and you'll have the best vacation guaranteed. Just relax and let us plan everything for you.
From complete novices to the most advanced divers, we have something to offer all. We can arrange for all level of training and certifications in the destinations most suitable for you. The Philippines is exceptional for training as there's a great variety of dives, and most places have sites that have both the perfect learning conditions for beginners, and amazing underwater scenery. Unlike other countries, such as Thailand for example, the Philippines' underwater environment still remains unspoiled and uncrowded. Also, for the same reasons, the instruction in the Philippines is personal and attentive, and not a production line for divers.
Because of these conditions, and the remarkable marine environment, we encourage anybody who visits the Philippines (and doesn't suffer from a limiting medical condition) to dive. If you love snorkeling, this is the time to take it to next level with scuba diving training. An open water course is 3-4 days long, and you'll learn the essential skills required for scuba diving: correct use of weights, snorkel, oxygen tank, BCD (buoyancy control device), and the proper way to clear your mask. You will also learn basic sign language for underwater communication, the physics of diving, safety and emergency regulations.
For these reasons a beginner's package is suitable for any length of vacation, and can be done in destinations you already plan to visit, thus not restricting your holiday. On the contrary, this is an experience that enhances your vacation greatly, and much more enjoyable when done with a partner or a group of friends or family members. Booking a family package, or joining a group tour can also significantly reduce costs – we offer substantial discounts for such services.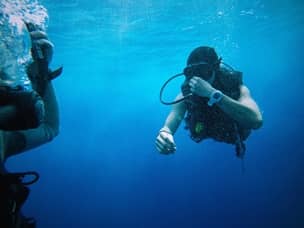 We always schedule the beginner's packages at the start of the vacation, so if you'll find diving really fun, you could book more dives later on. If you start your beginners package and find it's not for you for any reason, only a partial sum will be charged and you will be refunded. Most people find diving enjoyable, but if you're in doubt you can always book an introductory dive, to get the feel of diving before you commit to a course.
The advanced open water course, or the PADI's 2 stars certification take only one or two additional days to complete, and therefore many people choose to take it immediately after the beginners' course. It consists of 5 dives in total, and includes a night dive, a navigational dive, and deep dives. It will immensely enhance your scuba diving skills, and the certification will allow you to explore notable dive sites like Monad Shoal (thresher sharks), the wreck dives of Coron, and other deep dives right after.
For certified divers, we offer packages that include fun and diverse dives, and any advanced training they wish to undertake. From Nitrox certification (stay underwater for prolonged time up to 30 meters), dive master and instructor level, to TEC diving courses. Some of the schools we work with even teach free diving to compliment your skill set. If you are interested in the higher levels of training it's better to contact us directly and tell us what exactly you're looking for, so we can find you the best fit.
Diving in the Philippines according to the seasons
The climate in the Philippines is tropical, hot and humid. The water temperature lie between 22°C (72°F) to 30°C (86°F) according to seasons, so it might get a little chilly underwater during winter, and very warm during summer. Rain is also frequent, but it hardly affects the underwater conditions. Diving is available all year round, so read on for more information about the seasonal changes and their effects. Also keep in mind that the season might vary slightly from year to year and place to place, so it's better to read first about any island you're planning to dive in.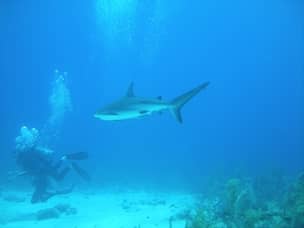 November to February is the dry and cool season, and that's when the temperatures drop. In the central regions of the Philippines the water stays a little warmer and usually don't go below 26°C (78°F). The cool temperatures also attract bigger fish like giant mantas and sharks, and the visibility is also very good most of the time.
Spring is from late February to May, and temperatures are more moderate at this time. The sea is at its calmest at this time, and that's when it's most diversified. There are plenty of small fish and critters, octopi and sea snakes, and the mating season. Malapascua for instance is known for its macro dives during spring, where you can see mating squids, a truly remarkable sight. During this season manta and devil rays are also present.
Summer, or the wet season, is June to October, and it's also the typhoon season. The weather in the northern part of the country (Manila and Palawan included) is unpredictable, and makes traveling around and diving problematic. Therefore at this time of the year it's highly advised to visit and dive in Central Visayas, the central part of the Philippines, as the typhoons barely affect this region. The visibility at this time is the best of all seasons, the water is warm and the marine life is the most bountiful, with many pelagic and reef fish.
The Philippines is the perfect scuba diving vacation
It doesn't matter if you are an expert or a beginner, the Philippines has a lot to offer. Dive in the most beautiful dive sites in the world, or alternatively, get certified in them. Where else in the world can you do that in a friendly environment, with world class 5 star PADI resorts? It offers the best diving you can expect, in many virgin dive sites, unlike places like Thailand and Bali.
Aside from the packages presented in this page, most coastal destinations in the Philippines can offer good diving. Even if you're not on a diving oriented vacation, you can still incorporate some underwater fun into your travel plans, and add it to your custom made vacation package. To decide which destination is most suitable, you can go to each island's individual page, and learn all necessary information.
4 Comments