Bohol Island is one of the most popular destinations in the Philippines, and a great addition to any vacation package. Beautiful white beaches, stunning landscape filled with exotic animals and endless possibilities for fun and adventure – all make the trip to Bohol truly worthwhile.
We offer 100% tailor made packages for your Bohol holiday. Choose one our pre-made package featured below and modify it, or create your own tour package using our guides and advice. All packages include airfare, accommodation and guided day tours – handpicked by our team to suit your specific needs. With our help, you'll find the best deals and promotions and enjoy the perfect trip to Bohol.
The best thing about Bohol is the fact it is suitable for all types of travelers. Its attractions, range of resorts and excellent nightlife and restaurants mean it can be enjoyed by couples, families, groups of friends and even solo travelers. We normally recommend to stay there for at least 2 nights, but longer trips are even better. All you need to do is pick any of the packages below and we will then modify it based on your specific requests.
[diving cat="bohol"]
We've carefully created a handful of tour packages, guaranteed to meet your expectations. These packages all include airfare, your choice of hotel and a personal tour guide. Simply pick the package which suits you the most, and our agents can help you personalize it if needed.
Also, we strongly recommend you combine these tour packages with other destinations, and let us help you plan your entire holiday. Bohol is very close to other beautiful destinations such as Cebu, Dumaguete and Siquijor. Combining these into your Bohol tour package ensures you save time and money and get the most out of the whole Visayas area.
It makes no difference which package you pick – we'll help you plan the perfect holiday. From cheap hostels to all inclusive beach resorts, we only work with reputable businesses that offer outstanding service and value for money. Since Bohol is so diverse and tourist friendly, travelling there is especially recommended for families and large groups. We offer significant discounts to groups, or the option to join an organized group if you are a single traveler or a couple on your honeymoon.

Where to Stay? Our Top Rated Resorts in Bohol For 2023
We promise to help you find the best places to stay in Bohol. Our experts have personally reviewed all hotels and resorts featured below, to make sure highest standards are kept. Browse through our catalog and add the hotels you like best to your cart, or read a detailed review of each before making your choice. Add any accommodation to your Bohol tour package and we'll make sure all the logistics are covered.
Most visitors choose to stay in Panglao – to be close to the best beaches and nightlife venues. While there are certainly cheap hostels there, keep in mind that popular tourist spots tend to be on the expensive side, especially during the high season. Still, it shouldn't be a problem finding affordable mid-range hotels. Those of who are looking for 5 star beachfront resorts can certainly find these in Panglao, mostly around Alona beach. Pangalo offers some of the best luxury resorts in the country – and is a perfect inclusion in your Bohol all inclusive package.
We intentionally chose to not overwhelm our visitors with an endless list of hotels, as many other agencies do. Our goal is to only present the best accommodation, which we feel are most likely to meet your standards. From cheap hotels in the city to luxurious beachfront resorts in Panglao, our catalog includes everything to satisfy your needs.

Bohol travel essentials
Capital : Tagbilaran city (105K pop.)
Flights : 1.5 hours from Manila, between 4 and 5 flights each day
Ferry : From Cebu to Tagbilaran – takes between 1.5 and 2 hours. First ferry departs at 06:00 AM and the last one is at 05:00 PM.
Getting around : Bohol is a relatively small island so renting a motorbike in Panglao is the best choice if you want to explore on your own.
Best time to visit : Summer is between late March to May, but weather is good all year round. Bohol suffers much less typhoons than any other Visayas provinces, so visiting during the low season (July-October) is actually quite nice if your priority is to avoid the crowds.
Nightlife : Only the most touristic areas in Panglao have a few bars and nightclubs so that will be your best bet.
Local festivals and holidays : Bohol is famous for its religious and cultural festivals, attracting both international and local tourists. This is a great and fun way of getting a taste of the local lifestyle and culture. Most notable events include The Tagbilaran city fiesta (May 1st), SidlaKasilak or Festival of Lights ( August 30 – September 8) and the Sandugo Festival (whole month of July).
How to get there?
Getting to Bohol is pretty straight forward: fly there from Manila, or take a ferry from Cebu City. Either way the journey is between 1.5 and 2 hours, so getting there is very easy and simple. To take a ferry from Cebu you will need to go to the main pier in the port, and take either an Ocean Jet or Super Cat ferry. Prices are similar and they have boats leaving from 06:00 to 19:00.
Bohol is also accessible from other islands, making it even more attractive as a part of a vacation in the Central area of the Philippines. There are three fast boats leaving from Dumaguete Port daily at 07:30, 13:15, and 14:20. The trip takes 1 hour and 40 minutes. Another gateway destination to Bohol is Camiguin, with boats leaving from Balbagon to Janga Port in Bohol 3 times a week: Mondays, Wednesdays, and Fridays on 08:00am. The trip is 4 hours long.
What To Do In Bohol?
We already cover all the must-see attractions in Bohol with our pre-made packages but feel free to add other tours and activities you fancy to your cart. Our team of experts will assist you in planning so you get the most out of your trip. Continue reading for more information about Bohol's popular tourist spots and activities, or contact us and ask about everything there's to see and do over there.
All of these day tours can be booked as private tours, or you can join a group instead. Joining a group will result in a substantial discount, while private tours allow for a much more flexible itinerary. If you are not sure what's better for you, read below for a quick description of each, or visit our catalog of Bohol day tours for detailed itineraries and prices.
Panglao island – The best beaches and island hopping tours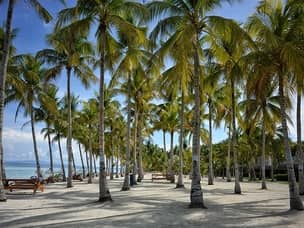 Panglao's beaches are arguably second only to Boracay in their beauty and popularity. Alona beach stretches for about 1.5 km and is the most popular tourist beach destination in Bohol. Dumaluan beach on the other hand, is more beautiful and offers greater tranquility and respite.
Alona beach is covered with restaurants, bars and nightclubs – so finding what to do after a long day of beach bummin' should not be a problem. Panglao also houses some of the best resorts Bohol has to offer. You can easily find 5 star beachfront hotels where you can get services and treatment fit for royalty. Our private tour guides can pick you  from your hotel – so you can have a truly all-inclusive experience.
Panglao offers more than just the beach. There are other amazing natural attractions found in the area. Hinagdanan cave is a naturally lit cavern with a small lagoon you can swim in. The Dauis church has beautifully painted ceilings and windows and is built in a unique Romanesque style, while the Panglao church of St.Augustine was built in a more baroque style.
The Bohol bee farm is a more unorthodox tourist attraction, where you can learn how honey is produced and get a taste of local delicacies. You can also visit their organic farm where they grow food and make their own clothes using hand-operated looms.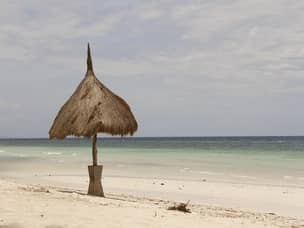 Island hopping is another activity worth trying in Panglao. It only takes 10 minutes by boat to reach Virgin island – a hidden gem most visitors aren't even aware of. The island is completely uninhabited, and so it offers the perfect beach experience.
Reaching Balicasag island on the other hand, will take you 20 minutes, but is well worth it. Its status as a declared marine sanctuary makes Balicasag one of the best snorkeling sites in the country – where you can enjoy the dazzling colors of endless fish and corals even in the shallow waters. The main attraction in Balicasag, however, is the large population of sea turtles. These gentle animals roam the sanctuary and can be easily spotted while snorkeling.
Best diving sites around Bohol
If you've come to the Philippines without any prior experience in diving, Bohol is a great place to start. It can be the perfect opportunity to learn how to dive and get your certificate, before heading off to other islands which offer more challenging dives.
Even for those who are not too much into diving, taking a day to explore Bohol's underwater world is worthwhile. The Philippines has one of the world's richest and most diverse marine ecosystems, and there aren't many places better to witness it than Bohol. Add in the fact diving sites are beginner friendly, and the amount of world class scuba tour operators – and you'll see why diving should be included into your itinerary.
One of the best scuba diving spots is at Balicasag island. Considered one of the most beautiful islands in the country, it's a staple in any island hopping tour. While there, you can choose between scuba diving and snorkeling since there are 5 different dive sites at varying levels. Diving at Balicasag will allow you to better appreciate the protected marine sanctuary located on the island, with its stunning coral reefs full of sea life. Larger fish such as Manta Rays can also be seen on occasion, as well as sea turtles.
There are plenty of other diving options near Alona or Danao beach, and most of them are great for beginners. Most notable are Arco point and Divers Heaven. The first is a 22m deep hole in the wall, where sea snakes and different type of eels can be seen. Divers heaven is a large slope, starting at 5m and going down below recreational limits, where large fish such as tuna and mackerels roam around along with sea turtles and smaller critters.
Going out from the popular beach locations, there are literally dozens of different places to go scuba diving. Most of them are no more than a 15 minutes boat ride, are great for beginners and can easily be included in a guided tour. You can easily combine a few different ones, and include other activities such as snorkeling, kayaking and big game fishing – to create an amazing day tour for the whole family.
More advanced divers, who already have an open water certificate, should still pay Balicasag a visit, as it's considered one of the best diving spots in Asia. Other than that, the Black forest is a fantastic option – a sloping wall of roughly 40m all covered with thick black corals. Another noteworthy destinations is Cabilao Island – a protected sanctuary with strong currents that makes for an exciting diving adventure. These unique locations, as well as a few others, are also available through a live board package, and you can even combine them with other diving destinations in the country for a complete diving package.
The Chocolate hills – Bohol's most famous attraction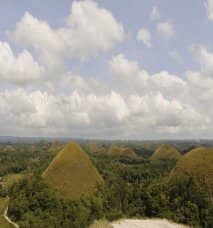 Scattered throughout the municipalities of Carmen, Batuan, and Sagbayan, The Chocolate hills are easily accessible from Carmen via taxi or tricycle. This unique geological formation consists of 1268 hills, with heights ranging from 30 to 50 meters. The green grass turns brown during the dry season, giving the hills their distinctive, Chocolate-like look.
The chocolate hills are a great place for hiking and truly a must-see for any nature lover. You can go closer to the hills through ATV rides instead of climbing the steps to the view point. Book the Chocolate Hills tour now, or continue reading below to find all the other nature attractions you can combine into your tour package. Let us fill your entire vacation with beautiful landscape and stunning wildlife.
Countryside tours – fun for the whole family
Visit the Tarsier sanctuary
Home to one of the smallest primates in the world, Bohol is where these small creatures thrive.  7.4 hectares of land near Corella have been allocated to serve as a home to these mysterious nocturnal creatures. Here, Tarsiers can roam freely and you get to watch them in their natural habitat. The sanctuary is less than an hour drive from Panglao, and is usually included in any countryside tour and combined with other locations mentioned here.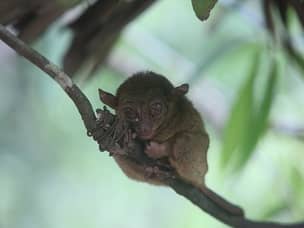 Diving with dolphins and whales at Pamilacan island
Just 45 minutes boat ride from Baclayon lies Pamilacan – a marine sanctuary located in an empty island. It's an amazing diving spot thanks to colorful and diverse marine life. On top of that, many marine mammals are known to frequent the area  – from dolphins to sperm whales and if you are lucky, even the occasional blue whale!
Boat rides on Loboc River:
Our exclusive boat cruise along the Loboc River takes you to a new level of VIP experience! Eat all you can and enjoy all you can while the boat cruises along the beautiful green waters of the river surrounded by palm trees and jungle atmosphere. For those feeling a bit more adventurous – we can help you rent your own kayak or paddle boat so you can tour the river all by yourself.
All of the tours above, and more, can be easily arranged as part of your complete bohol package. It's totally up to you to decide exactly what each tour will include. We can take care of everything – transports, guides, meals and anything else you can think of.
Is Bohol Island the right place for you?
The table below shows some key elements of Bohol, compared to other popular choices. Measuring Bohol against other similar islands will help you understand what makes it unique. Thanks to Bohol's location it can also be easily combined with many other beautiful islands nearby. Read below to find a detailed explanation, or contact us and we'll help build your perfect Bohol itinerary.

Average price per day :

60 USD

This price includes: Transfers, Accommodation, Tours and Living costs.

Ease of reaching : Easy

Accommodation options

: 3 to 5 stars

Best time to visit : November to May

Main attractions

:

Diving
Island hopping
Chocolate hills

Nightlife : Relaxed

Suitable for : Romantic, Family, Groups
Average price per day :

100 USD

This price includes: Transfers, Accommodation, Day Tours and Living costs.

Ease of reaching : Easy

Accommodation options

: 3 to 5 stars

Best time to visit : November to May

Main attractions

:

Nightlife
Diving
Best beaches

Nightlife : Best in the Philippines

Suitable for : Party, Couples, Groups
Average price per day :

70 USD

This price includes: Airfare, Accommodation, Day Tours and Living costs.

Ease of reaching : Moderate

Accommodation options

: 1 to 5 stars

Best time to visit : November to May

Main attractions

:

Diving
Island hopping
Hidden lagoons

Nightlife : Almost none

Suitable for : Adventure, Romantic
Visiting Bohol offers a perfect mix between many key components people normally seek in a vacation. It's very easy to get to and the accommodation is modern and flexible. Moreover, there are plenty of activities to take part in – from diving to mainland activities. This ensures that anyone, from the solo traveler to couples and large families, will find things to do. This island not only offers a little bit of everything, but is also among the top diving spots in the Philippines, and has some of the most beautiful beaches and islands.
Boracay on the other hand is quite different. It also offers great diving and island hopping, but tours are different since it has been fully commercialized. It's more famous for its with parties and beach activities (like banana boats, helmet diving, water skiing, and more). Boracay is a tiny and very beautiful island, and therefore very crowded over the high season. This also means prices are higher. If you're the type of traveler who prefers a luxury experience, Boracay is a great choice.
Palawan is huge compared to both Bohol and Boracay, and is far more diverse. In order to get the full picture about Palawan you will have to visit our Palawan page. Palawan is more difficult to get to and get around. Bohol and Boracay are perfect for a short weekend vacations, while Palawan requires more than that. Another important difference is that unlike the other two which are located in the Visayas area and therefore are good to travel to all year round, Palawan's weather is much more fickle. Between June to October it can get extremely rainy, so it's harder to plan your holiday ahead of time.
Many people also ask us whether they should go to Bohol or Cebu. They are different in character and both are great. Because Cebu city is very close it might be worth to do both. Visiting both Bohol and Cebu Island is a great adventurous experience.
How does Bohol fit into your travel plan?
Bohol Package Deal 2023
Customized by our experts for your specific requests. packages include:
Beachfront resort of your choice
Private or group tours
All transfers and logistics
VIP service throughout your trip
Limited time offer : Rates as low as 120 USD a day!
Bohol is undoubtedly one of the best places in the Philippines and one you really can't afford to miss. What makes this island so great is that it's suitable for couples, families with kids and even large groups. It's also close to other equally unique destinations like Cebu, Dumaguete and Camiguin, just to name a few.
Our service allows you to easily plan your entire trip, fully personalized to your needs and expectations, by simply adding items to your wish list. You can add any day tours and hotels you prefer, and we'll combine everything into a solid itinerary, so you can enjoy the perfect Bohol tour package.
Once you are done selecting the locations, hotels and tours you are interested in – simply click the 'book now' button to confirm your reservation and make the first step towards your once in a lifetime vacation.
We will review your order, and provide our feedback and advice. That way, we can help you organize your perfect itinerary, which will include everything you have requested, organized in the most sensible manner.
20 Comments