Puerto Princesa is the capital of the Palawan province, and the most likely starting point to your Palawan holiday. With numerous daily flights from major destinations such as Manila or Cebu, it makes the most sense to stop here before heading to other areas like El Nido and Coron.
We recommend spending at least 2 to 3 nights in Puerto Princesa. You definitely don't want to miss the Underground river and Honda Bay – the main attractions here. Read below to find the best hotels, tours and attractions Puerto Princesa has to offer and build your custom tour package. Alternatively, let our agents add a stop here to your Palawan package, and include it along with El Nido, Coron or even both.
Puerto Princesa Travel Essentials:
Location : Capital City of Palawan province, 5 hours drive from El Nido and 13 hours ferry to Coron.
Flights : Dozens of daily flights from Manila, 3 from Cebu as well. Arriving from smaller destinations is also possible, but schedule is erratic – so please check with us first
Boat : there's a weekly Superferry going out from both Manila and Cebu. Since it'll take you 18 hours to complete, and the sail isn't necessarily cheaper than a flight, it's really not recommended.
Best time to visit : October to May should be fine. Try to avoid the rainy season (June-September) if possible, as it affects Palawan quite strongly.
Attractions : Underground River, Honda Bay, Diving, Beach Resorts, Nightlife
Extra tips : Consider switching between Sabang beach and Honda Bay, spending a night or 2 at each. It'll allow for a more diverse holiday and a better taste of everything Puerto Princesa has to offer.
How to get to Puerto Princesa?
There are more than 10 flights a day from Manila, with quite a few different airlines operating this line. So as long as you book in advance, finding a cheap flight should be easy. Flight time is 1 hour and 20 minutes and there are usually no delays.
Another good option is flying from Cebu. Flight time is roughly the same, but Mactan airport is less reliable and delays are common. Also, there are only 3 flights per day – PAL flight in the morning, Cebu Pacific around noon and AirAsia in the evening. Still, flying from Cebu makes sense if you are coming from Bohol or Dumaguete for example, since you don't really want to take the detour through Manila.
Unfortunately, there are currently no flights connecting Puerto Princesa and Boracay. It really is a shame, since Palawan and Boracay are the top two popular tourists destinations. You could however find some small companies operating the Boracay-El Nido or Coron line, and travel to Puerto Princesa from there. The problem is, these flights run only once a week, and use small propeller based airplanes. So, it might be better to just take the detour through Manila or Cebu instead.
What to do in Puerto Princesa?
If you only wish to visit the main tourists spots, the Underground river and Honda bay, 2 nights should suffice. There are however, many other things to do and see around Puerto Princesa, so stay longer if you can.
Continue reading to find more information about everything Puerto Princesa has to offer. Book any day tour you'd like, and we'll help plan your whole itinerary. If you only know how many days you wish to stay, and unsure what to do, contact us and let our experts provide some free advice.
Underground River Tour Packages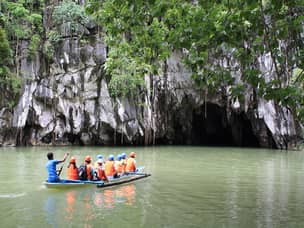 The Underground river national park is Palawan's most famous attraction. An official UNESCO world heritage site and one of the new 7 wonders of nature, it's a place you really can't afford to skip. It's an 8.2 km long subterranean river, the longest one known to men until 2007. Deeper parts of the cave are even more beautiful, but sadly only open to scientists and explorers.
Regardless, permitted areas are spectacular enough. The underground cave is famous worldwide for its major formations of stalactites and stalagmites. Since the river connects directly to the sea, a one of a kind phenomenon, it offers an extremely diverse selection of plants and animals. These are all concentrated in a small area, creating one of the most unique ecosystems in the world.
This tour starts off from Sabang beach, although pickup from hotels in Puerto Princesa is also possible. It'll just mean you'll need to wake up an hour earlier. You'll take a motorized speedboat through the jungles, and if your'e lucky can even see some macaques along the way. Once at the entrance to the underground river, you'll enjoy a 45 minute canoe ride through the cave.
You'll be escorted by a personal guide throughout the whole tour, who will provide useful information about local culture and wildlife. Make sure to follow the guide's instructions, since safety is of the utmost importance. Keep in mind this tour is widely popular, and daily slots are limited, so please order as early as possible. During the high season, tours can be fully booked a month in advance! For bookings and a detailed tour itinerary, please visit our Underground River tour page.
Honda Bay Island Hopping Tours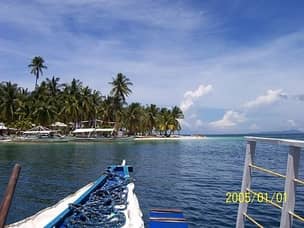 Honda bay is located only 45 minutes to the north of the city proper, and hotel pickup can be arranged from anywhere in the area. The bay is one of the best places in the Philippines for island hopping, thanks to the spectacular views and amazing beaches nearby.
The exact islands included in this day tour are subject to change, depending on weather conditions as well as your personal preferences. Typically, most tours will take you to Starfish, Lilu and Cowrie islands. In any case, all islands offers fantastic white sand beaches, and clear waters great for swimming and snorkeling.
Starfish Island is famous for its large population of starfish. The most common is the symmetrical orange type, but if your lucky you might see some other types as well. Lilu Island becomes completely submerged during high tide, which is a very interesting sight. Cowrie Island's best feature is its beautiful beach, with the best view of the whole bay.
Lastly, there's Pandan island. This is a private resort island, but it's open to the public as long as you pay a symbolic entrance fee. Pandan is the most beautiful island, but also the most crowded one. Since it's very close to Cowrie, the best option is to just choose between the two.
All island hopping tours include a tour guide, safety gear and complimentary lunch. It's a great way to pass a whole day, relaxing and having fun in one of the most beautiful places in the world. Diving packages can also be incorporated, although if you wish to do so you might want to visit Tubbataha reef instead, or head over to Coron or El Nido.
Other Attractions and Day Tours
There's really no shortage of things to do and see in Puerto Princesa, and it all depends on how much time you have to spare. Below we'll highlight a few of these tours, which we provide the most entertainment and a unique experience. For more ideas how to spend your days, contact us and get some free advice.
One very popular activity is taking the Puerto Princesa City tour. There are a lot of different tourists spots very near to the city center, so choosing exactly where to go is entirely up to you. Rizal avenue is the main street, and is full of restaurants, coffee shops and souvenir shops. It's also the best place to grab a taxi to other nearby locations.
On such location is Mitra's ranch, owned by the late senator Ramon Mitra. The place has a really beautiful view of the entire region, and a serene atmosphere with lots of greenery and livestock around you. There's also a zip line you can take, and make this visit a bit more thrilling.
Other notable sites which can be included in the city tour are the butterfly garden, crocodile farm and the Puerto Princesa Bay walk. You might hear about Baker's hill, but we suggest to skip it since it's nothing more than a low grade theme park and not worth your time. There are quite a few museums in the city, and a culinary tour is also a great option.
You can easily visit all these places on your own, and we'll just help build the itinerary for free. A guide is only really needed for the culinary tour, so you get to try the best local cuisine.
Sabang Beach area also offers a view interesting attractions for those staying there. If you didn't get your fair share of caves with the Underground river, you can always visit Ugong rock as well. The trip will involve a nice hike up the stairs to the top, from where you can take an exciting 800 meters long zipline all the way back, marveling at the wonderful view.
Another way to appreciate the view is by climbing one of the mountains nearby. Mt. Bloomfield in Sabang is the most popular choice, since the hike is only of moderate difficulty and the view from the top is amazing. More experienced climbers might prefer Cleopatra's needle instead – it's much more challenging but also extremely rewarding. You can read about our hiking packages here, and learn how to incorporate them into your Puerto Princesa holiday.
How Does Puerto Princesa Fit Into My Travel Plan?
Puerto Princesa is the best destination in Palawan for families and large groups. It's very easy to get around, the resorts are excellent, and there are countless day tours to try. Almost all of these tours are child-friendly, and combine fun and excitement with a educational experience. In any case, staying at Puerto Princesa for at least 2 nights is highly recommend, so you can visit the Underground River and Honda Bay at the very least.
With so many incoming daily flights, it's very easy to add Puerto Princesa to your Philippines vacation package. Of course, you'll also want to include El Nido and possibly Coron, and create the ultimate Palawan tour package. Our experienced agents will help plan your itinerary, and make sure you experience each location in the best way possible.
6 Comments