Merely 2.5 hours by bus to the north-west of Manila, one of the most scenic locations in the Philippines awaits you. Mt. Pinatubo was the site of one of the most violent volcanic eruptions of the 20th century, which altered the landscape significantly. Perfect for hiking day tours or camping overnight, this place offers a thrilling adventure full with stunning views.
There are 2 main ways to experience Mount Pinatubo: a day tour from Manila or an overnight package. There are distinctive pros and cons to each, so it's really a matter of choice. Luckily, you don't have to worry since we offer both! Just read below and figure out what works better for you. Also, if you are interested in a DIY itinerary that includes camping at the mountain's peak, we'll gladly offer advice and help with the necessary arrangements.
Pinatubo Travel Essentials:
Location : Between the provinces of Tarlac, Zambales and Pampanga. 91 km (56.5 miles) from Manila.
Flights : You can take a flight to Clark airport from most popular destinations in the Philippines.
Bus : Take any bus from Manila destined to either Baguio, Ilocos or Clark. These busses are available from all major terminals, and run all day long.
Best time to visit : December to May should all be fine with no rain. April and May are already a bit hot, so hiking would be more difficult.
Attractions : camping, hiking, scenery, WW2 history
Extra tips : Skip the trek if there's heavy rain – landslides and floods are highly possible. Don't swim in the lake since its forbidden since 2013. Listen carefully to all other safety instructions from your guide.
What To Do In Mount Pinatubo?
As mentioned, there are several different ways to experience this amazing location. In this section, We'll try cover each and provide all the necessary information. All tours and services are completely flexible and can be customized to your exact wishes.
In case you need more information before making your choice, the best solution is to simply contact us straight away. Our experts will do their best to understand your needs, and build your itinerary accordingly.
Mt. Pinatubo Day Tour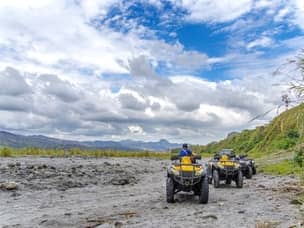 This is the most popular option, since it's a great way to fill up your whole day while staying in Manila. You should be prepared though – it's a somewhat grueling experience. Tours leave Manila before sunrise and typically arrive back sometime around 9 PM.
Once you arrive to Tarlac, you'll meet your tour guide and 4×4 driver. The jeep ride to the where the hiking trail begin is a lot of fun on its own. You get a chance to see the unique landscape up close, and witness exactly how the violent eruption in 1991 changed it.
The hike itself is 5.5km (3.5 miles) long, and a relatively easy one to complete. It should take you no more than 2 hours at each direction, with only the last 30 minutes of climbing providing some challenge. As you arrive to the crater's rim, you'll be rewarded with one of the most beautiful views anywhere in the world – so it's definitely worth it!
Backpacking and Camping Trips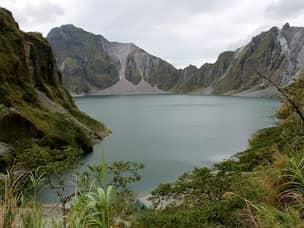 For those on a budget, Mount Pinatubo is one of the best places in the Philippines. The volcano is so easy to reach, and tourism to it is fairly developed so making the trip is very simple. You can either take the bus from Manila in the morning, or arrive to Tarlac the night before. Tarlac has many cheap hostels so going there a night earlier shouldn't burden your wallet too much.
There's no way around hiring a local guide and driver through the local department of tourism, as well as paying the environmental fee. The 4×4 jeep is the only way to reach the volcano – and it will cost more the smaller your group is since you pay for 5 people either way (2500 PHP). We can help you join up with a group tour, from which you can part any at stage afterwards.
The volcano has a designated camping area, so make sure you tell your guide to take you there. The camp site has a toilet and some huts. Fresh water are available close to the crater. You should make sure to bring your food with you – there's nothing to buy here. If you don't have your own gear, let us know and we can also help with that.
Make sure you bring comfortable shoes and warm clothes as temperatures drop at night. For more general advice and tips, check out our hiking and camping packages, or our guide to affordable travelling in the Philippines.
Other Attractions and Activities In The Area
Capas and Clark served as key strategic areas for the U.S colonial forces. The city of Capas had Camp O'Donnell – an American air force base with significant historic importance. After the Japanese conquered the area, they used the base as a concentration camp for American and Filipino prisoners of war. Out of the 70,000 prisoners held there, it's estimated at least a third died.
Capas Shrine is the most impressive monument commemorating the prisoners, but there are a few museums as well. The city of Bamban has some Japanese tunnels and caves – which are also quite interesting to explore. Especially fascinating are the ones partially destroyed by Pinatubo's eruption – another testimony to nature's violent power. Bamban also has a very nice waterfall nearby, if you feel in need of refreshment after so much history.
Another fun option is visiting the Dolores and Bueno Hot Springs . you even can combine these with a visit to Pinatubo Spa Town where volcanic ash massage and mud baths are being offered. It is a unique experience, and a nice way to pamper yourself after a hard day of hiking.
How Does Mt. Pinatubo Fit Into My Travel Plan?
Fitting in a tour of the volcano while you are in Manila is extremely easy. There are a few different ways to plan this tour, and each has its own appeal and advantages. We will be more than happy to assist you with any type of tour you choose, and make sure you have the best time.
Thanks to Mount Pinatubo's proximity to Manila, we advise you combine this tour into your Manila package, as well as include other beautiful locations if you have the time. You can easily stop by Pinatubo on your way back from north Luzon destinations such as Ilocos or Sagada. Another option is combining the tour into a larger Manila package – and visit other nearby sites such as Tagaytay or Batangas.
16 Comments