Siquijor is a small island province just to south of Cebu and Bohol. With its beautiful white beaches and endless attractions, Siquijor resembles other small islands such as Boracay and Camiguin. However, this island is unique thanks to its reputation as a center of witchcraft and ancient traditions. The mystical atmosphere and rich folklore make visiting Siquijor a truly special experience.
The island is popular among locals, who come from Dumaguete for a day tour or a single night package. While these options are also provided by us, we encourage you to spend a few more days on the island, so you can make the most out of your time there. Siqiujor provides a great opportunity to experience the unique local history and traditions, in a dreamy island setting.
Siquijor travel essentials
Capital : Siquijor city (28K pop.)
Flights : Siquijor does have its own airport, which sadly remains mostly inactive. It's better to fly to either Cebu or Dumaguete and take a ferry, unless you want us to arrange you with a private flight.
Ferry : There are 2 main piers, in Siquijor city and Larena. Easiest way of getting in is through Dumaguete, with multiple ferries to both piers each day. Most of the boats leave before 2PM, so make sure you are there on time. There are several ferries from Bohol each week, but scheduele is irregular so please check with us first. A ferry from Cebu leaves each day on 8AM (OceanJet) and the trip takes roughly 6 hours.
Getting around : Many resorts rent motorbikes for 300PHP a day. If that's not your thing, just grab any of the tricycles found everywhere.
Best time to visit : Summer and dry season are between November and May. It's better to avoid the rainy season as it can get quite rough.
Attractions : Nature and wildlife, local history and culture, diving, beaches.
Local festivals and holidays :  Most popular festival is the Healing Festival , lasting all throughout the Holy week of Easter. The festival is a celebration of local practices and folklore, where locals sell healing and even love potions! There are also a handful of fiestas during the year, most recommended are the Dilaab Festival (Siquijor, 3-4 October) and Bugwas Festival (San Juan, 27-28 August).
How to get there
Siquijor is a small island with no airport, but it connected to Dumaguete, Bohol and Cebu City by ferries. Siquijor has two ports, Larena and Siquijor Port. It is a small island so it doesn't really matter in which port you land. Travel time differences is also negligible. Siquijor Port has many more ferries coming in, but if you find a trip to Larena that fits your schedule better, take it.
It takes 4-5 hours to get to Siquijor from Cebu city, and there are 2 trips a day: 07:30 from Pier 4, and 15:35 from Pier 1. There are also 2 daily trips from Tagbilaran, Bohol, that take 2.5 hours, at 09:15, and at 17:45. There are also trips from Tagbilaran to Larena on Monday, Wednesday, and Friday at 19:00. Ferries from Dumaguete leaves 4 times a day, two to Siquijor port and two to Larena. First trip is at 07:00, and last trip is at 19:40, and the ride takes around 50 minutes.
What to do in Siquijor?
The main attraction in Siquijor, as with most Philippines islands, are its stunning beaches. Add to that the waterfalls, caves and mountain treks scattered all over the island, and you get a real taste of beautiful nature. We recommend combining nature related attractions with a few activities which are unique to Siquijor, to enjoy a full experience of the island.
Read below to find the best tours and tourist spots in Siquijor, and add any of them to your wishlist. All of these tours can also be easily added to any of our pre-made packages. Our team of experts will then help you organize everything and create your own, personal Siquijor itinerary. If you prefer to see detailed itineraries and inclusions for each possible tour instead of the overview below, then visit our Siquojor day tour catalog instead.
Best Beaches in Siquijor
All beaches in Siquijor are quite private, except for the most popular ones in San Juan and Siquijor. That's also where you'll find all popular beach resorts. It's hard to determine which beach is the best, since it highly depends on your own preferences.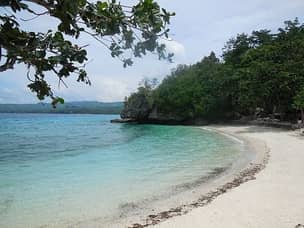 All beaches are famous for their clean crystal waters, white sand and beautiful sunsets. They are all fantastic places to relax in the sun. Continue reading for a detailed description of each popular beach, and decide for yourself which one is the best.
The most popular beach is Salagdoong beach in San Juan. Thanks to the government operated restaurant and resort, the beach has become a huge hit among local tourists.
Huge limestone walls surround the beach, and make a great vantage point from which you can marvel at the view. Salagdoong is actually divided into 2 beach areas by a large cliff, where cliff jumping is possible. The rock has two platforms at 20(6m) and 35 feet(10.5m) and both jumps are perfectly safe.
If you are staying in one of San Juan's resorts and are looking for a more private beach experience, check out Paliton Beach. With white sand lined with coconut trees, this place really feels like paradise. The waters there are so clear, you can actually see the corals and seaweed lining the ocean's floor. A declared marine sanctuary, Paliton is also one of the best diving and snorkeling spots in the whole island.
For those willing to really get off the beaten track, we suggest checking out the beaches near Maria town. The most famous of these is Kagusuan beach, but Bacong beach is actually even nicer. But honestly, no matter which beach you go to in those parts, you will have it entirely to yourself. You will probably be among the first tourist to ever visit that beach! Taking a guide is good idea though, since getting lost is quite easy.
Last on our list of recommended beaches is Sandugan in Larena. There are a few beachfront resorts here, but the place is amazingly quiet and secluded. Sandugan is especially famous for its magnificent sunsets, so consider staying at one of these resorts for at least one night. Parts of the beach are covered with hundreds of crabs, and the waters are teeming with marine life, making Sandugan another great place for diving.
Nature and Wildlife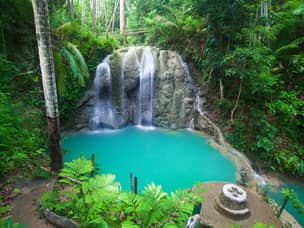 Siquijor is a hilly island, some of which even reach as far as the shoreline. These hills are full of thick forestry and are home to many types of local animals. This unique terrain makes hiking anywhere in Siquijor a fun adventure, but there are of course some more recommended places to do so.
Mt.Bandilaan is the island's highest peak and stands at 2060 feet (630m). It's quite an easy climb which shouldn't take more than half an hour, and you get to see a nice view of the island. Although not as spectacular as the more famous hiking spots in the Philippines, the mountain has a deep connection to the island's history and traditions. It's here that local healers go to prepare their herbs and preform rituals before the holy week festival. This place is a scared spot, so treat it with respect.
Another great spot for a quick day tour are the Cambugahay Falls in the town of Lazi. These 3-tiered waterfalls are great for swimming, and jumping is possible from the first level. There's also a rope swing there, and you will probably see locals swinging around like Tarzan. The falls are Siquijor's most famous attraction so they do attract a lot of visitors. For a more private swimming experience, consider heading to Cangbangag Falls instead. Admittedly less spectacular, these waterfalls near Larena are much more secluded and make a great site for couples seeking some privacy.
There are no less than 44 caves scattered around the island, most of which require a tour guide to explore. The most famous of them all is Cantabon cave which is really impressive. It takes an 1.5 hours to walk through the entire cave, and it's a great activity for adventure seekers. You will need to register in the town before going inside, so be sure to update us in advance so we can help with the logistics and provide a smooth experience.
If you are still looking for things to do, you could go to the Butterfly Sanctuary near Lazi. It's a small conservation center, dedicated to the protection and breeding of numerous butterfly species. It probably won't keep you busy for long, but the sanctuary is a great place to take some pictures and appreciate another aspect of nature.
Culture, History and Magic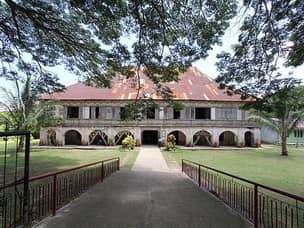 The most unique landmark Siquijor has to offer has to be the Balete Tree – named the enchanted tree by locals. It is an ancient tree, believed to be around for more than 400 years. The tree is all covered with hundreds of roots and vines, and there's a natural pool right below it, full with swimming fish. It is really a nice place to stop by on your way between Lazi and San Juan.
While in Lazi, make sure you visit the San Isidro Labrador Convent and the church next to it. The buildings were both built in 1887 and are some of the oldest Christian monuments in the Philippines. In Siqiujor itself, right by the port, you can find the St. Francis De Assisi church . The church is a nice old building, and especially beautiful at night. If you want to take the complete Siqiujor city tour, we can recommend the best tour operators.
The nightlife scene on the island is also starting to slowly blossom, a nice change from the gloomy, quiet atmosphere it once had. As Siquijor's reputation is changing from dark magic and witchcraft to a major tourist spot, the options for fun are growing as well. Still, don't expect much for the scene here, it's not Boracay or even close to it. There are a few bars in Larena, but other than that most of the action is around the beach areas, and even there it's pretty mellow.
How does Siquijor fit into my travel plans?
It is very easy to include a trip to Siquijor during your Philippines vacation, since it's so close to other popular destinations. You are most likely going to be in Cebu or Bohol anyway at some point, so consider stopping by Siquijor as well. This is best done on your way to Dumaguete city, another fantastic destination nearby.
We can help you plan your entire Siquijor itinerary, whether you prefer a quick tour of the island or spending a few nights there. Contact us and we'll help you figure out what's the best plan, and how to include Siquijor in your vacation package. Our agents will accompany you every step of the way, to make sure everything goes according to plan and you have the time of your life.
4 Comments