No more than 2 hours drive from Manila, Tagaytay ridge is one of the most picturesque locations in the Philippines. Cool and clean mountain air, an extremely developed tourism industry and most importantly the views overlooking Taal lake, all make Tagaytay the perfect weekend getaway from the city.
Our agency provide a wide range of Tagaytay tours and packages. These range from 1 day itineraries to overnight packages. All you have to do is read our guide and add any item you like to your wishlist. Our experts will then contact you, help organize everything into a solid itinerary and make sure you enjoy the best deals and promotions.
Tagaytay Travel Essentials
Location : Cavite province, Luzon island just south of Manila
Flights : Manila airport is only 45km from Tagaytay, so getting there is very easy.
Getting around : Buses will drop you at Olivera Plaza – Tagaytay's town center. From there, you can take a jeepney or a tricycle to your hotel.
Best time to visit : due to the higher altitude, it's significantly colder and rains are frequent. For the best experience, try and get to Tagaytay during the dry season. The months of June, July and September should generally be avoided. In any case, make sure to bring some warm clothes since temperatures drop at night and it's quite windy.
Attractions : Hiking, 5 star resorts, food, adventure, theme parks and stunning views.
How to get there?
Multiple bus companies run the Manila-Tagaytay line, but the best one is San Augustin. Bus schedule change all the time, and unfortunately, they don't have a website you check in. We suggest you just contact us and we'll take care of it for you. You can also rent a van or an airport taxi for the trip, which will cost you between 3 and 4 thousand per direction.
It's also possible to reach Tagaytay from Batangas which lies directly to the south. There are buses from all major cities – Nasugbu, Lian, Lipa, San Juan, Taal and of course Batangas City itself. If you are staying at one of the towns near Taal lake, taking a jeepney might be easier. Visiting Tagaytay and Taal volcano can easily be done as a day tour during your Batangas vacation.
What to do in Tagaytay?
Tourists usually visit Tagaytay mainly for the trip to Taal volcano, but that doesn't mean there isn't a lot of other great attractions. The Taal tour can be done in half a day, which leaves you enough time to enjoy everything else Tagaytay has to offer.
Continue reading below to find all the major tourist spots and attractions in Tagaytay. Add any of these to your wishlist and our agents will help build a suitable itinerary. Each tour can be booked separately as well, but booking a package would result in a significant discount.
Taal Volcano Day Tour
Visiting Taal Volcano and swimming in the crater lake are by far the most popular activities. The volcano lies in the middle of Taal lake, and takes approximately 30 minutes to reach by boat. Many agents roam the streets of Tagaytay and try to sell this tour, but booking it on the spot isn't the best idea. These vendors are trustworthy and will bring you there safely, but you'll pay more and possibly have to wait as they try and gather more clients.
Instead, you should book the tour through the resort or arrange it yourself. Of course, booking it through us as part of a package would mean you get the best deals and we take care of everything. No matter how you plan your trip, it shouldn't take more than half a day to complete. You'll have plenty of time to enjoy views and the volcano itself.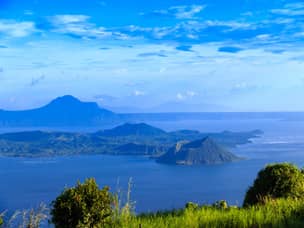 There are two ways of reaching Taal volcano. The first, and more popular option, is the regular tour departing from Tagaytay. After the standard boat ride you'll have another 30 minutes hike to the top of mouth of the crater. As you ascend you are greeted by a stunning views of the whole area, and once you reach the top it gets even better. From there, you'll get the best view of the crater lake which will surly leave you breathless.
This standard option however, doesn't allow for swimming in the crater lake. The trail ends at a steep cliff, so descending is too dangerous. If you are feeling more adventurous, take the hidden trail called Calauit. The tour takes twice as long to complete (5 hours roughly), and the hike is more challenging. The reward is worth it however, as you'll get a chance to swim in the sulfuric waters which is a really nice experience.
The waters are perfectly safe, and you can even pay one of the fisherman for a fish to eat! they'll be happy to grill it on the spot for you. Since this tour takes longer, and a tour guide is required, the price rises accordingly.
Both treks can be done on horseback as well, if you don't feel like walking in the sun. This option is especially recommended for those taking the regular trail, since there's no refreshing swim at the end of it. Camping at the crater lake is also very possible, and could be a really fun adventure. If you are considering doing so, speak to us first so we can help you prepare everything you'll need.
Other Tourist Spots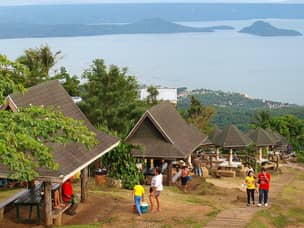 These sites and attractions are geared more towards the local crowd, So you might find them a bit underwhelming. Still, they can provide a nice option for filling up your day in Tagaytay, and are all nice activities for families and couples. So, we'll provide a short description for each, and if something seems appealing you can always contact us for more information.
Apart from visiting Taal volcano, going to People's park in the sky would be our most recommend tour. It's a relatively short drive uphill, so you can just take the jeepney from the town center. Originally named "The palace in the sky" and destined to become a lavish mansion, the site was later transformed into a public park.
Once there, you'll get a great vantage point from which you can view the whole Tagaytay area. The park isn't much, with only a few old buildings and not real activities to try. There are a few shops there, where you can buy souvenirs, snacks and drinks. Climb the stairs to the small church's roof, to get an even clearer viewpoint of your surroundings.
A popular family attraction is visiting Picnic Grove, another hillside location with great views. As the name suggests, this is a large grassy area where people gather for picnic and BBQs. There are also some activities offered on site, such as horseback riding, a zip-line and a cable car. Although none of these are too exciting, the place offers a pretty decent adventure package, which is also child friendly.
The Sky ranch is another activity which could be fun for families. This is a theme park and amusement center, with plenty of rides and activities you can try. If you are a kid at heart, this is also a nice location for couples. There's definitely a romantic feeling riding the big Ferris wheel and marvel at the panoramic view. Since the theme park is close to most hotels, it shouldn't be hard to find time for it if you plan on spending the night in Tagaytay.
Nightlife in Tagaytay is quite weak, so your best bet might be visiting the local casino. Although not as spectacular as its Manila counterparts, it can still offer some entertainment and a way to pass the time. As evident by the level of hotels, Tagaytay is a place which attracts wealthy locals. Thanks to that, there are also quite a few good restaurants to try. This could be your chance to try fine cuisine for cheap, and get a taste of the local food – just drop us a mail and we'll be happy to give a list of restaurants you can choose from.
How Does Tagaytay Fit Into My Travel Plan?
Tagaytay Day Tour Promo Deal
This special tour package include:
Manila van transfers
Private or group tours
VIP service throughout your trip
Limited time offer : Rates as low as Php 3000 per person!
Thanks to being so close to Manila, it's extremely easy to pay Tagaytay a visit. There should be no problem squeezing it in, either at the beginning or the end of your vacation. We offer Tagaytay day tours going out of both Manila and Batangas, as well as packages which include an overnight stay.
Its possible to book these tours by themselves, we'll still help you take care of everything. However, it's much better to visit Tagaytay as part of a larger itinerary, so you can enjoy better deals and make the most out of your time in the Philippines.
Tagaytay is extremely close to other fantastic destinations such as the beaches of Batangas and Puerto Galera – so why not combine everything and build a more comprehensive plan?
Get in touch with us now and we promise to help plan your Tagaytay package and customize it to your specific needs. We promise to stay with you throughout your entire holiday, and make sure you get to enjoy it with a clear mind.
40 Comments