The most convenient way to get around the Philippines is by flights. The Philippines is an archipelago, and therefore travelling by land is impossible, and taking ferries is really time consuming. Domestic flights are relatively cheap and sometimes even cheaper than taking a boat.
We present only up to date information and encourage our clients to research and find the best routes and prices. With the information you learn here you can surely book your own flight, but when buying one of our packages or booking hotels through us, we also help book the flights for you. We are not only saving you the effort, but also helping you pick the best flights, and coordinating it to fit perfectly with your itinerary, hotel pickups and more.
How to find the best deals?
There are several ways to get flights at a bargain price when travelling the Philippines. You either have to be flexible and spontaneous, or have a very good plan on where you want to go to, and book ahead of time.
If you're flexible with your schedule, most domestic companies offer last moment promos. In other words, booking one day before your flight can be a lot cheaper than doing so one week in advance. The promo fares also differ by destination, and not being fixated on where to go can save you money, while setting you on an adventure.
Booking a long time before flight, and we mean the longer the better, usually yields discounted flights. If you are a very calculated and well planned traveller, go ahead and do so! Once you're set to fly to a certain destination, make sure to compare between airlines. Though some tend to be cheaper than the others, this rule of thumb should always be validated, because discounts and promos are also based on each flight's free seats and departure times.
Another very good way to save some money is to fly to a nearby airport to your original destination. For example, you can fly to Boracay in two ways. The easier and more costly one is to fly to Caticlan airport. Alternatively you can fly to Kalibo in a larger airplane and then take a hour and 30 minutes bus to Caticlan. This happens to be the case for many destinations you'll like to visit in the Philippines, so it's very helpful to be creative in order to save money.
7 Philippines flights quick facts:
There are flights to almost all destinations in the country from both Manila and Cebu. Be sure to check whether your next destination is accessible via single flight, or a transfer is needed.
Always assume there's going to be a delay. If you're planning on a transfer, always take at least 3 hours between flights.
There is an exit fee in all airports, which is around 300 PHP, so you should have some money in your wallet. Don't count on your credit card.
Most flights are less than an hour long. Shorter than an average taxi ride in Manila.
Baggage weight limits in most domestic flights are lower than the international standard, and is usually around 15 kg. On top of that, the lighter you fly, the cheaper your ticket will be.
Make sure you check on any local or Christian holidays, because fares go up immensely and flights are very often fully booked.
Domestic flights do not offer food and drinks for sale on board. Bring your own snack and water for the short flight.
which airline should you take?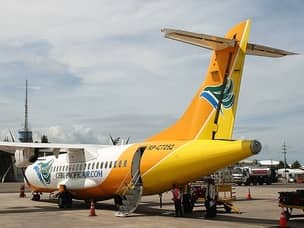 The most prominent domestic airlines in the Philippines are PAL Express (Philippine Airlines), Cebu Pacific and Air Asia Philippines. PAL Express tend to offer better quality than the other two economy airlines, but for a higher price. Cebu pacific goes to more destinations than all of the others, and even goes beyond domestic.
There are also quite a few smaller airlines like Skyjet airlines, a boutique company with only 5 destinations, or AirSWIFT who flies to only 3 destinations and actually owns their private and only airport in El-Nido, Palawan. It happens a lot that several companies fly to the same destination. For example, when flying to Boracay from Manila, there are around 12 daily flights offered by multiple companies. This is the case with many popular destinations, with a high volume of passengers.
However, certain destinations are reachable by only one airline . For instance, if you want to fly directly to El-Nido in Palawan, AirSWIFT is your only option. When flying to Siargao directly, you'll have to catch a Cebgo (a sister company of Cebu Pacific) flight from Cebu or a Skyjet airlines flight from Manila.
Our suggestion is, when deciding on which flight to take, to compare between all airlines and choose the one that offers the best fare and time for you. In our opinion, other differences between them are insignificant. All offer promos and discounts, and it's a matter of timing and luck getting the best deal. When flying to more exotic destinations, you don't have the luxury to pick between many airlines or even between flights. Sometimes there is only one daily flight offered exclusively by one airline only.
Our last suggestion is to always try and get a flight that lands in a reasonable time, because when flying to cities other than Manila or Cebu, transportation from the airport is going to be difficult to find.
Spread your wings and fly
Now you have the tools to plan and book domestic flights for your vacation in the Philippines. But even if you can fly solo, isn't it better for you to save all of this headache and book through us? Our familiarity with the Philippines and its airlines can come to your aid if you choose to buy one of our deals, or book your hotels through us. We will even coordinate the airport pickup for you. We will make sure that you fly smart, and get the best deals available.
6 Comments