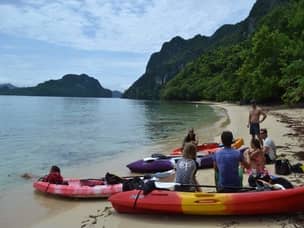 Travelling to the Philippines as part of a group has many advantages. You can meet like-minded individuals and make new friends. On top of that, group tours also allows for discounted bundle deals – so you get to enjoy everything the Philippines can offer at much more reasonable price. It makes no difference if you come with your own group of family or friends, or join one of our organized group tours – we will do all we can to make sure you get the most out of your vacation.
Read below to discover our most popular group packages, and how to find the best deals. These packages have predetermined dates and are open to anyone who wishes to join. Group tours will go through as soon as enough people sign up. Alternatively, you can set your departure dates by contacting us, and we'll find you some suitable companions. For private tours, just visit our tours and attractions page and pick the ones you like the most.
Join a group
We believe that joining a group for your holiday is a great way to experience the Philippines. Whether you are traveling solo or with people, you might feel more comfortable in a group of like-minded individuals. Traveling as a group helps you reduce costs and get better deals, as well as meet interesting people that can become your friends for life.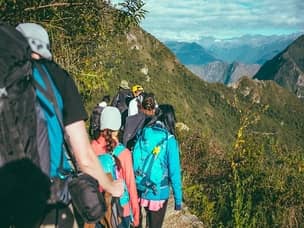 If you are in stages of planning your trip with your own group of friends or family, you can easily book any of our packages and we'll modify it to meet your needs as a group. The Philippines has many destinations that are perfect for small groups of any type- friends or families of any age group. If you're still unsure what's the best destination for you private group, contact us for free advice.
Our organized package tours are designed for small groups – usually no more than 12 people. We feel that is the best way to make sure you get the most out of your holiday. Small groups allow for extra attention from our staff to your specific needs and desires. Packages include airport pickup, transportation to various destinations of your choice, accommodation and an assortment of guided tours – full of fun and adventure, tailor made to meet your expectations.
What's the right group package for your holiday?
Our group packages will fit most, and we try to make them wide enough that they will give the most complete Filipino experience that one can get. However, because our packages are made to fit a variety of people, you might feel that they don't meet your desires perfectly. They might be too short or too long, or they exclude some places or activities you're interested in.
If that's how you feel, there are several options available. If you to travel for longer, tell us and we'll arrange a private package for the continuation of your trip. Another option is to contact us and tell us what you had in mind regarding your vacation. We will propose an itinerary that matches your desires, and will try to find people who want to share the same experiences.

The tours we offer cater to different people, and focus on a specific interest. For example, our
families group tour package
is meant for families with kids who want to travel with the company of other families. By doing so the kids can entertain one another while the parents can have some peace of mind. Joining a group isn't the only option you have if you travel as a family, as you can build your own custom made
family package
.
Our adventurous Philippines package is good for anyone as it includes many of the most iconic destinations in the country. If you wanted to have a diving vacation in the Philippines, our diving group tour package will allow you to join with other divers. It's highly advised for singles and small groups of divers to join a group, as it ensures you'll get the best deals, and have private and group homogeneous diving tours.
Joining a group for a single day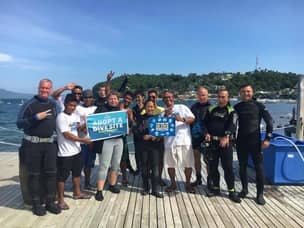 We offer day tours for every destination we review, each according to its own unique attractions and recommended activities. All these tours are escorted by a local guide, and can also be incorporated into any package you order. Sometimes it's nice to spend just a single day with new people and make some friends. It's also a way to save money, as many of the tours have a fixed price which is good for a set number of people. By sharing your experiences with people you also share the costs.
Every place you'll visit is good for joining a day tour, and the more touristy it is, the more chances it can be done. When you book your vacation, inform us that you'd like to join a group in all or some of the tours you'll take. We will do as much as possible to adjust your package according to availability, as some of the day tours are impossible to book as a group tour a long time in advance.
Manila day tours for groups
One of the largest and most populated city in the world, Manila is always teeming with action and interesting people. It's easy to feel lost in such a big city, and that is why joining a guided tour is ideal. Booking private tours to many of these destinations doesn't always make sense, as upon arrival you will be surrounded by fellow tourists anyway. We can help you figure out which of the tours are better taken privately and which are better as a group, according to your preferences.
For those looking for ways to pass their days in the city, there are no shortage of options. The best idea is to visit one of the amazing location nearby, such as the Taal volcano in Tagaytay, Mount Pinatubo or Puerto Galera. Joining a group will make it more convenient and faster to visit those destinations, and make your time in Manila unforgettable.
Day tours inside the city include viewing historic landmarks, or visiting museums to learn about local history and art. One especially recommended tour is the culinary tasting through the Chinatown district. No matter what your interests are, we can easily pair you up with an expert guide, and help you find companions with similar taste should you wish so.
Is a group tour the best option for your Philippines vacation?
It really depends on the type of person you are, but many people find it more comfortable to travel in groups. If you are traveling solo, or as a family with kids, you should consider this option as it can make your holiday much better. Also, if you have a very strong interest in the activities offers in our packages, like diving for instance, joining a group tour is advisable. Since it's really a matter of personal taste, we strongly advise you to go through our destinations catalog for better insight.
No matter what type of holiday you have in mind, our crew can help make it better. We created these flexible packages to ensure you will be able to get the most out of your vacation. We will be with you every step of the way and make sure you are getting all the guidance and assistance you require, so you can enjoy your dream vacation to its fullest.
20 Comments