The beautiful island of Dinagat is still unfamiliar territory to most tourists. This secluded paradise has some of the most stunning sites in the country, and is often compared to Palawan of 20 years ago. You can't even imagine how virgin it is, and it's only a matter of time before it gets discovered. This is your chance to visit this special place without needing to worry about anything.
Enjoy an encounter with the wild nature of the Philippines – breathtaking, mysterious and romantic. Dinagat is perfect for adventurers and nature lovers, who are willing to endure the hard trip there. Visiting these islands will reward you with a very unique experience, but because reaching them is complicated it's very important to plan well in advance and use expert advice.
Dinagat travel essentials
Capital : San Jose (27K pop.)
Flights : The closest airport is in Surigao City in Surigao del Norte. There are several early flights from Cebu, or from Manila with a layover in Cebu.
Ferry : The ferry service from Surigao Port starts at 05:30 AM and the last trip is at 02:00 PM. The ride is between 1 and 2 hours, depending on the weather.
Bus : It's possible to Take a bus from Butuan City or Cagayan de Oro.
Getting around : The most common means of transportation are either tricycle, habal habal (motorcycle ride), or a private van.
Best time to visit : March to October are the drier months of Dinagat Islands and make the better time to visit.
Attractions : Nature, island hopping, lake Bababu, caving.
Local festivals and holidays : "Bogkusan sa Isla" celebrates the union of the municipalities of Dinagat and their new status as an independent province in 2011. It takes place at the beginning of December.
What to do in Dinagat Island?
Tropical beaches, secluded islands and lakes will leave any visitor in awe. When Alex Garland wrote his novel "the beach", he lived in a place very much like this. If you happened to read the book or watch the movie, than you will understand the atmosphere of these islands, a secluded wild paradise, waiting to be explored.
Dinagat is difficult to explore without a guide, as it is to the most part still undeveloped and heavily forested. Choose your points of interest from the list below, and we will build a personalized itinerary out of your wish list.
Island Hopping Tours
There are so many islands around for you to explore, that you'll need a very long time to visit all. The most popular islands are in Basilisa Municipality, just a little north of San Jose. Lalaking Bukid Island for instance is famous for its mesmerizing beaches – Bitaog and Kakakongan (and many others, which aren't as popular).
Other prominent islands around are Isla Aga and Sondayo, where you will find secluded white beaches shielded by limestone cliffs and coconut trees. Another noteworthy spot is Oasis Islet, in front of Libjo Barangay. There you will see many islands and islets scattered in the water around, creating some truly spectacular views. There are so many hidden spots and majestic beaches, so if that's your thing Dinagat is perfect for you.
Discover the hidden treasures of the lovely beach towns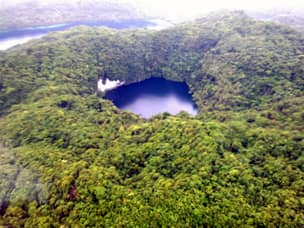 Each town has its own unique attractions and sites. In Basilisa you will find the famous lake Bababu – lake which connects to the ocean through an underwater tunnel. The tunnel is 650m long – the longest underwater cave in the country. The lake itself is surrounded with tall cliffs from all sides, making its surface very calm. It creates a unique phenomenon – a layer of 8m of fresh rain water that doesn't mix with the sea water underneath.
San Jose is a the capital of the province. If you choose to spend your nights there, make sure to visit the white castle of Dinagat – owned by the Ecleo Clan, a very influential family in this province. You could also pay a short visit to the PBMA shrine (a local religious organization founded by one of the Ecleos), since the shrine has a very beautiful and well maintained garden.
In Libjo is a beautiful beach town, where you can stop and gaze at the small islands in front of it, and even explore them by boat. Take a guided tour in the enormous Quano Cave, and be amazed of the limestone formations inside.
There are plenty of other sites to visit, such as the bonsai forest in Loreto Town, the bat sanctuary in Tubajon, or countless other hidden gems of nature. There are plenty of private beaches in all parts of the main island, especially in Cagdiano. Because of the great number of things to do and see, we recommend to take some time in Dinagat, appreciating it to the fullest.
How does Dinagat fit into your travel plan?
If you are looking to add a destination to your schedule that is wild and mysterious, Dinagat is just for you. It's a great choice for nature lovers, couples on their romantic holidays, and anybody who wish to visit one of the world's last frontiers. But keep in mind that it's very rustic. So, if you standards are really high, it's best if you check out El Nido in Palawan, or Caramoan Islands.
Thanks to Dinagat's proximity to Siargao Island, it's very advisable to pair these two destinations together. We recommend you spend at least a couple of nights in each, so a short trip to this area isn't advisable.
5 Comments