As mentioned, the main attraction is the whale sharks. Donsol is one of the best places in the world to see these magnificent creatures up close and in a natural environment. Unlike Oslob, In Donsol the tour is highliy regulated and well executed, and there's no long term damage to the whales and the environment.
A standard Donsol trip package requires 2 nights. On the first day, you will go swim with the sharks, then on the second one you will hike to Mt.Mayon. Many people add an extra day for an additional whale shark encounter – it's safer since there's no guarantee you will see them on the first try. Since the whale shark attraction begins very early in the morning it is also technically possible to do everything within a single day – but this means you'll only get to catch a panoramic view of Mayon and not be able to take on any hikes.
Donsol Whale Sharks Encounters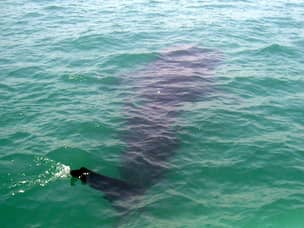 Swimming and snorkeling with the whale sharks in Donsol is one of the most unique and exciting attractions in the Philippines. This alone makes the trip to Bicol worthwhile. That said, there are several limitations to this activity which you should really take into consideration. While spotting the whales is very common, it is by no means guaranteed. For that reason, some people choose to book two excursions instead of just one.
The tour in Donsol is highly regulated and very eco-friendly. First of all, they set a limit of only one boat per whale. If only one whale is spotted, you might be forced to stay at the pier and wait your turn. In such cases, they try their best to alternate between boats so that everyone has a chance to spend at least some time at sea, but it could mean you will miss out on the whole tour.
Secondly, whale sharks are not always spotted in the wild. This is not like Oslob where the feeding draws them consistently and turns the whole experience into a zoo-like feeling. Here you get to see these magnificent creatures free and in the wild, but that also means they set their own schedule and don't care if you booked a tour and woke up early to see them. Lastly, there's no diving allowed. You can only swim and snorkel, and you should also be mindful of what you put in the water – for example it's not ok to wear sunscreen.
The tour is suitable for anyone who knows how to swim. The whales swim as they like and while they are not the fastest animal out there, you can't really follow them around if you have to wear a life vest. The minimum age is generally around 12, but younger kids can do this activity as well if they are good swimmers. Our tour package includes transportation (with tricycles, no vans available), boat with a guide, all fees, snorkeling gear and light refreshments.
Mt. Mayon Volcano treks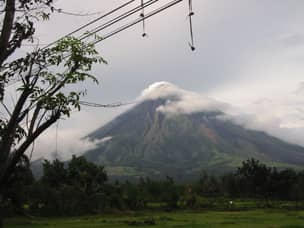 Mt. Mayon is the most active volcano in the Philippines and certainly the most iconic one. It has been dubbed the most symmetrical volcano in the world thanks to its perfect cone, and is truly a spectacular sight. The mountain is located only 2 hours away from Donsol, so it is very easy to visit both locations as part of the same tour package.
There are several different trails and trekking routes you could explore at varying difficulty levels. The easiest tour, and most popular one, is the day tour of exploring Mt. Mayon. If you like hiking this Is sufficient in order to get a feel of the area and visit this wonderful landmark. It is also the most family friendly option and children of all ages can complete this trek quite comfortably. If you want to spice up the trip a bit, ATV rentals are also possible as an add-on.
More experienced hikers might prefer to pick the longer trails instead. These are of moderate difficulty and take longer to complete, but they are much more rewarding. The overnight tour package is perfect for people who love to camp in the wild, and the 2 night package is the ultimate trekking experience and quite possibly the best hiking tour in the Philippines. While these options are open to anybody, prior experience in trekking and outdoor activities is highly recommended.
All tour packages to Mt Mayon include roundtrip transfers and private guide services. All meals and drinks are included as well, and so are all the environmental fees and taxes. If you wish to bring your own sleeping bag or tent then let us know – otherwise we will provide you with one for free. Please keep in mind that since this is an active volcano, tours may be cancelled without prior notice if the authorities block access to the mountain.
How Does Donsol Fit Into Your Travel Plans?
While Donsol by its nature is a more suitable choice to those who come here for longer vacations, it's perfectly understandable if you don't want to miss on the unique attractions it offers. This is why we have designed our trip packages to be as efficient as possible, so you can see and do the most at a very short time. While longer stays are encouraged, our standard tour package of 3D2N is enough to experience everything Donsol has to offer.
Donsol is a standalone destination, and requires you to fly into Legazpi and drive from there. Those of you with 2 weeks or less in the Philippines are probably better off skipping it since it will be a challenge fitting it in with other "must see" destinations such as Palawan, Boracay and Bohol. Still, if you are a fan of raw nature and the outdoors, and are not shy of straying off the beaten path, it might be a good alternative to some of the more touristic spots. It also a perfect choice for those based at either Manila or Cebu and looking for a weekend getaway.