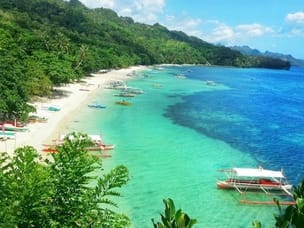 Sipalay is a small beach municipality on the western shores of Negros. In many ways, it resembles places such as Dinagat and Caramoan Islands – both in terms of its remoteness and virgin beauty. But in all truth, to us it mostly reminded of Siquijor (only with better beaches), thanks to its laidback atmosphere and cool beach vibe.
Similarly to the destinations mentioned above, going to Sipalay isn't recommended for most first timers to the Philippines. It's quite hard to reach and doesn't provide enough "value" in return. If you only have 2 weeks here in the Philippines, spending 3-4 days on a trip to Sipalay might feel like a waste and you should consider picking more traditional locations instead, such as Palawan or Boracay for example.
Sipalay really shines as a respite away from civilization and tourists as part of a longer itinerary. It's also a great choice if this isn't your first visit to the Philippines and you are eager to say a different, more innocent and undeveloped side of the country. Keep in mind though, that even with the help of a travel agent this is primarily a DIY destination and will require a certain degree of independence from your end.
Read below to find more about Sipalay and see how we can help you with planning and executing your stay there.
Sipalay Travel Essentials:
Location : Negros Occidental Province
Flights : Fly to Dumaguete or Bacolod then take a bus/van from there
Bus : Ceres Bus Terminal – 7 hours from Dumaguete and 9-10 from Bacolod
Best time to visit : Between January and June
Attractions : Diving, lagoons, empty beaches
Extra tips : it's hard to find ATMs so bring some cash with you. Be prepared for no Wi-Fi and weak phone signal overall.
How to get to Sipalay?
The best and easiest way to get to Sipalay is from Dumaguete. There are daily flights to Dumaguete airport from both Manila and Cebu, and you can also get there by taking a ferry from Cebu or other islands in Visayas such as Bohol or Siquijor for example.
Dumaguete is a great place to spend a day or two. The main attraction is diving, most notably going to Apo Island for a whole day excursion. Once you are done with Dumaguete, there are several ways to make the trip to Sipalay from there.
The most recommended way to get to Sipalay is by renting a motorbike or car and making the trip yourself. The biggest benefit is that once you get to Sipalay you'll have an available mode of transportation so you'll be able to roam around freely. It is possible to rent a bike once already there, but availability and quality is seriously limited. We did the trip this way and it was very fun; the roads are surprisingly smooth and it takes around 4 hours to drive, including stops along the way to enjoy the scenery.
If you aren't into driving yourself, then of course we can hire a private van for you so just let us know. There's no downside to this choice apart from the cost, which would be around $150 per way. If you are travelling with a large group or as a family this makes a ton of sense.
Lastly, you can always take a bus if you want to minimize costs. This option is highly unrecommended as it will make the trip take 7 hours instead of 4 and of course also be much less convenient. If you are still interested, simply take a tricycle to the Ceres Terminal in Dumaguete and board the bus there going to Sipalay.
It is also possible to get to Sipalay from Bacolod. All of the options above apply to this one as well. Simply add 2 hours to the drive time of each (possibly 3 hours to the bus). If you take the bus, go to Ceres Terminal and you'll find it there. If you don't see a bus to Sipalay don't be alarmed – the bus to Hinoba-An goes through Sipalay so you can take that one instead.
Where to stay?
There are 3 main areas in Sipalay where you can find accommodation: The city itself, South Coast and Sugar Beach. The only reason we are mentioning this is to make sure you understand and able to avoid staying anywhere else than Sugar Beach.
The city is very basic and there's absolutely no reason to sleep there. Sure, it's much cheaper, but beach resorts are also very cheap (you can find decent rooms for around $20 a night), so there's really very little upside to staying in town. South Coast is a decent option on paper – it's a nice, quiet beach with hardly any tourists in it.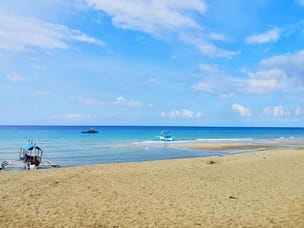 The reason some guides recommend South Coast is because Sugar Beach is the "most popular beach in Sipalay". But to be honest that doesn't really mean much, because in all likelihood even if you stay there you'll be the only guest in the resort or at least just one of a few. So you might as well stay at the much nicer beach right? After all, it is the most popular for a reason.
If you are looking to book on your own, just search for beach resorts that are located North of Sipalay City. Keep in mind, that selection online is very limited – many resorts there simply don't work with large booking sites and only rely on walk-ins and local partners such as ourselves.
The overall level of accommodation in Sipalay is surprisingly decent. You can't find world-class all-inclusive resorts here of course, but even the 2 or 3 stars ones are very clean and quite nice. Punta Bulata Beach resort is the only high-end resort in the area (costing $80-90 for the most basic room) – and it is actually quite nice. Keep in mind that none of the resorts here have much in ways of Wi-Fi or even phone signal, but other than that they will provide everything you expect.
If you can't find a resort you like online, and don't want to just "risk it" by arriving and finding something by walking up and down the beach then shoot us an email. We'd be happy to give free advice and help you choose. As mentioned, many of the resorts there are not listed online, and some of these are actually really nice. We can text the owner on Facebook and they'll send us some pictures we can show you.
What to do?
The real reason to visit Sipalay is to just relax in your resort or on the beach. There aren't many breathtaking locations or exciting activities to try out there. The main attraction is just the opportunity to relax amidst beautiful scenery all by yourself. If you want peace and quiet with a fair distance from civilization then this is where you should go.
The beaches are all quite nice, but assuming you'd be staying in Sugar Beach then there's no real reason to try out any of the other ones to be honest. If you do feel like mixing it up a bit, then head out to Poblacion Beach to watch the sunset over there – it really is quite nice.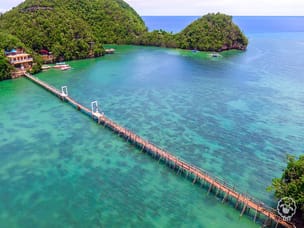 When it comes to day tours, there is of course an island hopping excursion available. You can head to the beach and book it on the spot, or ask your resort to book it for you. In any case, it should cost no more than $20 per person. This is a pretty standard island hopping experience – nothing remarkable like the one in El Nido for example. But still, it's quite nice – the waters are clear and great for snorkeling and the beaches are beautiful. The biggest upside is that unlike El Nido, here you'll most likely have all these nice spots all to yourself.
If you want to try out something a little bit more special, then book the day tour to Danjugan Island instead. This is a whole day trip to the nearby island where you will visit no less than 5 lagoons and a bunch of small islands as well. You can kayak in some of the lagoons, and swim and snorkel in the others. This tour usually costs around $40 per person and includes lunch.
Of course, there's also diving available in Sipalay. There isn't anything there that really stands out, but it's a good place for beginners and the marine diversity is wide, as in all places in Negros. The best way to go about it is to stay at a dive resort and book the dives with them. These resorts are typically located at South Coast rather than Sugar Beach though.
How does Sipalay Fit into my itinerary?
Sipalay is quite far from anywhere else and there's no way to include it as a single day tour. So, the short answer to this question is that it doesn't really fit into your itinerary at all. If you want to visit this place, you'll need to make an effort to include it and build your travel plan around that.
If you are considering going to Sipalay then send us an email. We will help you figure out if it's the right choice for you and how to easily incorporate into your itinerary in the Philippines. This is a beautiful place and certainly worth seeing, but careful planning is required to avoid unnecessary time wasting and additional expenses.