El Nido, located in the northern tip of Palawan's main island, is considered the highlight of most Philippines vacations. Regarded as paradise, and the last frontier of the Philippines – this place maintained its natural beauty, rarely found in other places.
The secluded islands and lagoons, white beaches, fabulous resorts and unique atmosphere all make El Nido the perfect destination for romantic vacations. All packages include airfare, hotels and tours based on your choice, and staying for at least 3 nights is recommended. Since Coron is very close, and you'll most likely be passing through Puerto Princesa on your way to El Nido anyway, consider joining these destinations into a full Palawan tour package.
El Nido Travel Essentials:
Location : 240 km northeast of Puerto Princesa (Palawan's capital), about 5 hours drive.
Flights : Several daily direct flights from Manila and Cebu. Also a flight from Boracay once a day. Recently, a new daily flight from both Coron and Puerto Princesa has been established.
Boat : There is a ferry operating between El Nido and Coron daily – The trip is 8 hours. You can also take the Fastcraft and reach it in 3.5 hours, if your'e willing to pay a bit extra and wake up early in the morning.
Best time to visit : November to May is the dry season, and the best time to visit. November to February is sunny yet cool, while the rest of that period is relatively hot. Visiting during wet season is also possible for spontaneous travelers.
Attractions : Island hopping, snorkeling, scuba diving, romantic getaway.
Extra tips : Perfect for honeymooners, bring your own snorkeling mask.
How to get there?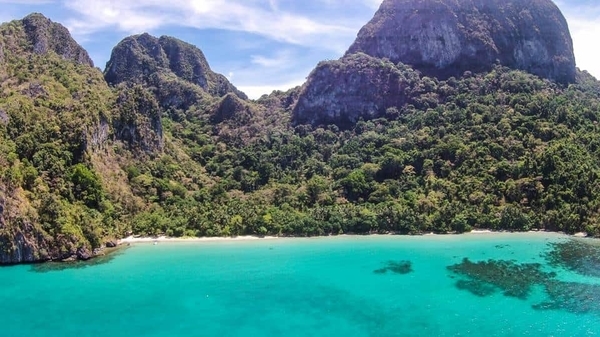 The fastest, most convenient way to get to El Nido is by plane. There are 4 daily flights from Manila at 6:30, 9:55, 11:00 and 14:00 by AirSWIFT, and travel time is 1 hour. There is also one flight from Cebu City, which leaves daily by 12:55, and is a bit longer than 1 hour.
All Flights land in Lio Airport, the only airport in town. AirSWIFT recently launched an El Nido-Boracay line as well, but since it only runs once a week (every Tuesday) it's best if you check with us first.
Direct flights to El Nido are relatively expensive, and a more cost efficient way is flying into Puerto Princesa and taking a van to El Nido. The flight is a lot cheaper since there are several airlines serving this line, many times a day. The first van leaves each day around 7:30 AM, and the last one at 6 PM. Departure time is not exact as the van operators wait for the van to get full. Expect a traveling time of 4.5 to 6 hours.
Recently, a new flight from Puerto Princesa to El Nido as been established. This flight is operated by Air-Swift and leaves at noon time each day (around 2PM). It will cost a bit extra compared to the shared van, but the flight takes only 20 minutes. Similarly, there's now a line connecting El Nido and Coron.
In case you prefer a private transit taking you directly to your hotel, we'll coordinate the hotel pickup for you. Booking your van ride in advance is also possible, and recommended especially during high season.
What to do in El Nido?
The best island hopping in the world, pure white sand beaches, world class scuba diving and luxurious beach front resorts. What else can you ask for your holiday? It's for those reasons El Nido stars in various travel magazines as the best island in the world.
Read on for more information about all activities in El Nido, and book any package you like. Alternatively, Contact one of our travel agents and we'll assist you in planning your complete El Nido itinerary.
El Nido Island Hopping Tours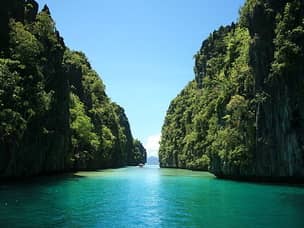 Over the years island hopping became very organized in El Nido, and is offered in a four tours format. You can choose between these and if you stay long enough, even do more than one. The tours do visit the most spectacular sites, but there are more than 50 perfect white sand beaches around, and that means that a lot of them are not included in the ordinary itineraries.
We can easily book a private tour to take you to the islands and beaches of your choice, including the ones on the regular tours. Rates will be higher, but if your group is 4 people or more, the difference will not be that high. In case you are staying at one of the luxury resorts on the small islands, booking a private tour is the best option. If you are traveling with children, a private tour is also highly advised, because it will give you the flexibility to do things in your own pace.
All island hopping tours leave at 9:00 am and are around 7 hours long (returning at 4:00pm). They are divided into tour A/B/C/D, when tours A and C are considered the best attractions El Nido has to offer. The island hopping tours' prices range between 1200-1400P (24-28$) per person. Lunch and water is included, but be prepared to bring sunscreen as you're going to spend all day under the sun.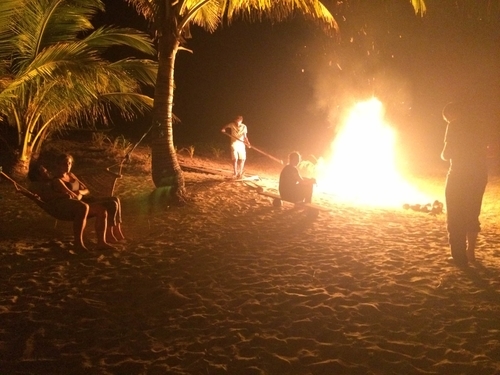 Island hopping tour A consists of the 3 lagoons of Miniloc Island, Shimizu Island and Seven Comandos Beach. Miniloc Island is a small island with a private resort on it, but it's mostly famous for the "Big Lagoon; Small Lagoon; and "Secret Lagoon". You can swim and snorkel in all of them. These lagoons are surrounded by tall limestone cliffs covered in greenery, looking like nature's cathedral. The lagoons are among the best sights you will see while island hopping anywhere in the world. Shimizu Island and Seven Comandos Beach are two amazing tropical islands with white sand beaches, and coral reefs close to shore, where you can spot fish and turtles.
Island hopping tour B goes to Snake Island Sandbar that is entirely submerged during high tide. Pinagbuyutan Island is almost entirely limestone made, and Entalula is also a densely vegetated perfect island. In both you can swim and snorkel, as well as relax under the palm trees. Two other destinations unique to tour B are Cudugnon Caves – an archeological site with excavations dating to 1000 AD, and a stop in the middle of the ocean dedicated to snorkeling. This tour is for people who wish to avoid the crowd while on vacation.
Island hopping tour C is the most recommended attraction by the locals. It visits some of the most scenic spots in El Nido. First stop is Helicopter Island, named for its shape. Then you'll sail further west to explore Matinloc Island. There are two exceptional beaches on the island – Hidden Beach that is hidden in a tunnel between Matinloc and an islet facing its eastern coast, and Secret Beach. The later inspired Alex Garland's beach in his Novel "The Beach". It is basically a sinkhole with a pocket of white sand, and the entrance is a small hole in one of its corners. Last stop is usually Star Beach, a nickname it got for the abundance of starfish in its shallow waters.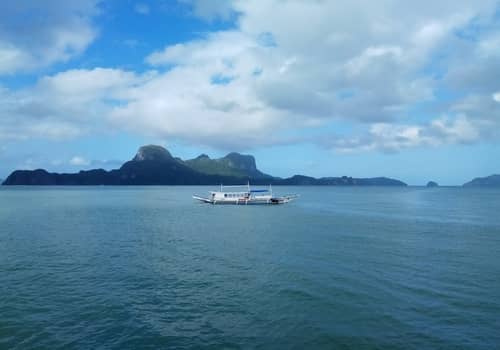 Island hopping tour D is mainly about exploring Cadlao Island, the biggest island in Bacuit bay, and the one that overlooking El Nido Town. The first stop is on the mainland, Ipil Ipil beach that is only accessible by boat. Afterwards you'll explore Cadlao, not only the biggest but one of the best islands in El Nido. You'll sail in the island's lagoon, and visit 4 breathtaking beaches: Paradise, Pasandigan, Natnat and Bukal. This tour is perfect for white sand beaches, relaxing and swimming.
Book more than one of the island hopping tours to fully appreciate the beauty of El Nido. Going on several tours also makes the price for each significantly lower. If it's hard for you to choose, visit our El Nido island hopping catolog for detailed information of all tours available.
Scuba diving in El Nido
There are as many as 30 dive sites around El Nido. Most of these are in the Islands of Bacuit Bay – Cadlao area, Entalula Island, Miniloc, Paglugaban and Matinloc. What are you expected to see while diving here? There is a wall that drops down to 40 meters, lively coral gardens, slopes and lots of marine life.
The area is Sheltered from winds by the tall limestone cliffs which make the water calm and clear, perfect for beginners and advanced divers alike. If you aren't certified yet, El Nido is one of the best places to do so. It's also a perfect opportunity to improve your diving skills as the clubs here are highly professional, with very advanced instructors and new and maintained gear.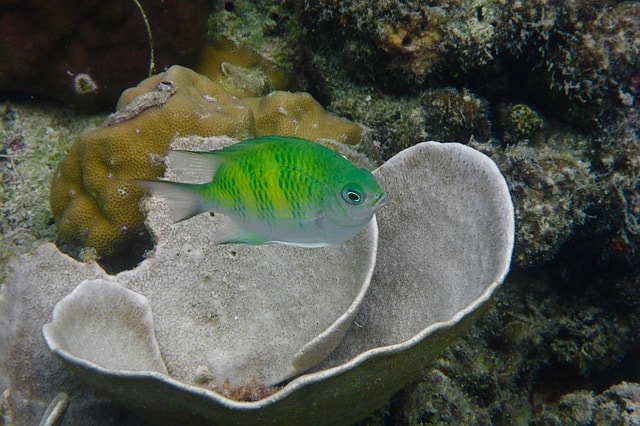 Miniloc area is the most popular dive sites in El Nido. South Miniloc boasts many coral gardens and schools of fish. That's because the currents between Miniloc and the facing Shimizu Island carry nutrients with them. The highlight of the dive is a big school of big-eye snappers. In the northern side of Miniloc there is an area great for pelagic. It is facing the middle of Bacuit Bay and a place where many big fish come by like schools of barracuda, jack fish and spade fish. If you are lucky you might spot black tip reef sharks, eagle and manta rays.
Cadlao area is very interesting also. Its most distinct dive site is an underwater tunnel named Dilumacad. It was discovered in the 90's and is around 40 meters long with a cavern in the middle. Only suited for advanced divers though. Right next to it however, there are sites perfect for beginners, full of shallow reefs and marine life.
45 minute from El Nido town, you can find the 40 meter deep wall drop, near Entalula Island. In general there are two types of dives here, a vertical drop and a drift dive. The dives here are great for all level of divers. There is also a diving site nearby which is good for exploring rock formations and sea slugs (nudibranch). It's near Paglugaban Island, and good for all levels too.
For the serious divers, diving safaris to Coron and Tubbahata Reef are heading out of El Nido. It is something to take into consideration when diving here, because a combined diving package will give you better prices. Book your ultimate diving package with us and we'll fix the perfect diving trip for you, with accommodation of your choice.
Other activities and day tours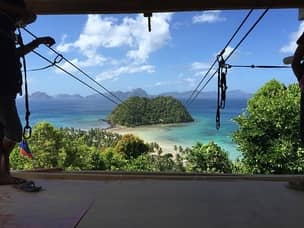 Surfing and kiteboarding is available within a driving distance from El Nido town. It's a great way to spend the day, since you can also learn how to surf with an instructor. Surfing can be found on the west coast of Palawan – 45 minutes drive from town in Duli Beach. Kiteboarding can be found further down the east coast.
Kayaking to the secluded beaches near your resorts is also a very popular activity. You can rent a kayak by the hour or for the whole day. It's great for couples for a romantic castaway experience, small groups of friends, and families with old enough children. It's a tiring activity and should only be done when the water is calm with no currents.
Las Cabanas Beach 30 minutes south of El Nido town has a nice resort. It's a very beautiful and quiet beach, but the main attraction here is a 750 meters zip-line.
It goes from the main beach to Depeldet Island in front, and from there you can either ride back for an additional fee, swim back in the shallow waters, or walk on low tide.
Special El Nido Package Deal
Customized by our experts for your specific requests. packages include:
Beachfront resort of your choice
Private or group tours
All transfers and logistics
VIP service throughout your trip
Limited time offer : Rates as low as 80 USD a day!
The price is 500P (14$) one way, and additional 400P for going back. It's a really fun thing to do, esecially for families and groups.
Exploring the nature around El Nido is a recommended activity as well. There so many small hidden beaches where you can have the whole place to yourself.
This activity is mainly done on your own, renting a tricycle or a bike. There are so many beaches to explore such as nearby Nacpan and Calitang twin beaches (very recommended), the 4 km white sand Duli Beach (1 hour away), and Verde Safari/Dagmay Beach.
If you want to try some mainland attractions, you can go mountain biking, and trekking to Makinit hot springs and Nagkalit-kalit Falls. It takes around 1 hour to drive there and then another hour of hiking. Another option is hiking to Ille Cave on the way to Nacpan Beach – where you can excavated artifacts, some believed to be 14,000 years old!
Some of these day tours are easily done by yourself, so there's no need to reserve in advance. Others are better booked ahead of time through us. Visit our detailed tour catalog, and start booking your desired day tours and activities.
How does El Nido fit into your travel plans?
If you visit the Philippines you should make El Nido your top priority. El Nido is a standalone destination as Palawan is far off other touristy attractions in the country. That being said, other destinations in Palawan can be easily joint into your Palawan package, such as Coron and Puerto Princesa.
The minimum number of nights recommended to spend at El Nido is 3, but most choose to spend a week, and others even more. The island is the perfect getaway for couples, offering the most romantic setting imaginable. Check out our El Nido honeymoon packages, or contact us to build your custom itinerary now.
8 Comments