Apo Island is one of the best places for scuba diving in the Philippines. There are two ways to experience this Island: Diving or quick visits for snorkeling. This place is very rustic, so if you want to stay here for the night keep that in mind. You can also dive in Apo island while staying on the mainland near Dumaguete, it will just mean you'll have to wake up earlier.
As a day tour however, it makes for a perfect trip. You can go there from either Dumaguete or Siquijor, and be back on the same day. Let us coordinate your Apo Island day tour, so you will find yourself snorkeling surrounded by sea turtles in the island old marine sanctuary.
Apo Travel Essentials:
Location : Dauin Municipality, 7 km from the southern tip of Negros Oriental
Flights : The closet airport is in Dumaguete city, the island is accessible by sea only.
Boat : The access to Apo is by a small boat from Malatapay town in Negros Oriental.
Best time to visit : Marine life is present all year, but October to June is the best time to visit.
Attractions : Scuba diving, snorkeling, sea turtles.
Extra tips : Bring Cash since there are no ATMs. Whether you're planning a day tour or a long stay, bring some food and snacks with you.
What to do in Apo Island?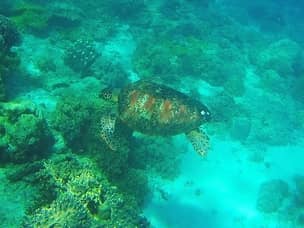 Apo is a tiny volcanic island, only 0.74 km in size. It is famous for being a community-organized marine sanctuary. Most of the coral species that are found in the Philippines (400 out of 450) can be found here. The island became one of the first marine sanctuaries in the Philippines, back in 1982, leading to great preservation and documentation of marine life. It also has highly professional dive clubs, and is considered one of the best diving spots.
As you can guess, Apo is a divers' island, and visitors mostly come for scuba diving. however, it's also a great place for snorkeling in case you don't dive, and don't intent to learn during your visit. It makes a perfect day trip for people who just want to snorkel around. Apart from the many coral and fish you can spot while snorkeling, there are around 60 documented turtles, soft and hard shell, in the shallow waters just in front of the main beach.
What else can you do on Apo? Well, not much. You can tour the island and trek the small mountain on it (starting point is by the lighthouse), but that's about it. There are only 3 hours of electricity between 19:00 and 22:00 every day. Wi-Fi is hard to find, only available in one restaurant.
Keep in mind, this place is not for spoiled people. Don't come to this Island if you can't do without air-conditioning, TV, swimming pools, fancy restaurants and a nightlife scene. The magic of this place lies with its simplicity. If you're willing to rough it up, you will be rewarded with the experience of discovering the beauties of underwater Philippines accompanied with a very rustic, yet charming, lifestyle.
Is Apo Island the best diving site for you?
If your'e considering a diving vacation in Apo, you might have some trouble deciding whether it's the right place for you. There a few different factors to keep in mind, as well as comparing it to several similar destinations that you might want to visit. The table below will give you a great overview but keep reading to fully understand how to pick the best package for you.

Average price per day :

50 USD

This price includes: Transfers, Accommodation, Diving Tours and Living costs.

Ease of reaching : Moderate

Accommodation options

: 1 star

Best time to visit : October - June

Main attractions

:

Scuba Diving
Snorkeling
Private beaches

Nightlife : None

Suitable for : Adventure, romantic
Average price per day :

80 USD

This price includes: Transfers, Accommodation, Day Tours and Living costs.

Ease of reaching : Moderate

Accommodation options

: 3 stars

Best time to visit : October to April

Main attractions

:

Scuba diving
Snorkeling
Island hopping

Nightlife : Mostly during high season

Suitable for : Adventure, romantic
Average price per day :

80 USD

This price includes: Airfare, Accommodation, Day Tours and Living costs.

Ease of reaching : Easy

Accommodation options

: 2 stars

Best time to visit : November to May

Main attractions

:

Diving
Waterfalls
Wildlife

Nightlife : Mostly on weekends

Suitable for : Romantic, family, group
Staying on Apo is very cheap. It's not expensive to get there, nor are the resort's prices. This however comes with a cost – it's not so easy to reach, and the accommodation is very basic. There's a certain charm in that but you'll have to get by with only three hours of electricity a day, very few restaurants and no nightlife.
Malapascua and Siquijor offer better accommodation and activities. Siquijor being the bigger island of the three, has more things to see inland. Both also offer a very calm nightlife that Apo lacks. Both tend to be slightly more expensive though prices aren't that high. In terms of diving, Siquijor is the least interesting among the three, while Apo and Malapascua are both excellent, and very difficult to compare. Read more about the specific dives available in Apo above, and about Malapascua on our Malapascua tour page.
Apo's simplicity shouldn't discourage you at all. If we had thought it wasn't worth a visit we would have never recommended it in the first place. It's just only suitable for certain people – If you're looking for an adventure, then this place is great. It's basic, but very beautiful and charming, and as we wrote above, the diving and snorkeling here is world class. Furthermore, thanks to Siquijor's proximity, you can easily try both.
How does Apo fit into your travel plan?
A day tour in Apo Island is suitable for travelers who are in Dumaguete City. If you are traveling around Negros, it is very advisable to try and get here. For those of you who want to dive, or get your scuba diving certification here, you can check our diving page and see if a diving package is suitable for you.
If your'e still not sure if Apo Island is for you, don't hesitate to contact us and one of our experts will be glad to assist you. If the basic style is not for you, nearby Dauin has plenty of diving resorts that can host you.
10 Comments