Oslob is located in the southernmost part of Cebu Island, right across the strait from Negros. It's famous for its large population of whale sharks, who stay there all year long. The area has become one of the biggest tourist attractions in Cebu, with an yearly average of 120K visitors coming in to watch, swim and dive with these gentle giants.
Oslob is a great destination for a tour going out of either Cebu or Dumageuete. It's also possible to spend a few nights and create a larger tour itinerary, but it's not recommended since the amount of activities is fairly limited. Since accommodation is quite cheap and standards are decent, it might still be a worthwhile experience.
How to get to Oslob?
Where to stay?
Photos
Inquire
From Cebu
you can take a bus, rent a private van or a taxi. The drive there should take you 3 and half hours. If you decide to take the bus, head to South Bus Terminal and grab any bus headed to Bato. Tell the conductor to drop you off at Tan-Awan in Oslob – that's where the whale watching takes place.
you can also grab a bus from Moalboal if your'e staying there. It only takes 2.5 hours to get to Oslob – so it's possible to visit Oslob as a day tour from Moalboal as well. We can arrange for a private transport, or you can just grab a bus headed for Bato. From the Bato bus terminal, grab a bus headed to Cebu via Oslob.
from Dumaguete you'll need to grab a taxi or jeepney to Sibulan port. Then, take the ferry to Liloan. Once at Liloan, take any bus headed for Cebu City and ask to be dropped in Oslob. Unless you get really unlucky with connections – the trip from Dumaguete is actually shorter, and shouldn't take more than 1.5-2.5 hours. This trip however, isn't recommended for people who are not well traveled, since it's quite complicated to do on your own.

Since Oslob is a popular tourist spot, there is a nice selection of hotels and resorts there. Most beach resorts maintain high standards, but don't expect anything luxurious. Bungalows and cottages are what you're most likely to find. Cheap accommodation is also available – with a handful of inns and guesthouses offering beds/rooms at very affordable rates.
Those looking for an all inclusive resort should consider staying at Sumilon Island. The only resort on the island is Bluewater Island resort – a 4 star beachfront property spreading over the entire island. Rates can be quite high – over 200$ per night – but you get what you pay for. The standards there are high and they'll also help you with all your desired tours and activities.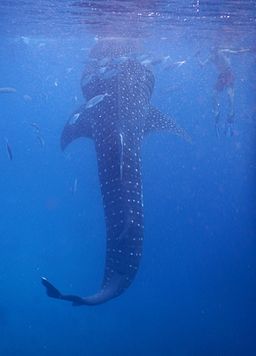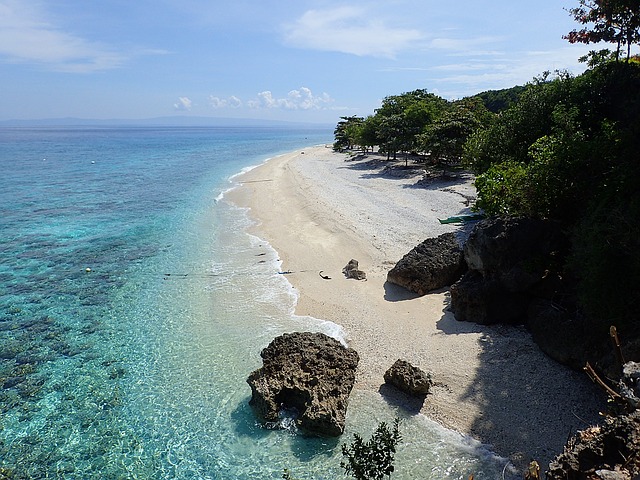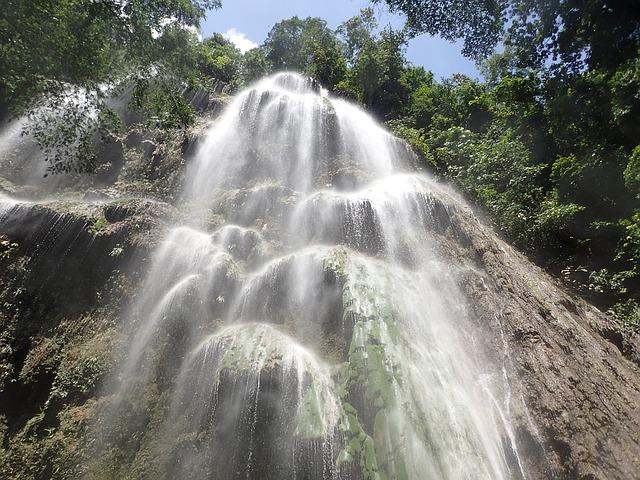 Oslob Travel Essentials:
Location : Oslob, Cebu Island, Central Visayas
Flights : You can reach Oslob from Cebu City, Dumageute and even Bohol (Tagbilaran). All these destinations have regular flights coming in from anywhere in the country.
Bus : Bus from Cebu takes 3.5 hours. From Dumaguete, ferry+bus would normally take you 2 hours or so.
Best time to visit : Between January and June. January and February are best since it's right before summer starts.
Attractions : Scuba diving, snorkeling, whale watching, beach resorts, waterfalls.
Extra tips : There are no ATMs in Oslob so bring some cash with you. Whale watching has different rates for locals and foreigners, no point in protesting you'll have to pay the fee. You can easily squeeze all attractions into a single day, so just let us know if you don't want to stay overnight.
What to do in Oslob?
Oslob is a small place and there aren't that many things to do there. The main attractions are the whale watching tour and Tumalog Falls. Since they are very close to one another (3km apart), it's quite easy to do both on the same day, and there's no real need to sleep in Oslob.
Nearby Sumilon island is a different case though. There is a Sumlion day tour package organized by the local resort, which allows you to explore the island's beaches – swim, snorkel and even do some scuba diving. You can also make full use the resort's amenities and facilities while there. If you wish to do so, it might be better to simply book a single night in Sumlion island.
Oslob Whale Watching Tours
Oslob primary attraction are its whale sharks – this is one of the best places in the world to meet them. It all started back in 2011 when local fisherman began feeding the whales – encouraging the whales to stay in the area and become accustomed to human's presence.
You should be aware though that this practice is really not Eco-friendly. Feeding the whales diminishes their ability to hunt for food themselves, as well as increase the risk for injury by boat propellers and such. Watching these beautiful animals is a great experience, but we encourage you to act responsibly and not take part in the feeding itself, as many other tourists often do.
While watching the whales from the safety of the banca boat is interesting enough, swimming alongside them is much more exciting. You'll have to pay a slightly larger fee, but in return you'll receive a once in a lifetime experience. You can swim, snorkel and even scuba dive with the whales – it's perfectly safe and you'll have a trained guide with you all throughout.
Since it only costs 500-1000P more, we definitely feel this option is a must for anyone who isn't afraid of swimming. Just let us know in advance in which activity you wish to partake, so we can organize your tour accordingly. We don't take any extra charge for the diving package, so you'll have to pay the local fee.
Visit Tumalog Falls
The Falls are only 15-20 minutes ride from the whale watching area, so you really should drop by there while in Oslob. Also called Toslob or Mag-Ambak Falls, the waterfalls are very impressive and a great nature spot to relax and have some fun.
You'll need to hike for 10 minutes or so before reaching the entrance to the Falls. Tumalog Falls are very high, with watering trickling down from many different directions. At the bottom there's a fairly large swimming pool, where you can swim and enjoy cool and refreshing waters. The pool has a high concentration of lime, giving it a beautiful turquoise color.
This pool is quite shallow – waters only reach chest level of an adult. That's why we think Tumalog Falls are a great place for families with kids. Combine them with some whale watching and you'll get a really wonderful experience for the whole family. That said, keep in mind that the area is fairly under-developed and food and drinks are nowhere to be found. If you didn't book our tour package with lunch included, make sure you get some supplies in Oslob before heading down to the falls.
Sumilon Island Day Tour Package
There are companies offering a visit to Sumilon island combined with whale watching and even Tumalog Falls. While possible, we really suggest you avoid these type of packages if you can. Asides from making you wake at 4 AM in the morning, these trips are extremely congested. That means you won't have enough time to fully appreciate and enjoy each attraction.
Sumilon island is the first marine sanctuary in the Philippines – dating back to 1974. This is a private resort island, stretching over 24 hectares so it's quite big. Attractions include kayaking at the lagoon, swimming at the white sand beach or the resort's swimming pools and trekking through the forests covering most of the island. A quick stop at the lighthouse is also nice, as you'll be able to enjoy a full view of the beautiful surroundings.
Day tours to Sumilon Island include full use of the resort's amenities, as well as a lunch buffet. You can combine a few activities, then do some sunbathing and relaxing at the beach or pool, before heading back to the mainland. It's also of course possible to spend some nights there, all you have to do is add the Sumilon resort to your wishlist.
How Does Oslob Fit Into Your Travel Plans?
Oslob is a beautiful place that truly deserves at least a day out of your itinerary. Stopping there is also a great way to connect between Cebu and Dumaguete efficiently. You could leave Cebu in the morning, spend the day at Oslob and then head down to Dumageute in the evening. Alternatively, spend the night at Oslob and do things at your own pace.
Dumaguete is less famous than Cebu, but Negros is one of the best areas in the Philippines. From there you'll be able to visit stunning islands such as Siquijor and Apo. Add Oslob to your wishlist, let us know what activities you are interested in, and let our experts build your entire holiday package based on your interests and schedule.