The peaceful town of Coron is part of the Calamian Islands, located at the northernmost part of Palawan. One of these islands also has the same name, but Coron City on Busuanga Island is where most hotels are. The whole area is famous for being one of the best dive sites in the world, as well as one of the most beautiful island settings in the Philippines.
Coron is the best place in Palawan for an adventure at a beautiful island location. The area is relatively undeveloped and offers a great escape from the tourist crowds. Read through our Coron travel guide and book any item you'd like, and we'll help you combine them all into a complete itinerary. Since Coron can be easily coupled with both Puerto Princesa and El Nido, there's also nothing to prevent you from including it in your Palawan vacation package.
Coron Island Travel Essentials:
Location : Northern Palawan, 3.5 hours ferry from El Nido.
Flights : Apart from Chartered flights, the best idea is to fly to Puerto Princesa or El Nido and proceed from there.
Boat : 18 hours ride from Puerto Princesa, or 3.5 Fastcraft from El Nido every morning (6:00 AM and 8:00 AM)
Best time to visit : October to May should be fine. Try to avoid the rainy season (June-September) if possible, as it affects Palawan quite strongly.
Attractions : Wreck diving, snorkeling, coral reefs, island hopping, Twin lagoons, mountain hiking and lakes.
Extra tips : Bring some cash with you in case the ATMs don't work. Don't expect luxury hotels or fancy restaurants here. If you want to rent a motorbike, better do so in the town center
How to get to Coron?
here are 10 daily flights from Manila to Busuanga, sometimes even more. Travel time is only 55 minutes, and since there are many airlines operating the line finding a cheap flight should be easy. A direct ferry from Manila to Coron is also possible, but it'll take you 14 hours to get there.
Cebu Pacific also offer 3 weekly flights to Coron from Cebu – on Tuesday, Thursday and Saturday. PAL Express also run this line, with supposedly daily flights available. In truth however, these flights often get delayed or canceled within a very short notice. Since they are more expensive to begin with, we suggest you avoid booking with PAL.
From Puerto Princesa, you have a few options to choose from. SEAIR airlines is a small boutique airline that offers 2 weekly flights to and from Coron. These are usually on Tuesdays and Saturdays, and flight time is an hour and a half. Keep in mind though that schedule is subject to frequent changes, so check with us first. Another option is booking a flight with AirJuan – a small airline company offering private chartered planes.
Since both options could be quite costly, you might consider some alternatives instead. First, you could take a direct ferry from Puerto Princesa to Coron, but that would take you 16 hours. A better option is taking the 4 hours van ride to El Nido and then catching a ferry from there. A ferry from El Nido should take between 3.5 and 8 hours, depending on the ferry you choose. The best and quickest one is the Fastcraft operated by Montenegro Lines, or Phimal Fast Ferry. Alternatively, you could take the regular 8 hours ferry if you wish to save some money.
What to do in Coron?
Unless your'e really into diving, spending a few nights at Coron is enough. The town offers a welcomed change from the busy tourist spots elsewhere in Palawan. Staying for 2 or 3 nights will allow you to try the most popular attractions, as well as get a small taste of Coron's beautiful nature and wildlife.
Of course, those who are interested in diving might want to stay for longer. In any case, continue reading below to find information on all the different things to do in Coron. Book any day tour that seems interesting, and we'll help you plan your entire itinerary.
Diving Packages and Most Popular Dive Sites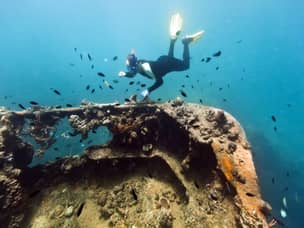 Coron is famous worldwide as one of the best wreck diving spots. This is especially true if you're interested in WW2 history – since there are a lot of wrecks from that era in the area. You can find no less than 12 different Japanese vessels – 6 large destroyers and 2 smaller gunboats – all sunk on September 24th 1944 in a daring Allied forces attack.
Wreck dives vary in difficulty, but an open water and advanced certificates is best to enjoy the experience to its fullest. The ships are all in relatively shallow waters (between 12 and 30 meters deep), and some are even available as part of snorkeling tours. Some boats are very large (160m in length), so more advanced dives will allow you to truly discover their secrets.
Since there are so many dive resorts and clubs in Coron, it's certainly possibly to advance a beginner certificate here so you can qualify for the more challenging scuba dives. You can also do that at El Nido, and arrive to Coron with your license already in place.
Keep in mind though, that these wrecks offer a rather underwhelming taste of marine life. You'll mostly see small critters and fish living around the ship, so there are better options if you want to discover Coron's amazing coral reefs and underwater world. An exception to this rule is the Kyokuzan Maru wreck, now turned into an artificial reef.
One such option is visiting the Barracuda Lake. Located at Coron island, this site is one of the most popular tourist attractions. The lake is surrounded by tall limestone cliffs, and its waters are a mix of fresh and salt-water – a very unique phenomena. There are Barracudas at the lake of course, as well as many other fish. If your'e lucky you might even see a Sea Cow. Swimming, snorkeling and diving are all perfectly safe, as long as you have an experienced guide with you.
There are also several reef systems all around the islands – Beautiful coral reef formations full of small fish and marine critters. These dives are beginner friendly, and great for exploring the most diverse eco-system in the world.
Free diving courses are also available –  you can learn how to explore the shipwrecks without using a tank. Getting the appropriate AIDA license will require 1-3 days. Diving enthusiasts should spend at least a week in Coron to appreciate everything it has to offer. Afterwards, you could continue to nearby Apo Reef or Tubbataha reef for some more amazing dive spots. If this sounds like a good vacation plan, consider booking our diving package – you can customize it as much as you'd like and enjoy the ultimate diving holiday.
Island Hopping Tours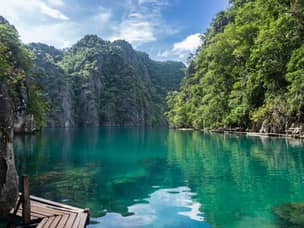 There are literally dozens of different tours available, usually consisting of between 3 and 7 different locations. On top of that, customized itineraries are also possible. So, instead of overwhelming you with itineraries that don't say much about the places you'll visit, we decided to write a short description of each popular tourist spot.
We present the best islands and beaches in Coron for you to choose from. Make your choice based on your preferred activities – snorkeling, kayaking, swimming, beach bummin' and more. If there's already an existing tour which fits your needs, we'll just book it for you. Otherwise, our agents will build a customized itinerary just for you. All island hopping packages include hotel pickup, a licensed guide, free lunch and snacks and all necessary permits and fees.
The most popular island hopping tour revolves around Coron island's beautiful attractions. We already mentioned Barracuda Lake, but it's hardly the only interesting site on the island. The main highlight is actually the Twin Lagoon – one of the most beautiful places in the Philippines.
It's easy to reach the first lagoon, but in order to reach the second one you'll have to dive and do some swimming. It's a very short swim, and since you'll be wearing life vests and have professional guide with you, everything is perfectly safe. The waters inside the lagoon are deep, but very clear – it's a great place for swimming and snorkeling.
The last popular site in Coron island is Kayangan Lake – which is worth a visit to see one of the most spectacular views in the world. You'll have to endure a short hike in the sun, but once you'll get to the top of the cliff you'll feel it was worth it. You can then swim at the lake, visit the cave and do some cliff jumps.
Other nearby destinations include the Malacapuya, Banana, and Bulog Dos islands.While each is a bit different, the style is pretty similar. Beautiful, secluded white sand beach and crystal clear waters. These are all perfect locations for swimming and snorkeling. Malacapuya is probably the nicest, but also the most crowded. Since they are all close to one another, you can visit all three in the same tour.
There are also more islands on the other side of the bay. These are harder to reach, but since they offer the best private beaches it's definitely worth the trouble. While it will require a separate day tour, you will be rewarded with some of the best islands in the world. North and South Cay islands are simply amazing, and nearby Pass Island is considered the best snorkeling site in Coron.
For a complete list of available island hopping tours, visit our Coron island hopping catalog. Over there you can find detailed itineraries, comparisons between group and private tours, and a complete price list for everything we offer on the island.
Coron's Best Beaches
Most of these beaches are available as part of island hopping tours, but you might want to also visit them regardless. Day tours have packed itineraries that won't really allow you to experience the beach to its fullest, so if you wish to relax at a quiet beach it's not the best choice.
Busuanga, the main island, is literally covered with quiet empty beaches. All you have to do is rent a motorbike and start driving along the coastline. Sooner than later, you'll find the perfect beach to enjoy by yourselves. Most beach resorts also have their own piece of sand they like to call a "private beach", but we recommend staying away from those and going on a short trip instead. The more remote beach locations simply offer a much better experience overall.
Coron island beaches are probably the best you'll find within a quick boat ride from your hotel. Again, there are plenty of secret spots here for you to explore. If you're feeling adventurous, just contact us and we'll help with directions. Otherwise, you could always just go to one of the popular beaches on the island, such as Beach 91, Banul beach or Smith Point.
Just across from Banul Beach, lies the small CYC island. This is where you'll find the CYC beach, one of the most popular stops in most island hopping tours to Coron island. This is a truly beautiful white sand beach, usually completely empty. If you want to visit this island, try and time it so you avoid the groups stopping by during their day tours. So, it's better you have lunch at Busuanga and then catch a boat sailing to CYC Island.
How Does Coron Fit Into My Travel Plan?
Coron Special Package Deal 2018
All packages include:
Beachfront resort of your choice
Private or group tours
All transfers and logistics
VIP service throughout your trip
Limited time offer : Rates as low as 60 USD a day!
Coron is the perfect island for an adventure in paradise. It's especially recommended for couples who wish to enjoy amazing nature and beaches, away from the crowds at El Nido.
If you are into diving, you could easily spend a month here, since it's one of the best diving spots in the world. Otherwise, spending 3-4 days at Coron should be enough to get a good sense of what the place has to offer.
Since Coron is so close to El Nido, it makes a lot of sense to combine them both in your Palawan vacation. You could also easily add Puerto Princesa for a complete Palawan tour package . Coron is also a great standalone destination, since there are plenty of direct flights from both Manila and Cebu.
If you are not still unsure how to allocate your days in Palawan, our travel agents can help you build your itinerary, based entirely on your preferred activities and budget limitations.
2 Comments