Choosing the right tours can be a bit tricky, so we are always here to help. If you feel yourself getting overwhelmed with the choices, just let us know and we'll try and describe each to you and help you come to a decision. In any case, the first thing to consider is what's your budget and how much extra are you willing to spend to enjoy an exclusive experience.
The cheapest and most popular tours are the group ones. You'll be joining a sail boat that can hold up to 16 persons, so it's a great opportunity to save some money and meet new people. The downside is of course you get a much less private experience and waiting times are longer.
The speedboat option is significantly more expensive for couples, but the difference becomes more negligible the bigger your group is. It can host up to 10 people at most, and the advantage is you will arrive at all the locations much faster. This means not just increased comfort, but also more importantly that you'll be able to get there before the sailboat tours arrive and enjoy these beautiful places all to yourself.
Private Island hopping tours
If your budget is not strict, there are many different advantages to booking a private tour. Firstly, its much faster and more comfortable. You will reach the popular tourists spots faster and get to enjoy them all to yourself. Then, there's the fact you get to cover much greater distances, meaning you will be able to visit more places in a single day.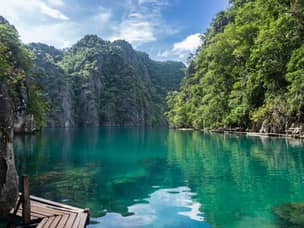 Lastly, the main advantage of these tours is how flexible they are. You will not be bound to a strict itinerary and everything is subject to change.
Most of these tours are also available with a regular boat as part of a group. You can read below and compare the differences in price before making your choice. The only 2 tours which are only available as private tours are the Busuanga Bay hidden island adventure and the ultimate island escapade.
All of our private island hopping tours include hotel pickup, licensed tour guide, life vest and snorkeling gear, BBQ picnic lunch and all fees. Since there's only a limited number of speedboats in Coron, it is better if you book these tours as much in advance as you can. Prices below show private and group tours with a bangka (pumpboat), speedboat fares are based on availability and group size - so please contact us for a quote.
Coron Island Tour : This is the standard island hopping tour, taking you to all the famous landmarks such as the Twin lagoons, Kangyan Lake, Coral Eden and Siete Pecados. Additional spots can be added based on your preferences. The price for a couple is 55 USD per person.
Expedition Island Escapade : A chance to visit the most remote islands and beaches, to enjoy a 100% private island experience. The main highlights here are Bulog Sandbar and Malcapuya Island, but you also get to see a ton of other small islands as part of the tour. Price for this day tour is slightly higher since islands are farther away and starts at 90 USD per person if you are a couple.
Reefs and Wrecks Snorkeling : For us, this is the quintessential Coron island hopping tour. It highlights everything that is unique about this wonderful island and takes you to a great adventure along its many attractions. You'll visit the Lusong and Sangat gunboat wrecks, as well as the Coral Garden and Pass Island. Price for a couple is 65 USD per person.
Busuanga Bay 5 Remote Islands : Only available as a private tour with speedboat, this unique full day adventure takes you all the way to Coron's western side where some of the most beautiful and remote islands are found. Black island is the main attraction, along with Pamalican and the hidden bay. The itinerary is quite flexible and you can have your boatmean do whatever you like. Price for a couple starts at 380 USD per person.
Ultimate Island Escapade : As the name suggests, this tour combines all the best attractions in Coron. It is basically a combination of the island tour and the island escapade. You will start at Bulog and Malcapuya, before making your way to the Twin Lagoons and Kayangan Lake. If you only have 1 day for island hopping, this is the tour you should take. Price is 320 USD per person.
All tours above start at 8am with a pick up from your resort. This means you should be ready and have your breakfast by 7:45 to avoid delays. The tours all end at around 4:30pm, although sometimes you might get back to your resort a bit later than that. Pickup and drop-off times are somewhat flexible, but it's much better if you coordinate that with us ahead of time.
Group island hopping day tours
These tours are perfect for anyone who don't want to break the bank but still enjoy everything Coron has to offer. We make to only work with the tour operators who have the best boats and equipment and are always on time. So, your experience should still be a very enjoyable one.
Even though the itineraries for these trips are quite similar to the ones presented in the private tour section, here you will have much less flexibility. Since this is a group tour, there isn't that much room for personal requests along the way. Still, if there's something which is very important to you to include we can give it a try as long as other group members won't object.
Coron island hopping sample itinerary
08:15
Pickup from hotel
09:00
Snorkeling at Siete Pecados Marine Park
10:00
Kayangan Lake - minor hiking and swimming
11:00-13:30
BBQ Lunch on Calachuchi beach
14:00
Coral Garden snorkeling
15:00
Visit the Twin Lagoons
17:00
Back to Coron Town
Coron Island Ecotour : This is the most popular shared island hopping activity, as it covers the most beautiful spots in Coron. Twin lagoons, Kangyan Lake, Coral Eden and Siete Pecados are all included.
Expedition island escapade : Locations are exactly the same as the ones in the private tour.
Reef and Wrecks tour : Similar tour to the private one, although you will probably have much less time in each spot you visit.