El Nido and Coron are 2 separate areas in Palawan, both among the most popular destinations in the Philippines. Both islands are equally stunning and became worldwide famous for their lagoons and white sand beaches. In an ideal scenario, we would highly suggest you visit both during your time here in the country. However, often it might be wise to choose just one, due to either compatibility reasons, or budget and time.
We get a lot of questions about these two places – what's the difference between them and which one to pick. While we have already covered this in our Palawan guide linked above, below you can find a more detailed overview. This will hopefully help you determine which of the two (or both!) should be your priority while planning a vacation in the Philippines. The guide below will focus on comparing the two, but you can also check out our El Nido and Coron tour packages to see a full selection of our offers for each.
Average price per day :

80 USD

This price includes: Airfare, Accommodation, Day Tours and Living costs.

Ease of reaching : Moderate

Accommodation options

: 1 to 5 stars

Best time to visit : November to May

Main attractions

:

Diving
Island hopping
Private beaches

Nightlife : Only during high season

Suitable for : Romantic, Adventure
Average price per day :

60 USD

This price includes: Airfare and Transfers, Accommodation, Day Tours and Living costs.

Ease of reaching : Moderate

Accommodation options

: 1 to 5 stars

Best time to visit : October to May

Main attractions

:

Diving
Island hopping
Hiking and nature

Nightlife : Non existent

Suitable for : Romantic, Adventure
As you can clearly see from the table above,  at a basic overview both places seem almost identical. In fact, it's even closer than it might look! we tried to differentiate a bit between them, but for example even though El Nido is certainly better for luxury travel, there are also plenty of ways to visit Coron as part of an all inclusive 5 star vacation.
Should i pick just one or combine both?
As mentioned, both El Nido and Coron are 2 of the most beautiful destinations in the Philippines. As such, most people's instinct is to request both in any itinerary we plan. It makes sense you visit both –  it would be a shame to skip a "must-see" location. This sentiment makes even more sense considering the fact they are both right next to one another and travelling between them is very easy and simple.
That said, the Philippines offers at least a dozen "must see" spots if not more. Most people come here for 2 weeks or less, so there's no way to see everything anyway. For some, the fact Coron and El Nido are so similar is actually a disadvantage – while undoubtedly stunning, visiting both can leave with a feeling of more of the same. If you are the type of person who wants to see and do as much as possible and experience a wide variety of what a country can offer, then it might actually be wise to choose just one or the other.
To really experience what each island has to offer, a minimum of 3 nights is required. You won't be able to arrive and go out on tour on the same day. No matter if you fly or take the ferry between them, this rule applies just the same. If you take the ferry, you'll arrive in time for lunch and can then later spend the rest of the day relaxing in your resort or taking a stroll through town. That is certainly nice, but doesn't really count as a useful way to spend your time in most people's eyes.
Travelling between El Nido and Coron is very easy. The most standard way is by ferry, which leaves early in the morning each day and takes 4 hours. There's also one flight each day, but it is a small plane and gets full very quickly. The flight only takes 20 minutes, so it's definitely the better option for those who can book a long time in advance.
You should really try and visit both islands if you have at least 12 nights to spend in the Philippines. Even if it does mean you'll dedicate half your holiday to this, it's well worth it if you think Palawan is the right place for you in general. To best determine if that's the case, we suggest you contact us for free consultation and trip planning. Our agents give personal attention to each inquiry, and can help you understand what option is ideal for you, as well as help you build a completely custom itinerary.
Main differences between El Nido and Coron
If you have made it this far you might feel a little bit confused. All we have done was explain why you should make an effort to see both. Now, we will give a brief breakdown of the main differences and unique nuances to each. If you keep reading below you can also find a more detailed explanation based on your vacation type or group composition.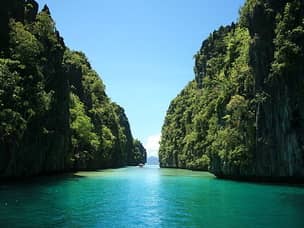 In most guides, the main point would often be that El Nido is more touristy and Coron is rural. While true, if you compare El Nido to places such as Boracay or even Bohol, then you would say it's quite underdeveloped as well. It is true however that if comfort and luxury are your priority then it would be much easier to obtain these in El Nido rather than Coron. It's just a matter of supply – El Nido has 10 times more 5 stars hotel, better options for private tours and so on.
Another big thing to consider is that both places don't have beach resorts near town. The nice beaches are usually seen during island hopping tours. That said, in El Nido there are very nice beaches just 15 minutes away from town, and of course each of these host a few really nice resorts. In Coron, you'll have to drive for more than an hour up north to find a good beachfront resort, unless you are willing to spend enough to stay at a private island. If you stay at the northern part of Coron, you won't be able to take the popular tours – so this option isn't very useful.
This all lead to the fact El Nido is more crowded, even though Coron is quickly catching up. If your dream vacation involves being alone on a beautiful beach, you can do that in both – it just means you'll have to take the less popular tours and go to more remote locations. Naturally, you'll also want to see the famous lagoons and if you do, the ones in Coron are likely to be much less busy.
Lastly, we often hear people say Coron is much cheaper than El Nido. It is true Coron is better value for money, but not as much as some people make it out to be. This should not be the deciding factor unless you are really budget focused and looking for the most affordable vacation options.
Are the hotels in El Nido really much better?
The short answer is yes, while the longer answer is it depends. Accommodation in El Nido is more expensive, but also much more diverse. In coron, the hotel landscape is extremely polarized – there are only a handful of midrange resorts and most options are either lavish private islands or cheap hostels and guesthouses.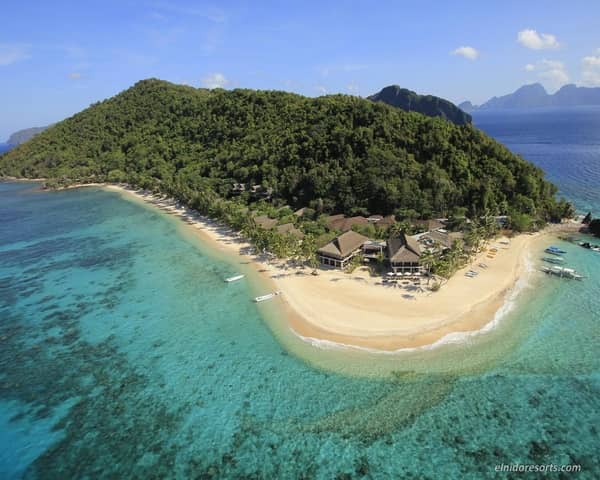 If you are looking to stay at a reasonable 3 stars resort, in El Nido you'll have plenty of choices while in Coron you are limited to just a selected few. Same goes for 4 stars resorts – the only real one in Coron is the Two Seasons Bayside, while in El Nido you have a whole bunch of these. Some, such as Qi Palawan for example, are even nicer than most 5 stars resorts you'll find anywhere else in the country. When you add in the fact the Two Seasons doesn't have a beach area, the difference becomes even more paramount.
If you are planning an all inclusive 5 stars vacation, then both islands will do just fine. El Nido has more selection of such resorts, but the ones in Coron are just as good and luxurious. Both locations are great for such a holiday, so if that's the level of accommodation you like, it makes a lot of sense to visit both.
Where are the better tours and activities
In both islands the attractions are heavily focused around the water. There are hiking opportunities in both, and El Nido has a pretty fun ATV tour, while Coron offers a trip to a nice safari called Calauit. However, if your not so interested in island hopping and water based activities, there are better places in the Philippines for you to visit and you might want to reconsider your choice of Palawan altogether.
Island hopping tours in El Nido are more diverse and usually include more stops. Visiting the big, small and hidden lagoons is a must, but even the less popular tours such as tour B or D take you to some really stunning locations and breathtaking beaches. These are ideal if you want to have some more privacy. All tours can be booked privately or as part of a group, and private tours can be done with a speedboat as well. Another small added bonus is the fact that if you stay at a private island resort, most tours will be complimentary.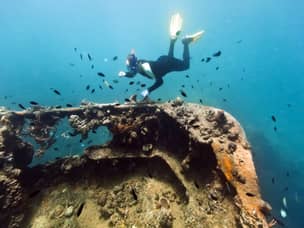 The island hopping tours in Coron are a bit narrower. There are 2 very popular ones, the island escapade and the reefs and wrecks tour, but going on other tours is more difficult. The less popular tours take you to pretty remote places and are usually done privately and not as part of a group. These tours are a great and unique experience if you are looking for an adventure. Unlike El Nido, speedboats are not available here, and private islands charge extra for going out on any of the tours.
The one thing where Coron clearly excels over El Nido is diving. Diving in El Nido is great and easily on par with other popular diving spots in the Philippines, but Coron is in a league of its own. Considered among the best places in the world for wreck diving, it offers a one of a kind diving experience. You can also spend a night or 2 up north and go see the sea cows. If diving is something which is important to you, you should prioritize visiting Coron over El Nido.
Which island is more romantic?
Both islands are stunning and offer plenty of chances for romantic moments in breathtaking scenery. That is why we usually try to include a stop in a both in most of our honeymoon packages. If you really have to choose between them, then the answer is that it depends on what is your idea of romance.
If the priority is to relax together in a quality hotel and going out on private excursions then El Nido is the better choice. Coron is better if you prefer a bit more of an adventure and adrenaline pumped into your trip. Even though you can easily have a pampering vacation in Coron, it's much easier and more convenient to do it in El Nido.
Where to go on a family trip?
In all honesty, both places are not ideal for those of you travelling with very young children. El Nido is the better choice here as well, just due to the fact it is easier to find a hotel where you can just stay at for the whole day. The fact hotels in Coron usually don't have beach access makes it much harder to keep the kids occupied unless you go on excursions each day.
If your kids are a bit older and are at an age where they can appreciate and enjoy a nice day tour, then both islands are pretty much the same. Coron is perhaps slightly better actually, just because the day tour to Calauit Safari is a very nice experience for the whole family, while El Nido doesn't have much on offer besides island hopping.
In all fairness, if the focus of the holiday is to keep things simple and convenient then you should consider skipping both places. Other islands in the Philippines are much better suited for such trips. When we incorporate Palawan into our family vacation packages, we usually recommend staying at a private island resort in El Nido, or visiting Puerto Princesa instead and dropping both Coron and El Nido from the itinerary.
2 Comments