The Chocolate Hills in Bohol are one of the most famous landmarks in the Philippines. They create a truly unique geological formation – between 1260 and 1776 hills in varying shape and size. The hills are covered in grass, which turns brown during the summer – thus giving them their name.
It's very easy to visit this place, one of the most beautiful and special destinations in the country. You can book day tours from anywhere in Bohol or Cebu. Add the Chocolate Hills day tour to your wishlist, and we'll organize everything needed. Alternatively, book a package and stay at one of the nice hotels in the Hills complex, so you can explore the place longer.
How to get to the Chocolate Hills?
Where to stay?
Photos
Inquire
Most people book organized tours, which include transfers to the Hills from either Cebu or Tagbilaran. Guided tours allow to understand the history and significance of the place better, as well as make the most out of your day there. However, it's certainly possible to travel to the hills by yourself and try out any activity and attraction you'd like.
If you are already in Bohol, then you probably booked an hotel at Panglao. Organized tours include a pickup directly from your resort. Otherwise, you'll need to drive 30 minutes to Tagbilaran and find a guide there. It only takes 60 minutes from Tagbilaran to the Hills, so renting a motorbike and doing it by yourself is also a nice option. Travelling by bus in Bohol is generally not a good idea, since you risk wastisng your whole day doing so.
From Cebu you have 2 options. First is to take the ferry to Tagbilaran and book a tour there at the pier. There will be many private guides waiting there to offer a custom tour of Bohol, and the Chocolate Hills are included of course. The second option is to take the fastcraft from Cebu to Tubigon, which takes 1 hour. From there, grab a bus to Sagbayan – where you have a very nice view of the Hills from the viewdeck.
The most common choice is to book the trip to the hills from Cebu or Panglao, so you can include it in a package with accommodation there. Both places offer a wider selection of hotels and resorts, so your'e more likely to find something you like. During the day tour you can also visit other popular sites such as the Tarsier sanctuary and Loboc river, so there's really no need to spend the night at the Hills themselves.
However, booking a single night is also perfectly reasonable. You can stay at one of the resorts at the Chocolate Hills Complex, or at nearby municipalities such as Sagbayan or Carmen. Selection is limited, but hotels are quite good and not too expensive compared to Mactan or Panglao. It will allow you to explore the area more thoroughly and try out more activities while there.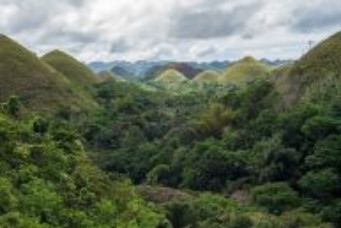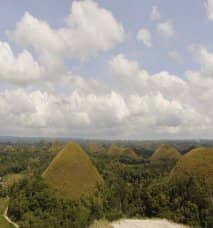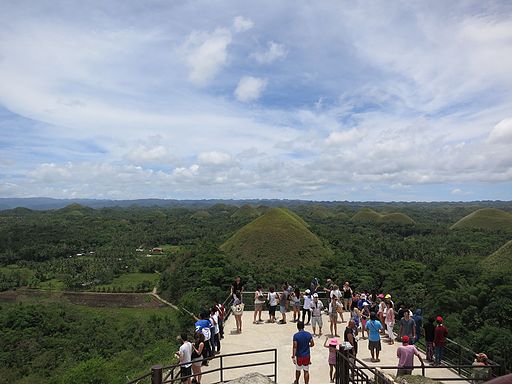 Chocolate Hills Travel Essentials:
Location : Carmen Municipality, 1 hour drive From Tagbilaran in Bohol province
Flights : There are regular flights to Cebu and also directly to Tagbilaran from many different destinations
Boat : From Cebu, you can take a fastcraft directly to Sagbayan, or the regular ferry to Tagbilaran Pier. The fastcraft takes only 1 hour, but schedule is less stable so you'll need to make sure there's a boat leaving in the same morning
Best time to visit : Summer is between March and May and that's when the Hills get their distinctive brown color.
Attractions : Adventure park, zip line and zip bike, viewdeck, ATV tour
Extra tips : Do some research before going to find out what you want to do over there. Rent a motorbike or a car at Tagbilaran and not in Panglao if you wish to do the tour yourself.
What to do in the Chocolate Hills?
Apart from hiking through the hills and admiring the unique landscape, the amount of attractions is fairly limited. The best choice is to combine a visit to the Chocolate Hills with other popular tourists spots in Bohol, such as the Tarsier Sanctuary and Loboc River.
Below you can find information of the popular activities near the Chocolate Hills. You can pick the ones you like, and add them to your customized tour package. For more details and special requests, it's best if you contact us directly. We'll be happy to help build your entire itinerary to include anything you'd like to see or do.
Chocolate Hills ATV Tour
Renting an ATV (all terrain vehicle) is the most popular way of exploring the hills. Suitable for the whole family, you can get all muddy and dirty in this extreme ride. You'll need to get to the Buenos Aires barangay in Carmen, because that's where the rental offices are. Once there, you can either rent a vehicle or take part in a guided tour.
The guided tour goes for either 30 minutes or an hour, depends on your choice. Both include the Three Sisters Hills, and the longer route will also take you through the Eight Sisters. You can choose between a bug car or an ATV, both compatible for 2 persons. The buggy has a roof and is more like a car, so it's the safer option for novices.
You'll be accompanied by a professional guide, and provided with all necessary safety gear. The guide will help you figure out how to drive, as well as give some insights on the sights around you. Make sure to bring extra clothes, and keep in mind children under the age of 10 can only ride in the back. Pay close attention to the guide's instructions, and you are guaranteed to have a thrilling yet safe experience.
Adventure Park
This is a compound owned by the Camanayon Hill Development Corp, and a popular attraction among locals. It's especially suited for corporate events and bonding days, but that doesn't mean it can't also be a great way to pass half a day or so in Bohol.
The park has 30 different activities you can take part in. The most popular attraction is the zip line, offering a fantastic view of the hills. There's also a zip bike, as well as treetop rope climbing, horseback riding and other extreme adventures. Overall, the park is a great place for families and couples to spend some time together doing fun activities.
You'll have to pay a small entrance fee of 60P, and then pay more for each ride you wish to take. Most of these rides cost 450P per person. Keep in mind though that most of them are prohibited to children under 6, and people weighing over 90kg (200 pounds).
How Does the Chocolate Hills Fit Into Your Travel Plans?
If you already plan to stay at either Cebu or Bohol, paying a visit to the Hills is a must. It's one of the most unique sites you'll see in the Philippines, and offers plenty of options for a fun and exciting day. Bohol is a relatively small island, and the hills are not far from Tagbilaran, so including the tour in your package is very easy.
Book the Chocolate Hills tour package, or add it into a larger itinerary of the Visayas area. This can include other exciting locations which are great for the entire family, and offer a rich taste of nature in the Philippines. Once done with Cebu and Bohol, you could continue to Dumaguete and explore the beautiful islands around it such as Siquijor for example.
Our experts will be happy to help figure out the perfect plan for your preferred vacation. We'll help you build your entire itinerary, as well as book all hotels and tours you'd like. Use our cart system to build your own custom package, or contact us immediately for expert advice.