Here you'll find a full description of all day tours available in the El Nido Province. These tours will compliment all of the other activities that can be found in El Nido town. If you find it difficult to decide for yourself, please contact us and we'll help you make sense of this puzzle. Our wish is for you to have the best tours for you that will be another part of your perfect vacation.
El Nido Countryside Tour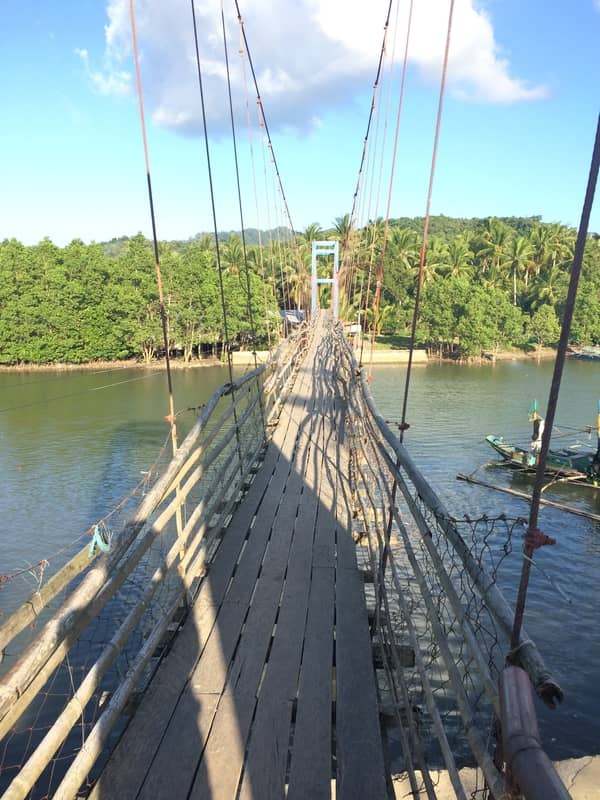 Exploring the northern part of the island is a lot of fun. Three of the biggest and most beautiful beaches, Nacpan & Calitang twin beaches, and Duli Beach are situated there, as well as Nagkalit-kalit falls, and Bucana Fishing village. This tour gives you a great opportunity to visit unique and beautiful places, and to meet the people who belong to them.
The road that leads there is quite difficult, and though many tourists choose to do it by bike, in our opinion it's only advised for experienced motorbike/moped riders. If you care about your convenience, and want to discover unique spots that you'll surely miss if you're going by yourself, this countryside tour is just for you.
Countryside Daytrip Itinerary
08:00
Departure from El Nido Town
08:30
Trek to Nagkalit-kalit Waterfalls
11:30
Arrival in Nacpan & Calitang Beaches
12:30
Lunch in a local eatery in Bucana Village
13:15
Visit the houses on stilts and the village school
14:45
See how local blacksmiths forge a traditional Bolo knife
15:30
Arrival in Dagmay Beach and Duli Beach
17:30
Back in El Nido Town
This tour can be done either as a daytrip or a two days trip with an overnight stay. It visits the same destinations, but you'll stay for an extended time in each and get to spend the night in a native cabana in Nacpan Beach. It's a perfect chance to combine this tour with a surfing package, as you're going to spend most of the second day chilling in Duli Beach.
Countryside Overnight Tour
08:00
Departure from El Nido Town
08:30
Trek to Nagkalit-kalit falls
12:00
Lunch in a Carinderia (local restaurant) in Bucana Village
12:45
Visit the houses on stilts and the village school
14:00
Arrival in Nacpan & Calitang Beaches
Spend the night in a native cabana in Nacpan including diner
Day two
08:30
Start the day with breakfast in Nacpan Beach
10:00
See how local blacksmiths forge a local knife
11:00
Arrival in Dagmay and Duli Beach
12:30
Lunch
17:30
Back in El Nido Town
Countryside day tour rate : from 45 USD.
Countryside overnight tour rate: 75 USD.
ATV Adventure Tour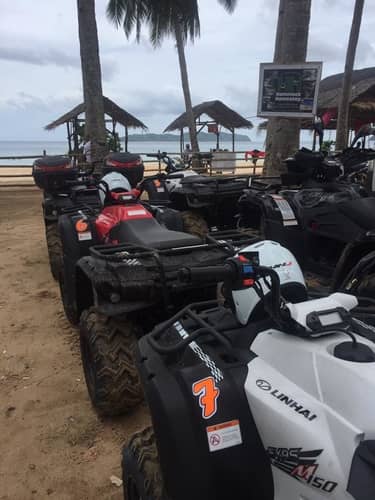 An All-Terrain Vehicle is a great way to fill your day with excitement and beautiful landscapes. This is one of the newest attractions in town, which isn't widely known yet. Also, because the limited number of ATVs is limited, it's highly advised to book ahead of time. It's actually a part off road tour, with a surfing session at the end of it, and that's why it got the nickname 'Surf n' Turf'.
The tour is perfect for adventure seekers who want to feel the adrenaline pumping in their veins. The super bumpy road that leads to the beaches is really terrible when on a bike or in a car, but add an ATV and that's a recipe for pure fun. The surfing session includes a board and an instructor for the group, and you get to surf for a while or at least try. This is one of the more exciting tours in El Nido right now, but should only be attempted if you're physically capable. The age requirement is 18 and above.
ATV Adventure Itinerary
09:00
Departure from El Nido Town, on road riding
09:40
Arrival in Nacpan & Calitang Beach
12:00
Lunch in Nacpan
12:45
Riding to Duli Beach off road
13:45
Arrival in Duli and surfing lesson
15:30
Back in town
El Nido Surfing Packages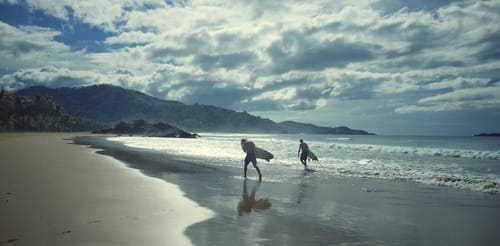 Surfing is relatively a new thing in El Nido. The waves were always there, but the surfing community is still evolving. You can't compare El Nido to Siargao when it comes to surfing. There is only one beach you can properly surf in, as Duli is the only place both with good waves, and the suffice infrastructure. However, this is the only place to surf in Palawan, and it has really great waves and a wonderful crew to instruct you.
Duli Beach is so beautiful that you should go there regardless, and since you're already there, you should pump some adrenaline in your body and try some surfing. A surfing package include a guide, a surfing board and a rash guard. After the surfing session just eat something in the resort's restaurant or kick back and have a few drinks.
Half-day surfing package – 2 hours of instruction in the morning or in the evening, and one hour free use of the board. Rate : 30 USD.
Full-day surfing package – 4 hours of instruction divided between the morning and evening, and one hour free use of the board. Rate : 50 USD.
Note: one surfing guide per maximum of two surfers. 10 USD discount for a 3 day package (80 USD/140 USD respectively).
You can either come to Duli Beach independently or book the transportation in advance:
Motorbike (self-drive) - 20 USD per day
Tricycle (3 people max) - 40 USD per day
Van (8 people max) - 80 USD per day
Kiteboarding in Qi Palawan
El Nido is one of the best places in the Philippines for beginner kite boarders. The season is November-April, when the Amihan winds make the kiteboarding very enjoyable. The bottom is sandy, the water is flat and never choppy, and the beach is mostly empty.
The wind surfing is supported by QI Palawan Resort, that rents gear and give instruction to surfers. You can even take a full course, or advanced lessons to enhance your skill. While resting from the surfing session, eat a small meal or enjoy the Palawan grown, home roasted coffee of the resort.
Full course – 9 hours divided according to you preference. 440 USD
Advanced lesson – 2 hours. 140 USD
Supported practice – 1 hour. 20 USD
Half-day gear rental – 70 USD
Full-day gear rental – 100 USD
Notes: outside guests can reach the beach with appointment only. Surfers with their own equipment are subjected to expenditure of 700 PHP (14 USD) in the resort.
How do I fit these tours into my schedule?
Though it seems like there are just too many tours and not enough time, by wisely choosing the right ones for you and booking them in a sensible order will make all the difference. Keep in mind that some of these tours go to similar locations, so there is no sense in visiting the same places twice. We advise you to just pick the tours you like the most, and leave us the task of fitting everything into your El Nido package.
More over, by choosing your preferred day tours in El Nido, we will learn more about your preffered attractions and activities. Therefore we'll be able to recommend you more tours in Palawan, or elsewhere in the Philippines. There are some tours that leave El Nido and blend perfectly with other locations like the Underground River in Sabang, that ends in Puerto Princesa, thus being very convenient. So just start sending over all of your requests regarding your El Nido holiday, and we'll make you the perfect vacation.