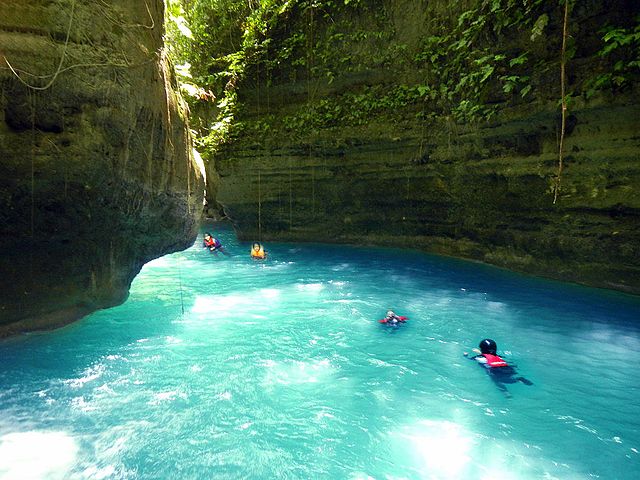 When we imagine a vacation in a tropical country, most of us think of sandy beaches, clear waters and wild jungles full of waterfalls to explore. That is exactly what the Philippines offers, although admittedly with a much heavier focus on beaches and diving rather than mainland attractions.
While planning a vacation in the Philippines many people focus too much on this aspect and tend to neglect a very interesting and exciting part of what the country has to offer. Then again, who can really blame them, when the Philippines is famous for having some of the best beaches and diving sites in the world?
The risk is that you'll end up having a pretty monotone holiday. While this is fine for some, many of you can end up feeling a little bored and like you are doing "more of the same". While island hopping and diving tours in each island are all unique in some way, they are also quite similar in many ways. That is why we highly recommend to diversify your itinerary by adding land based attractions to it.
Out of these mainland attractions, the most common and popular are waterfalls. These types of tours are very versatile – you can trek through the jungles for hours or just take a ride all the way to the waterfall itself. So, they are ideal for both adventurers and those who prefer leisure, as well as for couples or families and alike.
Most people are already aware of Pagsanjan Falls near Manila and the canyoneering tour to Kawasan Falls in Cebu. These 2 are certainly the most famous but by no means the only ones. There are amazing waterfalls no matter where you visit, and some of them might be more suited to your type of trip. Below you can find our top recommendations for such places, as well as information on how to include them in your vacation package.
1. Kinahugan Falls, Bohol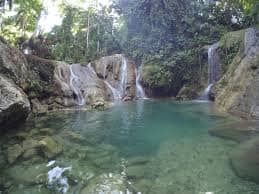 Bohol is known for its wonderful beaches, fantastic marine life and of course the famous Chocolate Hills. What not many people know is that it also has more than a dozen beautiful waterfalls, all worth your time if you can spare it. You can even rent a motorbike and spend a full day roaming around the island, hopping between one waterfall and another. Or, we can book you a private driver who will help you do the same in a much smoother fashion.
Out of all of these wonderful waterfalls, we chose to highlight Kinahugan for a few reasons. The most important one being its relatively remote location. The falls are not close to any other tourist attraction which means you are quite likely to have the place all to yourself! It only requires a 5-minute trek to reach the falls from the drop-off point, so the focus here is on relaxing and swimming rather than hiking.
Kinahugan Falls are located right next to Jagna, which is the port you'll stop at if you are heading to Camiguin Island. The ferry leaves at 1PM, which means you can first stop at the falls for an hour or 2 before making your way to the pier. If you are interested in a waterfall that can be combined with the Chocolate Hills tour however, then you should consider Pangas Falls instead. They are much less attractive, but located right next to the hills so are very easy to incorporate in a private countryside tour.
2. Katibawasan Falls, Camiguin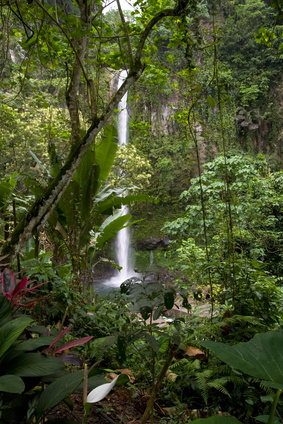 As mentioned above, Camiguin is a natural stop right after Bohol. This small island is the epitome of what a tropical paradise should look like. And while the main attraction there is undoubtedly its volcanoes, waterfalls around the island are very beautiful and deserve a visit as well.
If you only have time to visit one though, then the obvious choice is Katibawasan. Towering at over 70m, this waterfall is one of the most impressive ones you'll see anywhere in the Philippines. The swimming area is not huge, but more than sufficient, especially considering the fact Camiguin isn't a touristy place to begin with.
The waterfalls have a large dining area right next to them with picnic tables, making it ideal for families with small children who want to enjoy a relaxing day out in nature. It is also included in our organized countryside tour of Camiguin, but if you book that one you'll only have about 30 minutes to spend there before heading over to the next attraction.
3. Cambugahay Falls, Siquijor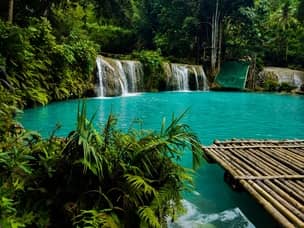 Siquijor is another small island which is accessible by boat from Bohol. Unlike Camiguin though, this place doesn't offer a huge mix of activities and is more about taking it easy and relaxing at a native cabana on the beach. In fact, Siquijor is the only island in the Philippines where island hopping tours aren't readily available! If you want to dive or snorkel while there, you'll have to take a day tour to Dumaguete or Apo island.
That doesn't mean Siquijor is boring or has nothing to offer to visitors. Obviously the beautiful and almost empty beaches are the main attraction, but there's also more to enjoy while staying there. Primarily, the island's rich culture and folklore which is quite different than most other places in the country.
If you do want to take a short break from the beach though, then the countryside tour is a great option. You'll visit quite a few interesting locations during this tour, but the main attraction is Cambugahay Falls. This is in fact one of the most beautiful and special waterfalls in the whole country, and a great place to relax and have lunch or swim at the cool waters. You can view all of our tours in Siquijor and you'll notice the falls are a main feature in most.
4. Taktak Waterfalls, Siargao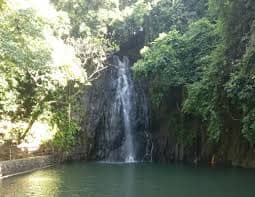 Siargao is the trendiest island in the Philippines at the moment. It used to be a well-kept secret among the surfer community, but in recent year its popularity exploded. While the main tourist spots are now crowded, they are still very much worth a visit. That said, the place is lacking the sense of adventure it once had, especially compared to smaller islands such as Camiguin for example.
One way to make up for that is to explore to more remote parts of Siargao, and that means visiting Taktak Falls. This is the only waterfall on the island and it's located on the opposite end of the island from the main tourist spot where all hotels are – General Luna. It takes 1.5 hours to reach the falls if you hire our driver, or 2.5-3 hours if rent a motorbike and do it yourself.
While a visit to the falls is included in our Siargao packages, it is much better to visit this place on your own. Taktak is very nice and usually empty, so it would be a shame to visit it as part of a group tour. Organized tours also don't dedicate the whole day to this place, and it's usually just a very short stop in a pretty dense itinerary. It might seem strange, but if you want to visit this place, we actually recommend you don't book our tour, and enjoy the ultimate adventure on your own instead! You can also combine this with a visit to Alegria Beach which is right nearby.
5. Nagkalit-Kalit Waterfalls, El Nido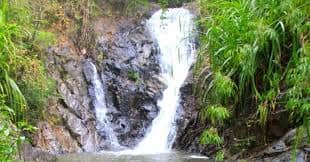 If you browse through our site, you already know everything to know about El Nido, as it is the most popular and most beautiful place in the Philippines. Even though that makes it naturally quite crowded and touristy, it is clearly the only island in the country which is a "must include" in every vacation here. If you want to learn more about this place, check out our El Nido packages, El Nido island hopping tours or our Catalog of land tours in El Nido.
As you can see from browsing this links, a visit to Nagkalit-Kalit is included in our El Nido countryside tour. However, in all honesty, we hardly ever book this tour unless our guests really insist. The reason is El Nido is quite expensive, so most tourists only stay for 3 nights on average. This means you usually only have 2 full days to enjoy everything this place has to offer, and the land attractions aren't the priority. El Nido is famous all over the world for its lagoons and island hopping tours, and that should be your focus while there.
So with that in mind, you might ask why is Nagkalit-Kalit Falls even on this list to begin with? The reason is it's very close to the main area where all the hotels are. If you want to visit the falls, there's absolutely no reason to dedicate a whole day to a countryside tour to do so. You can drop by there on the day you arrive, or you can even make a short stop there right after returning from an island hopping tour.
6. Busay Falls, Bicol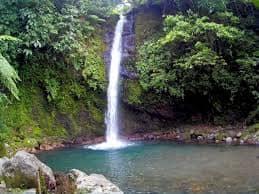 Bicol is a very large region south of Manila consisting of 6 provinces. It is mostly unknown to tourists and is great for adventurers who are looking for an authentic experience of nature. That might sound scary, but the place is very safe and serene, and we work with quite a few good resorts there so conditions are good and your stay will be comfortable. In fact, this place is perfect for families, as long as your kids aren't too spoiled and love nature and simplicity.
The place we send guests to in Bicol is Donsol. The reason is it's close to all the main attractions and has good 3 stars resorts on offer. It's the perfect place to set your base at while you explore everything this special place has to offer. The main attractions are Mt.Mayon, a beautiful and imposing active volcano you can trek to, and the Donsol whale shark experience which allows you to swim with the whales in their natural environment.
There are many spectacular waterfalls scattered all throughout the area, but Busay Falls is our top pick. It is not only the most beautiful one, but also very close to Mt.Mayon and quite easy to reach because of that. Treks to Mt.Mayon vary between single day tour to 3 nights camping trips based on your choice, but regardless of how you choose to have it, adding a short stop at Busay is always possible.
7. Tappiya Falls, Banaue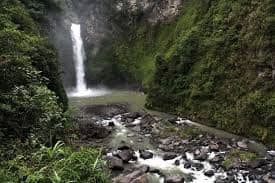 Lastly, we have Tappiya Falls in Banaue. This area is also very famous, mostly because of the iconic rice terraces near the village of Batad. You might be surprised, but our various Banaue packages are some of our most popular packages, even though the place doesn't have a beach. Many people like to incorporate a trip to Banaue into their vacation, as it provides an excellent balance with the islands and let you experience a completely different side of the Philippines.
Being a mountainous area, which is blessed with a lot of rainfall naturally means there are a lot of beautiful waterfalls all around. This is especially true if you spend an extra day and go on a tour to the nearby city of Sagada. Out of all of them, Tappiya is the most recommended and the easiest one to include in any itinerary you design for your stay in this region.
The Falls are located right next to Batad village, where you will undoubtedly stop as it is the best place to see the famous rice terraces. This means a stop at the falls can be easily arranged as part of the day tour of viewing the terraces. Moreover, we also offer longer, more extensive treks of the area which include an overnight stay in a local hut at Batad village itself. This is more adventurous of course, but if you choose the trek option you will have a much easier time fitting a visit to the falls into your itinerary.