As mentioned above, Camiguin is full of natural sites. Most notable are its hot and cold water springs, waterfalls, exquisite snorkeling spots, the volcanoes and beautiful islands with white and black sand beaches. As we stressed, a certain level of physical fitness is required, as you'll have to swim, walk and climb throughout these day trips.
Unlike many other destinations that offer mainly island hopping activities, Camiguin also offers a lot of inland attractions that are typical of tropical and volcanic environments. Therefore, if you want to skip some of the activities, we advise that you'll skip the island hopping, and visit the volcano, falls, and unique snorkeling spots like the sunken cemetery (that sunk due to the eruption of Hibok Hibok in 1871).
Camiguin Island Hopping Tour
The island hopping tour in Camiguin visits two different islands on two different sides of the main island. The first one is White Island, a snake-like sandbar in front of Pabua Rocky Village area. The second island is Mantigue Island, a relatively remote island on the eastern side of Camiguin. It takes about 30 minutes to arrive at Mantigue, and once there you'll explore the small island, enjoy its beach and snorkel in its beautiful reef. The marine sanctuary in Mantigue is home to lots of fish, including a school of trevallies.
Because of the distance between the two islands, we'll not use the same boat, and will travel through the mainland between the White Island Wharf, and our bangka boat on eastern Camiguin. As we'll go through Mambajao, the biggest town in Camiguin, we will also have a short stop over where we'll see the 1914 marker (that commemorates the unity of the villages into a township), and have the chance to buy souvenirs. The price starts at 50 USD per person for a group tour.
Camiguin island hopping itinerary
08:00
Pickup from hotel
08:45
Arrival to White Island Wharf and sailing to White Island
10:30
Return to wharf and driving to Mantigue Island Wharf
11:30
Arrival in Mantigue Island Wharf and free time for lunch
12:30-14:30
Snorkeling and free time in Mantigue
15:30
Mambajao 1914 Mark and souvenir shop
16:00
Back to hotel
Inclusions: Multicab or van transport, hotel/seaport/airport pickup, entrance and environmental fees, shed and table rental, tour guide, 1 bottle of water per person, boat fee and light snack.
Camiguin Countryside Tour
This whole day tour of Camiguin's countryside is among the best out of any of the Philippine Islands because it showcases a lot of different iconic natural sites for a tropical island. Not only that it takes you to the inland of the island, you'll also visit the most exquisite snorkeling spots. Due to the large number of places you'll visit on this tour, prepare to spend around 9 hours outside, as well as a lot of energy.
We'll start the day visiting Kibila White Beach in order to visit its giant clam sanctuary, where you'll see numerous clams as big as 1.2 meters and weighing as much as 200 kg. From there we will continue to Katibawasan Waterfalls, 70 meters tall plunging into a pool you can swim in. We will visit three different water springs - Ardent Hot Springs, Soda Water Pool, and Sto. Nino cold spring Pool. We'll also visit the old volcano, Tungatok viewdeck, Katunggan Park, and the Sunken Cemetery, where we'll snorkel around the sunken graves older than 1871.
Camiguin countryside tour itinerary
08:30
Pickup from hotel
09:45
Kibila Giant Clam Sanctuary and Tanguines Lagoon
11:00
Katibawasan Falls
11:30
Sto. Nino Cold Springs
12:00
Free time for lunch
12:30
Ardent hot springs and Soda Pool
14:00
Arrival to the Old Volcano and climbing its walkway
16:00
Sunken cemetery Snorkeling and Cross Marker
17:00
Back to hotel
Inclusions: Transportation via Van/Multicab, entrance and environmental fees, tour guide, shed and table rental, boat fee to cross marker at Sunken Cemetery, 1 bottle of water per person.
Price: 50 USD for a group tour.
Combination Tour
For those who want to visit White Island, and prefer to skip Mantigue Island, or leave the serious island hopping to other destinations in your Philippines itinerary, we also offer a combo tour. You can visit Whitle island alone, and then continue to all major spot of the Camiguin Countryside tour except for the Giant Clam Sanctuary. Don't worry as you'll be able to see some giant clams in the Sunken Cemetery as well.
The tour inclusions are as of the Countryside tour as well as the boat and entrance fee to White Island. This tour is slightly more expensive and starts with 50 USD per person in a group tour.
Hibok Hibok Volcano Trek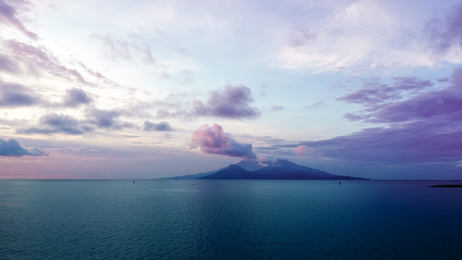 Hibok-Hibok Volcano, a 1332m giant that overlooks the quiet town of Mambajao, offers a most exciting trek. This is the longest day trip we have in Camiguin, and also the most difficult one. You'll start the day at 04:00, meeting our guide who will take you to the starting point of the trek.
You'll then start ascending to the crater, which will take roughly 5 hours, where you'll have a break to appreciate the flat grassland surrounded by a bamboo forest. Then you'll hike to the old crater, which was blown away in one of the past volcanic eruptions, for a great view of White Island as well as other more distant islands including Mantigue. You'll then start descending on a different route that ends at Ardent Hot Springs. Expect to arrive in Ardent Springs at 15:30-16:00.
As you climb up and down, you'll go through the lush and dense tropical jungle. As you reach higher altitudes you'll notice that the trees and plants change due to the difference in temperature. The peak and higher parts of the trek can be quite cold, especially on rainy days. Therefore it's advised to bring a longer shirt with you. Also, you'll have to bring your own water and food for the trek.
Please take no less than 2.5 liters and bring as much food as you wish. We think it's better to take lighter things, and not saucy, messy meals. Bread and simple rice meals will be great. You could ask your resort to prepare it for you in advance as you won't be able to buy food in the morning before you start.
The inclusions for this trek will be the guide, and the commuting fees. You will use public transportation for this tour, as it's very convenient. It costs 75 USD per person in a group of 4 people.
How to plan my Camiguin tour package
Since we recommend to spend at least 3 nights in Camiguin, we think it's best to have the first day free to get settled after the travel (also as you'll mostly arrive in camiguin on a later part of the day). If you'll have the time you could hit the beach, perhaps some of the unique black sand beaches. If you're planning to take the Hibok Hibok Trek, the second day is the best so you'll have time to recover from it, as it's physically demanding. The third day will be perfect for either the island hopping or the countryside tours.
If you only have 3 days, we think that the countryside tour will be more rewarding, but if you stay for more time, you could do both, or perhaps take the combo tour instead. If you're visiting other destinations in the Philippines that offer a variety of island hopping tours, it might be worthwhile for you to take the countryside tour in Camiguin over the island hopping one, as it's not the specialty of the island. In case you are thinking about a longer or a multi-destination vacation in the Philippines, visit our vacation packages page for more ideas, or check our Camiguin Packages which all include these tours and can be easily combined with other locations.