Malapascua has many famous dive sites, and therefore attracts divers from all over the Philippines and the world. Monad Shoal is by far the most famous dive spot in Malapascua. In Monad Shoal, thresher sharks sightings are almost a certain thing. These are pelagic thresher shark, the smallest of the thresher shark family (3m), and this is the only known place in the world where they frequent every morning.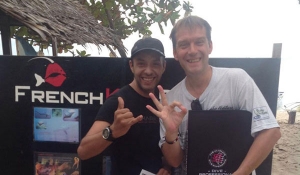 Gato Island is also a famous dive site in Malapascua. It offers more than 5 different dives, including a tunnel/cave dive with torches, and a drift dive in a canyon, between two steep walls. It is home to many creatures: cuttlefish, squid, seahorses, mantis shrimps and more. There are also many white-tip sharks residing in Gato, as well as cat sharks and bamboo sharks.
Dona Marylin is a huge 97m shipwreck that sunk on October 1988. It lies 30m deep on the seabed, so it's suitable for advanced divers and up. If you want to go inside the wreck, we can organize for a specialty training that will allow you to do so. This fantastic wreck dive is just 1.5 hours from the shores of Malapascua, making it a must for your diving vacation.
Lighthouse is a popular snorkeling spot during the day for its 3m deep japanese wreck. But it's just after sunset when Lighthouse really shines. This is the time many nocturnal critters come to this place. The spawning mandarin fish being the most spectacular ones and it's probably the best place to spot them in Asia.
Over the years FKD explored the underwater environment of Malapascua and Northern Cebu, to the point that they are specialists in many locations that are not frequented by most of the other dive shops. Carnaza Island, Kalanggaman and MariPipi are the best example. Kalanggaman is famous for its very long sandbar (and coral, many fish, and occasional whale shark encounters), and Maripipi is a not yet known volcanic island and makes a great break after diving in Sambauan. All of these locations are virgin dive sites with rich marine life, including sharks, rays, turtles and more.
Maripipi and Kalanggaman are also great for snorkeling and exploring. French Kiss lets non-divers join the trip when the boat isn't at full capacity. That's a great way for couples to enjoy together even if only one of them is diving. There is no reason for any compromise. You don't have to pass on diving nor leave your loved one alone on Malapascua Island while you have fun.
FUN DIVES
Fun dive in Monad Shoal : 50 USD
Fun dives in Gato Island (2 dives) : 80 USD
Any other fun dive : 35 USD
Packaged 5 dives (Monad, 2 dives in Gato, Sunset, and 1 more) : 180 USD. Equipment and fees not included
SPECIAL TRIPS
Kalanggaman daytrip with 2 dives : 110 USD
Kalanggaman daytrip for non-divers : 50 USD
Caranza Daytrip with 2 dives and trekking : 130 USD
Caranza Daytrip with trekking for non-divers : 350 USD
Wreck day – Dona Marilyn and Tapilon : 105 USD
Maripipi trip including 2 dives and bikes : 160 USD
Maripipi trip for non-divers : 80 USD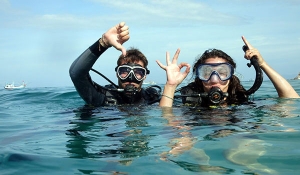 </br ></br ></br ></br ></br ></br ></br >
CERTIFICATIONS
Open Water certification : 350 USD
Advanced Adventurer : 290 USD
React Right/Nitrox Dry/Perfect Buoyancy : 160 USD each
Wreck/Nitrox 40%/Deep (40m)/Night and limited visibility : 220 USD each
Stress and Rescue : 360 USD
PROFESSIONAL DIVING COURSES
Dive Guide : 80 USD
Dive Master : 120 USD
Instructor Course: 2,400 USD
</br >
Note: sanctuary fees that apply in some sites are not included. Specialty equipment that's needed for some dives is not included and will be rented at the day of the dive.</ br> For more specialty courses contact us directly and we'll personally assist you.
You can also train in free Diving in Malapascua, an extreme sport where you dive to great depth with no air compressed tanks. The personnel of FKD attests that even a few sessions will give you the basic breathing technique that will improve your underwater time when scuba diving. It's a growing trend yet not many dive shops offer this kind of training in the Philippines, so you should highly consider trying while in Malapascua.
FREE DIVING PRICELIST
Taste of Free Dive (1 hour) : 40 USD
Try Free Dive (1 day) : 120 USD
Level 1 Free Dive (2-3 days) : 300 USD
Level 2 Free Dive (2-3 days) : 440 USD
Level 1+2 Free Dive : 640 USD
Training/fun dive : 30 USD
Fun dive at Monad Shoal : 45 USD
Fun dive at Gato : 70 USD
Note: sanctuary fees (150-200 PHP, around 3-4 USD, apply in some sites are not included in the prices above.
French Kiss Divers is the dive shop we prefer to work with as we find it the best one in Malapascua Island. If you prefer to dive elsewhere, because you prefer PADI clubs, or you booked one of our partner resorts that have an in-house dive shop, it is possible. We will book your dives in our other partners with an almost equivalent level. Whatever your preferences are we guarantee you'll have a perfect diving holiday, or just spice your vacation with a little scuba diving.