If you have already had a chance to read through our site, you know that we at YGD Travel cater to a very diverse clientele. That said, our specialty, and vast majority of clients, are those seeking all inclusive vacation packages in luxury resorts. It makes sense after all, since if you are planning a high-budget holiday, you are much more likely to be willing to pay a bit extra and book through a boutique travel agency such as ours.
By booking with us you enjoy complete safety and peace of mind – and that's absolutely priceless! You'll have someone watching your back and taking care of everything. We only work with hotels we have personally visited and reviewed, and that's also the case with all the resorts featured on this list.
We have sent dozens, if not hundreds, of guests to each of the resorts below. The feedback we receive from our clients help us improve our service and understand which places really provide that little extra something to their guests. When you read below or visit any of our hotel review pages, you will see we maintain 100% transparency. We are not one of those companies who only highlight the good things! This is because we really believe it is best to manage expectations correctly instead of ending up with clients who are disappointed by false promises.

While reading this list, keep in mind we tried our best to keep it diverse and showcase as many different
destinations in the Philippines
as possible. Otherwise, we might have ended up with 6 out of 10 resorts being just in
Palawan
or
Boracay
. And while these two islands are definitely the best for those in search of luxury, there is no reason why you can't explore other islands as well while keep to very high standards.
1. Shangri-La At the Fort, Manila
Manila is likely to be your first stop during this trip, and there's no place to spend your first night than the Shangri-La in BGC. The Shangri-La chain of hotels need no introduction, but you can read the review linked above to get specific information on this branch in Manila.
Shangri-La actually has 3 different hotels in Manila, but the one in BGC is clearly the best. Not only is it the newest and most luxurious one, but it also has the best location. BGC is the newest and most modern part of the city, and spending your time there is much different than the noisy and dirty Makati district, where most tourists go to. Better still, BGC is only 20 minutes' drive from Makati, so you can always go there if you want to check out a more touristy area at night.
2. Plantation Bay Resort, Mactan Island, Cebu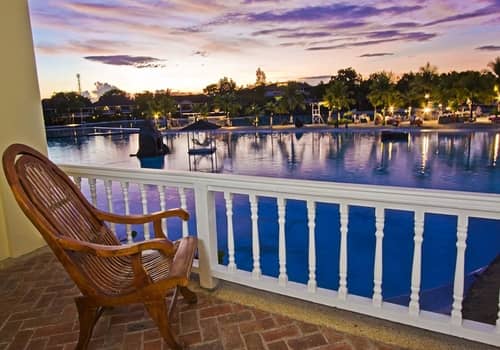 From Manila we move straight to the 2nd largest city in the Philippines, Cebu City. Mactan island is 30 minutes by car from the city and is where the airport is located. This is an international airport by the way, so it is possible to skip Manila and come here directly. Cebu City is the capital of Cebu island, a wonderful and large island with tons of attractions and unique tours. This place is definitely worth a 2-3 days visit, especially if you are into diving.
Plantation Bay is widely considered the best resort in Mactan, and that says a lot considering there's also a Shangri-La over there. The resort might not be the most luxurious overall in the country, but is very unique. The fact they offer so many different activities, coupled with full board stay, means this is a perfect place for those who want to just stay at the resort most of the time. If you do, you'll probably spend most of your stay at their artificial lagoon, which is simply breathtaking! All of these make Plantation Bay the best choice for families.
3. Abaca Resort, Mactan Island, Cebu
Many of our guests come here for their honeymoon and that means they want a private and exclusive experience. Sadly, as you'll see on this list, most of the high-end resorts in the Philippines are quite large. That is why we decided to include Abaca on this list, as a special recommendation for those of you who really prefer smaller, boutique resorts.
This place only has 8 villas and each of them is out of this world. The higher categories ones even have their own private pool. The main infinity pool overlooking the ocean is also great, and there's a professional chef from the UK preparing all the food. Overall, this is the best place in the country for people who want VIP treatment, as this small resort can really give you the ultimate personal service. Abaca also offers a 24 hours nanny service, so it's ideal for couples even if they have a small child with them.
4. Eskaya Beach Resort, Bohol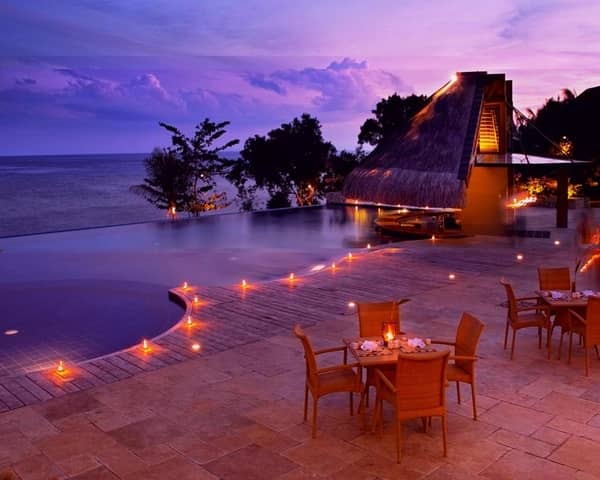 Bohol is one of the most special and fun islands in the Philippines, famous for it's unique landscape and fantastic diving opportunities. If you are a fan of nature, and wildlife in particular, this island simply must be on your list. There aren't many places here that offer such massive diversity and a chance to see so many special animals up close.
For a long time, we didn't recommend Bohol for people who are very picky about where they stay. Sure, there were very decent resorts on the island, but they were are all massive with hundreds of rooms. This isn't what we call real luxury. Luckily, this all changed when Eskaya opened its gates. With only 24 magnificent villas, this is really the intimate place were hoping for.
Eskaya stands out not just in Bohol, but in the overall high-end resorts landscape in the Philippines. All of their villas are immaculate and each have its own private pool. Everything about this place just screams luxury and if you go there you won't have a single complaint.
5. Nay Palad, Siargao
Formerly named Dedon Island Resort, Nay Palad is not only the best private island resort in Siargao, but possibly in the whole country. The only one who can give it a run for its money is Amanpulo which is another one we highly recommend. They both cost pretty much the same, starting at $1200 per night for the most basic room. This means these 2 resorts cost almost three times as much as any other hotel on this list, which really sets them apart and into their own special category.
The reason we chose Nay Palad as our top recommendation for the super high-end resort is the fact it is located in Siargao while Amuanpulo is located in an extremely remote island which isn't close to anywhere else. While both are absolutely fantastic, the fact that you can explore the island while staying at Nay Palad gives it the edge. Siargao is one of the most popular and fastest growing tourist attractions in the country, so it's a great opportunity to visit this off the beaten path island while not compromising on quality accommodation.
6. Two Seasons Island Resort, Coron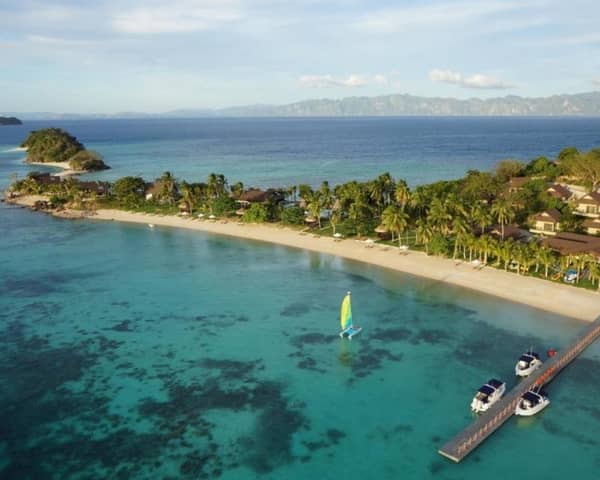 Finally we made it to Palawan, the most popular tourist spot in the Philippines and place that offers a very large selection of private island resorts. The most famous place in Palawan for a luxury holiday is of course El Nido, but Coron isn't too far behind.
Many people consider the lagoons in Coron to be even more beautiful than those in El Nido. Moreover, the attractions and adventures it offers are for sure more exciting overall, especially the diving. Lastly, the best thing about Coron is the fact it is much less crowded and tourist overall. The only downside to that is that there aren't many resorts to choose from, and in fact the Two Seasons is the only resort in Coron which can really be called luxurious.
Luckily, the Two Seasons Private Island Resort is on par with any other private island resort in the country. This makes it a real gem in Coron, as it allows people with fine taste to visit this spectacular island. This place has everything you would expect from a 5-star establishment, with the only downside being there is no all-inclusive package – you have to pay a la carte for anything you order.
7. Pangalusian Island Resort, El Nido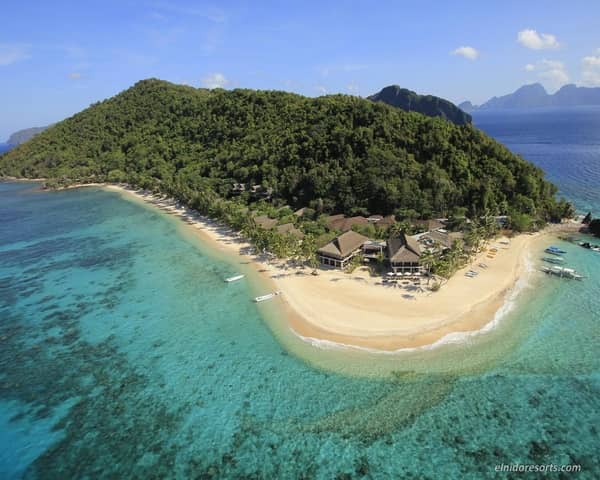 As mentioned, El Nido is by far the most popular location in the Philippines. The reason is of course because the beaches and lagoons there are simply the best you will see, probably anywhere in the world. But this means that when you go out on tours, places might be quite crowded, which goes against the feeling of exclusivity you are trying to get.
There are 2 main ways to mitigate this. First, you should stay at a private island resort and not in a regular beach resort in town. These private islands are much smaller and more secluded, so at least while you are at the resort you will have much better privacy. Secondly, when you do go out of the resort, book one of our private speedboat island hopping tours. We are the only agency to offer these, and they simply make a world of difference. By having a faster boat, you'll be able to beat the crowds and have much better control over your itinerary.
When it comes to private islands in El Nido, none can compete with Pangalusian. It is by far and wide the best of the lot. Again, same as with the resort in Coron, the only downside to this place is the fact they don't offer full board stays. Other than that, staying at Pangalusian Island is the closest thing to heaven.
8. Lagen Island Resort, El Nido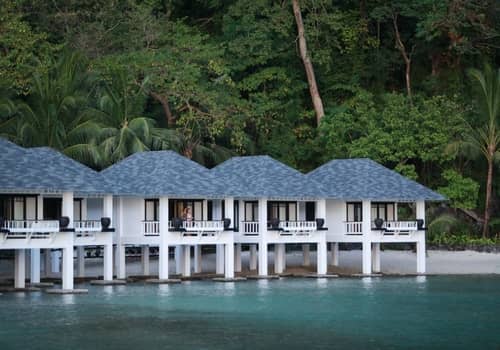 The Lagen Island Resort in El Nido is owned by the same company who owns Pangalusian. This means you can be sure that standards here are also top notch. In fact, the difference in quality between the two doesn't really justify the large price hike, which means Lagen is clearly better value for money.
As with most luxury hotels, the differences are subtle and Pangalusian just excels at the small nuances. Furthermore, the fact it costs much more simply means it draws a more exclusive crowd compared to Lagen. All of that doesn't mean Lagen Island isn't a superb choice as well.
You might we wondering why we included Lagen as well on this list on top of Pangalusian and the reason is fairly simple – this resort does offer full board stay. We know this is something which is very important to many of you, and if that's the case then Lagen Island is the best private island resort for your vacation in the Philippines.
9. Shangri-La Resort, Boracay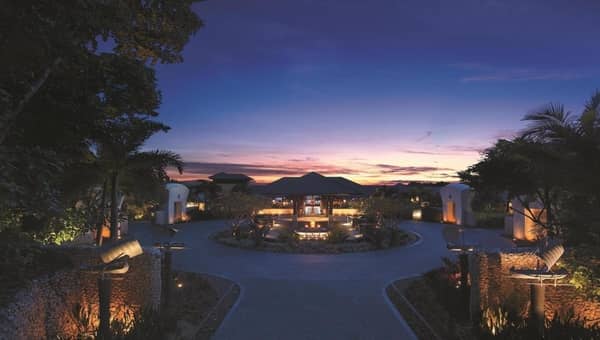 We know we said we want to keep the list diverse but it's just impossible not to include another Shangri-La in it. The resort in Boracay is the crown jewel out of all Shangri-La branches and is undoubtedly one of the most impressive resorts you'll ever stay at.
If you want to stay in Boracay and avoid the crowds, there is no better place than the Shangri-La Boracay Resort. This resort covers a huge area, with 2 private beaches and 3 different swimming pools. There's just an endless list of facilities and activities on offer, so you can easily spend a week there without ever getting bored.
Keep in mind this resort is quite remote and located about 20 minutes away from the famous White Beach area. This can be an advantage if you are looking for most intimate and exclusive experience possible, but it is also a shame to be in Boracay and not see the famous beach. Of course, there's a shuttle service available, but normally we recommend our clients to stay 2-3 nights at the Shangri-La, then another 2 at a resort located in White Beach itself.
10. Discovery Shores, Boracay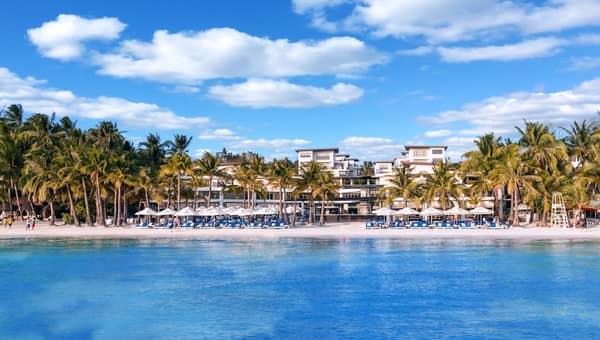 Boracay is famous all over the world for having one of the best beaches you will see. It is also a highly touristy island which makes it perfect for both couples or families. The only downside is that activities here are underwhelming, so it really is a better place for those who want to just relax at the beach and enjoy their resort.
As discussed above, going to Boracay without spending a night or 2 in White Beach is a real shame. Nothing beats the feeling of waking up in the morning and having to walk only a few meters from your room to one of the best beaches in the world. For that, our top recommendation would be the Discovery Shores Resort.
Up until not long ago, our top White Beach resort was The Lind. It is newer than the Discovery Shores and has much better facilities. Especially the gym and spa are much more professional than those in Discovery Shores. While both are great and you can't go wrong with either, recent guest feedback has caused us to shift towards the Discovery Shores Resort instead.
The main reason is that the Lind is very big, with more than double the amount of rooms Discovery Shores has. Even worse, the basic rooms in The Lind are far too basic so if you really want a good experience you will need to upgrade and pay much more. In Discovery Shores on the other hand, even the most basic room is a very large suite (Junior Suite) and this make it overall the better choice in our opinion.