Some people find it hard to decide whether they should visit Cebu or Palawan. If that's a question you had in mind keep on reading. Don't worry, it's not too difficult to answer. In the table below, and the paragraphs following it, we'll compare these two islands and help you understand better which is the best choice for you.

Average price per day :

100 USD

This price includes: Airfare, Accommodation, Day Tours and Living costs.

Ease of reaching : Very Easy

Accommodation options

: Budget to high end

Best time to visit : November to May*

Main attractions

:

Diving
City tours
Canyoneering
Waterfalls

Nightlife : Cebu City has a good nightlife scene

Suitable for : Adventure, Solo, Family
Average price per day :

180 USD

This price includes: Airfare, Accommodation, Day Tours and Living costs.

Ease of reaching : Easy to Moderate

Accommodation options

: Budget to high end

Best time to visit : October to May

Main attractions

:

Diving
Island hopping
Hiking
Underground River

Nightlife : Almost non-existent

Suitable for : Romantic, Adventure, Solo
As you can see from the table, there is a lot in common between the two. However, there's more than meets the eye. Both are large islands with plenty to choose from, and making an average of what they offer can give you a twisted idea of what's really going on. Sure, prices are roughly the same, and both islands cater well to all kind of travelers, but there are a lot of nuances to each. We'll try to break it down for you, so you can decide which one to go to, or even choose to visit both.
Hotel Comparison and Quick Facts
Budget accommodation in Palawan tends to be cheaper and you'll generally fined much better deals. In most of Palawan's tourist spots, even the most basic hotels will are close to the beach, not to mention the beaches themselves are better. The situation turns upside down however when looking at high end resorts. Most of the Palawan luxury resorts will be more expensive as they are usually located on small private islands. The ones in Cebu will mostly likely be on the main island's coastline and cheaper.
When to Visit and What to do?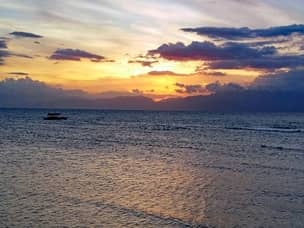 The best time to visit both is between October and May. If you are traveling when it's off season, the question "which one should I visit?" becomes more interesting. Palawan During off season is very rainy, to the point that it's very difficult to make plans to travel there. It can rain straight for days, making your stay there unpleasant and not worth your time or money.
Cebu Island on the other hand is divided into two climate zones. In Cebu City and the south it's wetter during the off season. The northern side of the island is a different climate zone, where rainfall is more or less evenly distributed throughout the year. Moreover, there are also many neighboring islands, such as Malapascua, Bohol and Siquijour, that enjoy the same climate. In general, the whole Visayas area is less affected by monsoons during the rainy season.
As far as what to do in both, diving is a great option – and you can find some of the country's best diving spots in each. El Nido and Coron in Palawan both have amazing dives, as well as Malapascua, Mactan and Moalboal in Cebu. From Cebu you can also easily reach Bohol, which offers some of the best dives in the Philippines.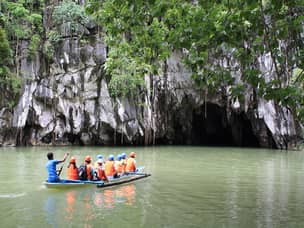 Island hopping is great in many destinations in Cebu, but the best island hopping in the Philippines is in Palawan. Even though El Nido and Coron are better than Puerto Princesa, the latter is very easily reached, and perfect for families. The rest of the activities are somewhat similar, but there are two unique ones that you should take into consideration.
The first is The Moalboal Canyoneering and waterfalls in Cebu Island. It's a system of waterfalls with distinct turquoise waters that you can climb and jump from. One of the ways to tour these waterfalls is by canyoneering with a guide, that will take you through the creeks and canyons, where you will crawl, jump, climb and rappel on your way down to the main waterfalls. This is an extraordinary experience for the adventurers and thrill seekers. To find out more about Moalboal Canyoneering and else, please visit our Moalboal guide.
The second one is the Puerto Princesa underground river in Palawan. It's the second longest underground river in the world, and home to an extremely diverse ecosystem. You get around by small boats accompanied by a professional guide. You will see stalactites and stalagmites and stunning rock formations, all while paddling around the river. For more information about the tour and other attractions, visit our Puerto Princesa Page.
How to get there?
Getting to and around is also an important factor when deciding where you should go. Flights to Cebu City are among the most frequent in the Philippines, as Cebu is the second largest city in the country. They are also cheaper than the ones to Palawan. Getting around Palawan is complicated compared to Cebu, and if you are traveling there, you will have to plan your itinerary wisely. It takes time to get from one tourist destination to another, by bus/van or ferry. It will not only be more difficult to tour Palawan, but also more time demanding.
All in all, both make for great vacation sites, and we feel that instead of choosing one or the other, if you have the time choosing both will be optimal. This way, your vacation in the Philippines will be really unique and rewarding. In case you can only visit one for some reason (like lack of time, or traveling offseason), you should contact us and we will help you make the best vacation in the Philippines you can wish for.
7 Comments