Attractions in Bohol are mostly low-paced and that's what makes the island one of the best family destinations in the Philippines. Still, that doesn't mean the places you'll visit here are any less beautiful than those at Palawan or Siargao for example.
As with most islands, the emphasis here is on nature and wildlife. Bohol has some of the most beautiful coral reefs and diving spots anywhere in the country, and it's also a great place to get certified in. On top of that, the mainland attractions are also interesting and extremely unique so the overall value you get from your day tours here is extremely high.
We only work with the best tour operators on the island – people who have been there for years and know how to run these tours smoothly. Your safety and satisfaction are always our top priority, and we always work on improving our services and making them as flexible as we can. If there's anything you'd like to do in Bohol which isn't featured on the list below, all you have to do is contact us and ask.
Bohol Island Hopping Tour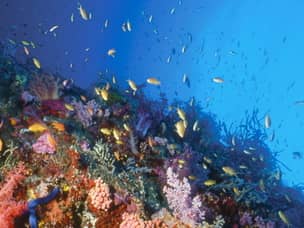 The itinerary for this tour is quite flexible, especially if you decide to book it privately. Still, there's no doubt Balicasag island is the pinnacle of this experience and you should spend most of your time there.
Balicasag is a marine sanctuary, widely acknowledged as one of the most beautiful and special places in the Philippines. The stunning beach, combined with never-ending coral reefs and rich marine biodiversity make it the ultimate island-hopping destination. It's one of very few places which can rival the famous spots you'll visit in El Nido island hopping or Coron tours.
The main attraction in Balicasag are the sea turtles. If you spend enough time there, you'll have a very high chance of swimming with one and seeing it face to face. This is why we normally allocate 3 hours to this part of the trip, but of course it can be shortened at your request. You don't have to decide beforehand –go there and once you had enough just let your guide know.
Our island hopping tour includes the boat, life vest, snorkeling equipment, paddle boat, EUF (Environmental User's Fee), lunch and a licensed guide to accompany you all day long. Price for a couple is $85 each, while 3-4 people would be $55 per person only. Any additional person added beyond that would result in a $35 increase – up to 8 people max.
Bohol island hopping sample itinerary
05:45 AM
Pickup from hotel
06:00
Boat pickup from Alona beach, Panglao
06:30
Dolphin watching (max 40 minutes)
07:30-10:45
Balicasag Island
11:30
Lunch
13:00
Virgin Island
15:00
Back to Alona Beach
Another, slightly different inclusion is Pamilican Island. This is a much more remote location which usually attracts only divers thanks to its underwater riches. Since the island is a 40 minutes sail in the opposite direction, it requires a separate trip. The price for this tour is $95 per person and it comes with all the same inclusion as the regular island hopping tour. This is a great choice for couples as it one of the most romantic places in the Philippines.
Countryside Tour in Bohol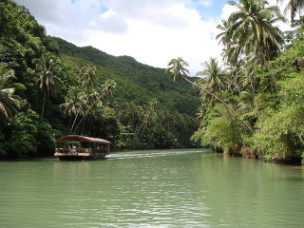 Alongside the island hopping tour this is the most popular activity in Bohol, which makes sense as they complement each other very well. If you only have 2 days to spend on the island, booking these 2 tours will ensure you get a full taste of what the place has to offer.
The main highlight of this tour is the famous Chocolate Hills. There are an estimated 1776 hills spread over 50 square kilometers (20 miles), creating a one of a kind geological formation. The countryside tour only takes you to the view deck from which you get a stunning panoramic view of the hills.
People with more time to spend in Bohol, should consider taking an half-day tour of just the hills for a more complete experience. You can find all our Chocolate Hills tours, including the popular ATV rides, on this page.
Countryside Tour sample itinerary
09:00 AM
Pickup from hotel
11:00
Man-made forest + Tarsier Sanctuary
12:30
Chocolate Hills
14:00
Loboc River Eco Adventure Park - Zipline
15:00
Lunch on Loboc River cruise boat
16:30
Back to Panglao
The itinerary for this tour is also flexible, and guests can choose to spend more or less time at each location they visit. Tours include a private car or van, licensed tour guide, soft drinks and snacks and a BBQ lunch. Price is $90 each for a couple, and $75 per person for groups of 4 or more. Entrance fees, taxes and environmental fees are all included in the tour package already.
Diving Trips in Bohol
Bohol is one of the most established diving spots in the Philippines and is considered the best place for beginners. The diving scene is very mature – with highly experienced and professional dive clubs offering courses in multiple languages. We only work with the very best dive clubs to ensure your safety and quality service are always observed.
Bohol is the best place to get certified in before continuing to other locations for more complicated dives. You can try out diving here and see if you like it, then head on to places such as Coron or Malapascua which are considered some of the best in the world. If that sounds like something you might be interested in, take a look at our specialized diving packages.
Diving certificates will take between 3 to 4 days to obtain, depending on how much you want to rush it. It involves 6 dives at varying times of the day and a written theory test you'll need to pass. The basic open water certificate may cost $450 per person, while advanced open water costs $400. These courses will mean you are PADI and SSI certified and can perform almost all of the dives in the Philippines.
People who only wish to try out diving once, can easily do it in Bohol. You can start with just a fun dive and see whether or not you like it before committing for the more expensive courses. One Discover Scuba diving costs $120 per person, or you can get 2 dives for only $110. If you decide to complete the course after taking these dives, they will be counted towards the amount needed to get certified.
For more experienced divers, Bohol offers a wonderful selection of wonderful diving spots. Make use of the professional clubs and world class equipment to enhance your trip with some new diving experiences. Specialty dives such as night dives, water rescue certificate (2 days), wreck diving, deep diving and much more all are available. For all available activities and a detailed pricelist, please contact us directly by mail.
Danao ECO Adventure park
An alternative to the countryside tour is visiting Danao instead. This is a nearly whole day tour as the park offers a long list of attractions for you to try. Most notably there is a bungee jump and a fantastic zip line with breathtaking views. On top of that you can try out various extreme activities such as rappelling, cliff climbing, caving, and kayaking.
A visit to this adventure park can be combined with an additional short stop along the way. One such place is Bohol bee farm - where you can see how locals produce honey. Another option is stopping by the beautiful Hinagdanan Cave and exploring it for a while. Both options take roughly one hour out of your day so they are very easy to add into a Danao day tour.
Watersports and Other Beach Activities
Since Bohol is a also a popular beach destination, there's a lot of fun activities you could try. Wakeboarding, Parasailing and jet-skis are all available upon request and you can easily spice up your day at the beach with one or more of these. On top of that, there are banana boat rides and fly-fish at most beach areas.
Two activities which are bit more special are the glass bottom boat and helmet diving. Both of these let you witness the amazing underwater world of Bohol without having to know how to dive. The helmet diving in particular is a unique experience since the only other place where you could try it is in Boracay. The glass floor boat can accommodate up to 8 people so it's a perfect activity for families, especially with young children who can't swim too well.