Depending on your preferences, you can choose the best tours for you, or contact us and we'll gladly assist you in this task. Choosing the right tour can make all the difference between an okay experience in El Nido, to one of the best you've ever had. Going on the regular group tours may be the cheapest option but you'll find yourself surrounded by crowds of tourists, and that greatly takes away from the quality of the tour.
One of the most exclusive ways to experience Bacuit Bay island hopping is by speedboat, but it's also the most expensive one. The other option is to combine tours, take the best destinations and put them together. Overnight camping is also available for the adventurous types, and is also one of the more special ways to explore the islands. All of these options can be done privately or by joining a group.
Recently, a change has been made to the structure of all tours, preventing visitors of going to both the Big and Small Lagoons on the same day. While this is certainly unfortunate, since the lagoons are the most spectacular locations in El Nido, it was necessary in order to alleviate the pressure and pollution caused by too many tourists visiting these scenic lagoons all at once. Now, guests to El Nido are forced to pick just one of the two, and have that added to the island hopping tour A.
So, now daily availability to each lagoon is limited and must be booked in advance. There are five 90 minutes long time slots per day for each lagoon, and usually the early morning ones are the most coveted as they make the rest of the tour run more smoothly. This means they must be booked well in advance. Visiting the lagoons now also carries a 200 pesos (4 USD) environmental fee.
Naturally, we get asked a lot which of the lagoons to go for, assuming you only have a single day for island hopping in El Nido. It's quite hard to say and honestly you will not be disappointed no matter which one you end up going to. If we have to describe each with a single word, the big lagoon is impressive while the small is charming. Typically the big lagoon is favored by tourists, so if you have just one day we recommended choosing that one, if there are available groups and time slots on your specific day.
It is also important to note that if you are doing the private tours, you can add a stop at one of the lagoons to any of the tours below. Since Combo tours are no longer allowed it means if you choose any tour other than A, you will need to book the earliest time slot, go to the lagoon you chose, then back to the mainland and embark on the regular itinerary.
Speedboat Island Hopping Tours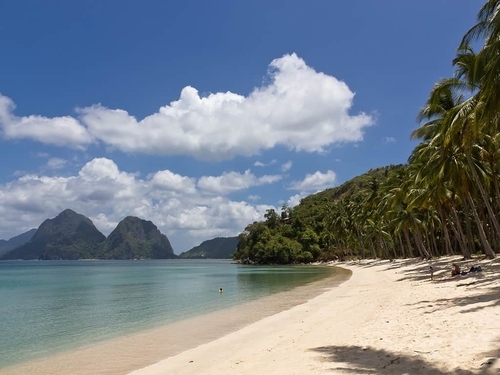 Experiencing island hopping on a speedboat has clear benefits. The ride is faster and smoother so even though you leave with all the other boats in the morning, you'll reach all of the destinations first, and have the islands, beaches and lagoons all for yourself. Moreover, being faster will allow you to visit more destinations, almost double of the regular tours. Lastly, you can actually go island hopping in the beautiful Linapacan, an archipelago situated between El Nido and Coron.
With so few boats, and only 8 seats each, these tours tend to run out quickly, and booking a long time in advance is the best way to secure your spot. We offer the best prices available for these tours on our website. Inquire now for availability on your desired dates, so you won't miss out on these fantastic tours.
Whole day Bacuit Bay open tour - Big Lagoon or Small Lagoon, Shimizu, Entalula, Secret Beach, Star Beach, Matinloc Shrine, Tapiutan, Helicopter Island, Cadlao Lagoon, 7 Commandos Beach. Includes: Buffet BBQ lunch, water and soft drinks, mask and snorkel, and a towel. 09:00-17:00, 60 USD pp.
Whole day Linapacan open tour - Includes: Buffet BBQ lunch, fruit plater water and soft drinks, mask and snorkel, and a towel. 09:00-17:00, 100 USD pp.
Half a day Bacuit Bay private tour - (4 hours) good for 6 ppl. Including: snacks, water and soft drinks, towel and snorkeling gear. 300 USD
Full day Bacuit Bay private tour - including: Buffet lunch, water and non-alcoholic beverages, mask and snorkel, towels. 09:00-17:00, 470 USD.
Full day Linapacan private tour - including: Buffet lunch, water and non-alcoholic beverages, mask and snorkel, towels. 09:00-17:00, 587 USD.
Note : the private tours has no fixed itinerary and schedules are made according to the weather conditions on the same day. They can also be modified taking your personal requests into account.
A/B/C/D Bacuit Bay Island Hopping Group Tours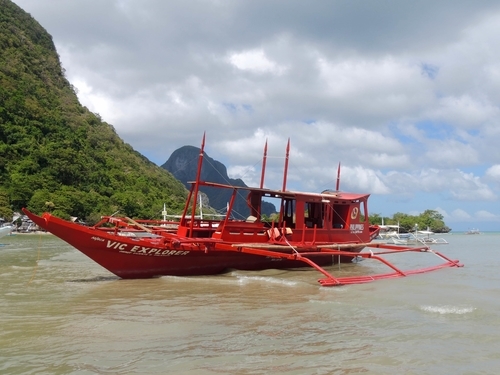 This is the way the tours were first constructed in El Nido. This is also the option that most tourists tend to choose, because it's the cheapest. Although all of the tours follow the same itineraries, we work with the best tour operators available, who has the best guides and boats, and are punctual.
Although you're going to be surrounded by fellow tourists from your boat, and from other boats too, these trips are enjoyable and a great way to experience El Nido's Islands on a budget. You can also choose to do these tours privately, and rent your own boat and guide, for a more intimate feeling.
Bacuit bay island hopping tour itinerary
08:30
Pickup from hotel in El Nido Town or Corong Corong Beach
09:00
Boarding time
09:30
Departure time
12:00-13:00
BBQ Lunch on one of the islands
16:30
Estimated time of return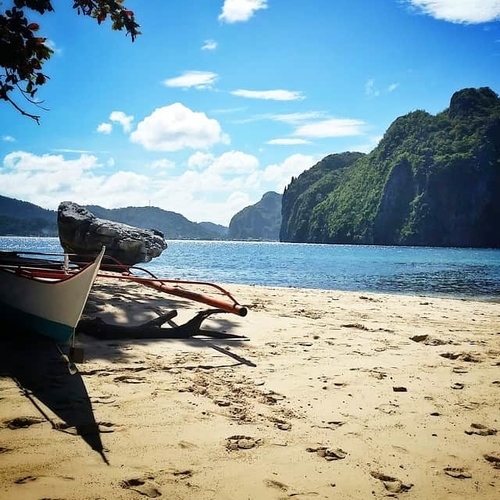 Tour A : Big Lagoon or Small Lagoon, Secret Lagoon, Shimizu Island, 7 Commandos Beach. 24 USD pp.
Tour B : Pinagbuyutan Island, Entalula Island, Snake Island, Cathedral Cave & Cudugnon Cave. 26 USD pp.
Tour C : Helicopter Island, Hidden Beach, Secret Beach, Star Beach & Matinloc Shrine. 28 USD pp.
Tour D : Cadlao Lagoon, Nat Nat Beach, Paradise Beach, Pasandigan Beach, Papaya Beach. 24 USD pp.
Note: For tour A, choice between Big and Small Lagoon depends on availability on your dates. If you book a long time beforehand, there's a better chance you'd be able to choose which one you go to.
Overnight Camping Expeditions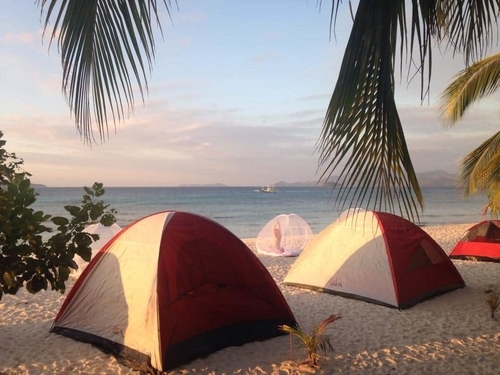 This is a very unique way to island hop in El Nido, and by far the most adventurous one. You can choose between 2-3 days trips. In each day you'll get to do one of the island hopping tours: A, B, C, or D. It's highly advised to do tour A and C on any day but the first. This is because those are the most popular tours, so they're always over crowded. So when you wake up on your second or third day your already in the first location of the tour.
By doing so you'll have the unique opportunity to visit these spectacular places by yourselves only, before the tourist frenzy begins. On this tour you get to sleep on the islands under the stars yet enjoy some more than basic standards under these circumstances. The boat has all the facilities needed to make it the best glamping trip of your life.
Inclusions: All meals, drinking water, solar showers, snorkeling gear, environmental fees, easy 2 second tents, blankets, pillows, torches, WiFi on Board, power bank, 1 kayak, tour guide. Pickup time is 08:30, and drop off is at 17:00 one or two days after. Rates start at 220 USD pp.