Over the years, the 2 most common questions we get asked are which destinations are the best and what are the best beaches in the Philippines . Then, in close 3rd comes the question of what to do in Manila, and whether or not the beaches nearby are worth your time.
Truth be told, the short answer is usually no. While there are very nice beaches close to Manila, they are nowhere as amazing as the ones you'd find in the islands. We know it's a bit anti climatic, but we have to be honest don't we? Most beaches you would see on this list require several hours drive so it doesn't really save too much time compared to flying out to Boracay or Bohol for example.
Still, there are a few valid reasons why people could consider any of the beaches below. Maybe you have family or friends in Manila and looking for a short vacation? Or perhaps you are on your way back from trekking the rice terraces in Banaue and want a short stop at a beach to relax? Or maybe you just want to enjoy a quick beach getaway for the lowest price possible? These are just some of the reasons why beaches near Manila can indeed sometimes be a good solution and an alternative to venturing out to the more remote islands.
Laiya Beach, Batangas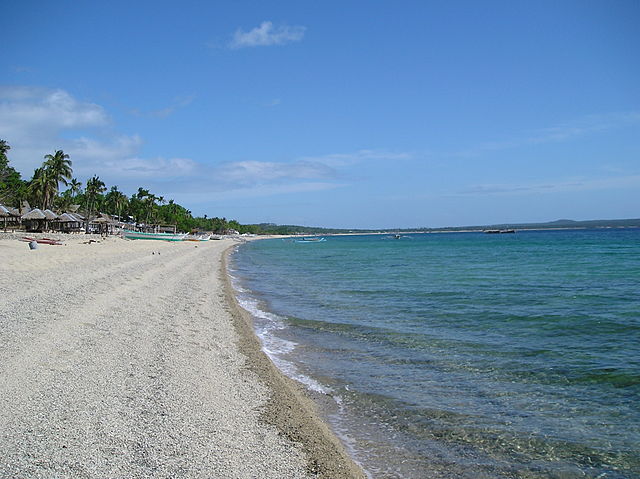 If you came here looking for the perfect beach to have a relaxing time, just chill and enjoy a high end all inclusive vacation, then you don't have to read any further! Laiya Beach is the overall best beach near Manila and certainly the most beautiful one. It is simply the perfect choice if all you want to do is enjoy the beach and nothing else.
Unfortunately, Laiya is very popular, especially among Manila's rich and famous. It's one of the few beach areas that offer really luxurious beach resorts, so these need to be booked well in advance. If your arrival date is less than 3 months from now, don't count on finding a room here. All of our Batangas packages include Laiya, with roundtrip transfers and your choice of accommodation. A night or 2 here can also be combined with later stops at other beaches in Batangas.
Nasugbo and Lian, Batangas
These are both very beautiful in their own right, even if they fall just short compared to Laiya. If you can find a room in Laiya then there's no real reason to choose these instead, unless you really want to save a few dollars. Still, they provide a very good alternative in case you need one, as both are fantastic and take less than 2 hours to reach from Manila.
Both beaches offer a few 5 stars resorts, but the general standard here is slightly lower than Laiya. That said, there's a much larger selection overall – so if you are interested in midrange accommodation or more family-oriented resorts, Nasugbo beach might actually be a better choice for you overall. Overall, if we have to sum it up, go to Laiya if you are a couple and to Nasugbo or Lian if you are travelling with kids.
Anilao Beach, Batangas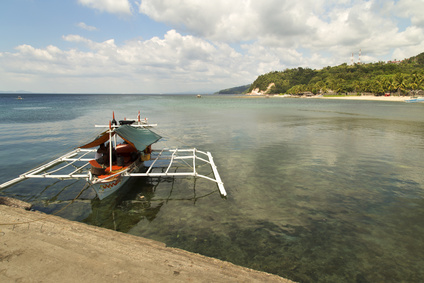 Almost all similar lists online feature Anilao, so we figured we'd clear some misconceptions about this one while we are at it. Unlike what you will read on most websites, the beach itself in Anilao is actually quite bad. It is very rocky and narrow, and really not a good place for people who want to lay on the beach and relax.
Anilao is one of the first diving hotspots in the Philippines and was very popular back in the day. That's why many agents recommend it – either by force of habit or because the tourism industry there is more matured and it's easier for them to do business over there. For us, the priority is to send you the right place and it doesn't matter how much work we have to put into it!
With all that in mind, Anilao is still a nice stop for certain type of travelers. The diving here is excellent, and very well suited for beginners. Dive shops have a long track record and are very professional, and there's also a wide selection of accommodation, even if most of it is lower tier such as hostels and dorms. So, if you are interested in diving and plan to visit Batangas either way, it does make sense to prefer Anilao or perhaps combine a few nights there with a later stop to a nicer beach nearby.
Subic Bay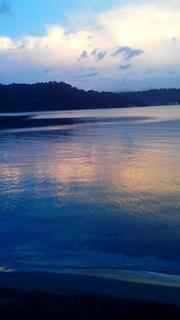 Subic is very similar to Anilao in many ways. Located less than 2 hours north of Manila, it offers a small collection of beaches and a good spot for a short vacation. While Halfmoon beach is pretty nice, again this is a place where beaches are not the most amazing you'd see. The beaches here are mostly covered by rocks and small pebbles while the water isn't crystal clear all the time, due to the heavy boat traffic the bay enjoys.
So why go to Subic you might ask? There are 2 main reasons to do so. First, it's one of the best places for wreck diving and is second only to Coron in that regard. If you really want to try wreck diving but only have 1-2 days to spend, you can even visit Subic as a day tour from Manila and don't have to spend the night. Secondly, it's very close to Clark airport, making it an ideal stop for people returning from the northern parts of Luzon. You can rest in Subic for a day or two before flying to the islands out of Clark – and you won't even have to go back to Manila again.
Subic bay is a very popular tourist destination which means there are many different hotels to choose from at varying levels. It Is also possible to stay in Subic and do the Mt.Pinatubo tour and in fact most of our Subic packages offer just that.
Anawangin Cove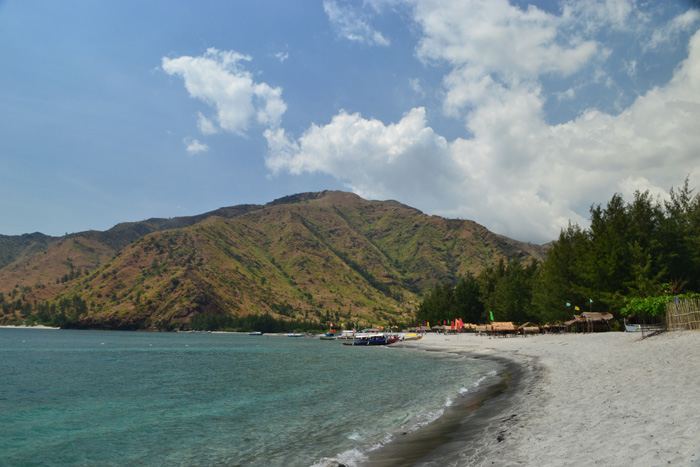 There's an argument to be made that Anawangin Cove is actually one of the best beaches in the entire country, if not the most unique at least. Transformed in the wake of Pinatubo's violent eruption back in 1991, the landscape over at Anawangin is truly remarkable. If you are fan of nature, and looking for a one of a kind experience, then this might be the perfect choice for you.
The cove is located about 1 hour drive from Subic (3 hours if coming directly from Manila), and can be visited either as a day trip or with an overnight stay. Keep in mind though that electricity or mobile signal are not available over there. This is a great place for camping if you are looking to distance yourself from everything and enjoy a stunning beach away from all the noise and commotion of Manila.
Nagsasa Cove
Nagsasa Cove is very similar to Anawangin and is only a little bit further out into the Zambales province. But that little extra distance makes a world of difference, as this place is absolutely empty most of the time. It's not like Anawangin is crowded or anything, but it is a pretty popular tourist destination overall, which means the chances of you being alone over there are close to zero.
If you want a private beach experience, camping beneath the stars and being one with nature, then Nagsasa is the better choice. It is much more romantic and peaceful, making it a perfect choice for couples who are looking for some adventure.
Hundred Islands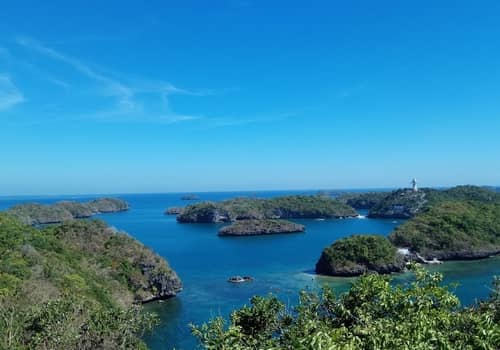 The Hundred islands national park is located off the coasts of Alaminos in the province of Pangasinan. It takes around 4 hours to get there from Manila, so this place isn't well suited for a day tour. Most people who come there stay at least 1 night. Hotels are quite basic, with 3 stars being the best available accommodation around. When you wake up it won't take more than 20 minutes before you are out of your hotel and in the waters – cruising between the many different islands this park has to offer.
Alaminos is very popular among local tourists because it is cheap and ideal for families. Its power lies in quantity over quality – none of the islands is amazing but they are each quite nice and unique enough to offer an overall fun and diverse experience. Snorkeling through the dead corals covered in volcanic ash is also very intriguing. While we do offer standalone hundred islands packages, we normally recommend combining a stop there with Pinatubo or Subic. This place is nice but not worth the relatively long trip up north just on its own.
Sabang Beach, Baler
Baler is very popular among locals for many good reasons. It is quite close to Manila, especially if you take a private car in which case it only takes 3-4 hours to get there. Once you are there, you get to enjoy a very nice and authentic beach experience for a very cheap price. Baler isn't fancy by any means, but it's also an advantage for people who want to absorb the local community and enjoy something a little bit different.
The main reason to visit Baler however is for surfing. Dubbed the original surfing capital of the Philippines, this place lost a bit of its appeal over recent years due to the rising popularity of Siargao Island. This has actually made it nicer in a way, as the tourists flock Siargao leaving Baler more peaceful and serene. The surfing spots here are world class and that's always a perfect way to pass the day.
Puerto Galera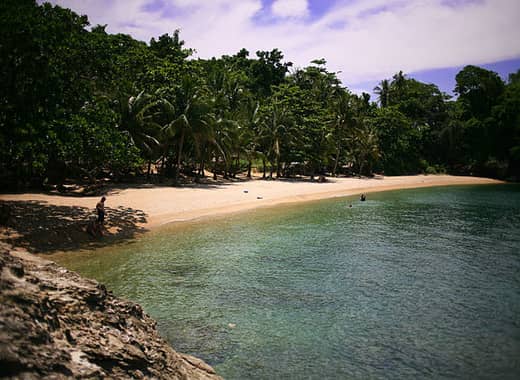 Puerto Galera is considered the ultimate getway from Manila. It takes roughly 4 hours to get from the city to your resort (drive to Batangas pier and then take a boat) but it's well worth it. Puerto Galera is on par with famous islands across the country in terms of the quality of beaches and the activities on offer. What really makes it stand out is the fact a vacation here would be much cheaper than flying out to any of those islands instead.
This place is very popular among local and foreign tourists alike. There are two main beaches here, White Beach and Sabang, and over 40 smaller beaches all around the place! There are also countless resorts for you to choose from, making this a very easy vacation spot overall. In terms of activities, the main highlight besides the beach is diving. Our Puerto Galera packages include everything you might need to enjoy a perfect time over there, so check those out if this seems like a viable holiday idea to you.
How does these beaches compare to other islands?
As mentioned, if you are strictly in search of the best beaches in the Philippines, then you won't find them in Luzon. There's no way around it – the most beautiful places are at smaller islands. There's a good reason why places such as Boracay or Palawan became such tourist magnets after all. Beaches such as Laiya or Anawangin Cove can compete in terms of beauty, but lack the added value of having amazing attractions and tours like those islands do.
As you can see above, most beaches take at least 2 hours to reach and sometimes more. Considering the fact you can fly to any island from Manila in less than an hour, you don't really save too much time by driving instead. This means that The upside to taking a beach vacation close to Manila is mainly the price. Even if you go to Laiya or Puerto Galera, which are the most expensive locations on our list, you will still save at least 20% compared to what it'll cost you to fly somewhere.
This means all these beaches are a good option for people who want a quick, simple holiday for just a few days. The fact you can easily reach all of these from Manila also means it's ideal if you want to be spontaneous. You don't have to book anything too long in advance, because you can be quite sure at least one of these places will still have available rooms at a hotel of your standards.