Batanes is the northernmost province of the Philippines, only 190 km (120 miles) south of Taiwan. This province has a unique landscape, a combination of tropical Philippines and New Zealand. It is also home to the Ivatan people, who only at the beginning of the 20th century started seeing themselves as Filipinos.
Batanes's popularity is constantly growing as a tourist destination. For decades this group of islands was considered by locals as "the paradise of the north", now gaining recognition among foreign visitors as well. Our agency will make a custom package for your trip to Batanes, so you can discover one of the Philippines' most unique islands.
Batanes Travel Essentials
Capital : Basco (8,600 pop.)
Flights : You have to take a flight when going to Batanes. There are several flights daily from Manila, by PAL express and SKYJET Airlines. Airfare is expensive and goes for an average cost of 160$ (8,000 PHP). Booking in advance is almost surely going to lower the cost.
Ferry : There is no ferry going to Batanes.
Getting around : Batanes's airport is in Basco, and only a few minutes' walk from the town center. Booking a private van through us is the most convenient way. For a more independent feeling, grabbing a tricycle is another option. If you feel brave you can rent a motorcycle or a bike. A small ferry will take you between islands.
Best time to visit : February to June is the best time to visit Batanes. February and March tend to be more pleasant, with a cooler temperature yet plenty of sunny days.
Attractions : Nature, traditional culture, eco-tourism, hiking
Travel Tips : Bring warm clothes, because it can get cold and windy. Try the local cuisine, flying fish is delicacy, and seafood is very cheap!
Local festivals and holidays : There are several fiestas you shouldn't miss if you get the chance. the Kulay festival (second week of April) celebrates the local culinary traditions. The Vakul-Kanayi fiesta on 25th -27th of April, the Bayanihan/Payuhuan occurs for five days every June, and the Palu-palo on every first week of August celebrates the islands' history.
How to get there?
The only way of reaching Batanes is by taking a flight to Basco. PAL Express and SKYJET are flying several times a day from Manila, but the tickets are very expensive – around 8,000P ($160). Luckily, now there's a much more affordable option – flying to Batanes out of Clark Airport in Pampanga.
Philippine Airlines recently opened a line between the 2 places with daily flights (besides Tuesday and Thursday). airfare starts at 2,914P ($60) and the flight leaves at 11:45am and lands in Basco at 13:30pm. This is the cheapest it has ever been to get to Batanes, and it makes the travel to Clark worthwhile. Either you fly into Clark or take a bus/taxi from Manila.
Buses to Clark leave daily from the Philtranco terminal, EDSA corner, Apelo Cruz St. Pasay City. There are 3 trip a day: 06:30am, 11:30am, and 20:30pm, and the ride is 2.5 hours long, but can be even longer because of traffic. Since you'll need to be in Clark at 09:45, you should take the earliest bus, so you'll most likely avoid the traffic anyway.
What To Do In Batanes?
This north-most archipelago of the Philippines is also the smallest, made out of just 10 islands; the most scarcely populated with only 17,000 people; the most remote and by far the windiest province in the country. All these factors shaped Batanes to be very different from mainland Philippines.
While staying in Batanes we recommend you visit all three inhabited Islands, exploring all they have to offer. Taking a guided tour is advisable for a hassle free experience. Moreover, a local guide will ensure you'll get a glimpse into Batanes's secret gems. Maximize your stay and let us book some tours for you in one of the province's main islands.
Admire Nature
Being the windiest part of the Philippines, the wind played a key part in shaping the landscape. Nowhere in the country will you find grassy green sloping hills and mountains, which resembles a tropical version of New Zealand. When you'll get around you will see a lot of cattle grazing on the hills, as it is the province's no. 1 export.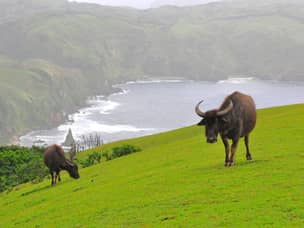 Batanes is heaven for nature lovers. Hiking and mountain climbing is a must, in destinations like Mount. Iraya (1,517 mt. 3 hours to summit), Vayang rolling hills and Marlboro Hills in Batan; Chamantad cove and Tinyan Viewpoint in Sabtang; and Rapang Cliffs, Torongan Hills in Itbayat; and much more.
Be sure to do some spelunking in the Torongan Cave, and explore the beautiful beaches and lagoons in the Islands. Morong Beach, Diura Beach, Homoron white beach, the Spanish Lagoon and the famous Valugan Boulder Beach are only a few of the amazing beaches you'll find while exploring these islands.
Batanes has a lot to offer, so take a guide with you for at least parts of the islands, to make the most of your stay. If you feel like you want to visit the uninhabited islands for a truly secluded atmosphere we can arrange for an island hopping tour for you.
Get Familiar With Local Culture And History
The Ivatans are descendants of the first people to populate this archipelago. They were the first Austronesians to migrate to the Philippines from Formosa. The Ivatans only started to feel affiliated to the Philippines relatively late, and due to the provinces remoteness, it was very difficult to control and colonize this province. That's why the locals managed to preserve their indigenous traditions and lifestyle.
When exploring Batanes, you'll notice that their traditional houses are different from the rest of the Philippines. The typical Bahay Kubo is built from bamboo, while houses here are made of stone to withstand the rough winds. The village of Savidug Barrio is an excellent example for stone building. The village is made almost entirely from traditional stone houses.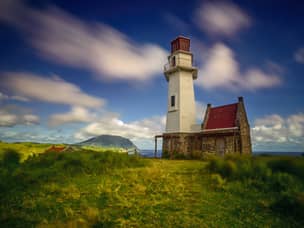 Savidug also has the most beautiful remains of the Idjangs, the ancient Ivatan settlements. These were built on the mountains' summits, and used as fortresses in times of need. Also be sure to check Songsong out, as it is a traditional village completely deserted on 1950 due to a tsunami striking it.
Another famous landmark of Batanes are the lighthouses in the three inhabited islands. They are all picturesque in a way suitable for postcards. The Basco lighthouse is in the charming Naidi hills, just outside of Basco town. It is built on the remains of the old lighthouse, near some WW2 ruins. The other two lighthouses are the Tayid Lighthouse (in Mahato, Batan) that you'll notice while in Marlboro Hills, and the beautiful Sabtang Lighthouse, best viewed from the nearby port. All of them are open to tourists, and provide a great viewpoint of the islands.
Batenes was the first American soil the Japanese Imperial Army conquered on WW2. Despite being a strategical point, after securing Manila this archipelago was left alone. Regardless of that, the Japanese army built refugee tunnels for their forces in Tukon Hills. The Dipnaysupuan Tunnel is a must see destination for visitors in this area.
Eco-Tourism in Batanes
Batanes is a great destination for eco-tourism. The community is a sustainable one, with the islanders producing most of their food for consumption. Being isolated from the mainland for so long helped them grow a very independent culture. They have never been a significant participant in the larger market economy of the rest of the Philippines.
There are no tourist district here, so when you visit you get intimate with the local culture. You can go as far as living in their traditional stone houses, as some are open to home-stays. Participating in the local daily activities, like living with local families, farming, trying the local cuisine is also possible. Living among the Ivatans is a great way to help the local culture preserve itself rather than being subject to change.
We can help you integrate eco-tourism tours in your Batanes trip, or design a full travel packages focused around eco-tourism, and make sure it includes a stop in Batanes.
Is Batanes the best place for my vacation?
Still contemplating whether you should visit Batanes on you vacation to the Philippines? We created this quick comparison to help you decide. It will help you better understand what Batanes offers, by comparing it to other popular destinations in the country. Batanes is very unique, and a visit there isn't for everybody, so we want to make sure it matches your idea of a perfect holiday.

Average price per day :

60 USD

This price includes: Airfare, Accommodation, Tours and Living costs.

Ease of reaching : Easy but expensive

Accommodation options

: 1 to 3 stars

Best time to visit : February to June

Main attractions

:

Nightlife : Almost none

Suitable for : Adventure, Eco-tourism
Average price per day :

60 USD

This price includes: Airfare, Accommodation, Day Tours and Living costs.

Ease of reaching : Easy

Accommodation options

: 3 to 5 stars

Best time to visit : November to May

Main attractions

:

Diving
Island hopping
Chocolate hills

Nightlife : Relaxed

Suitable for : Romantic, Family, Groups
Average price per day :

80 USD

This price includes: Airfare, Accommodation, Day Tours and Living costs.

Ease of reaching : Moderate

Accommodation options

: 1 to 5 stars

Best time to visit : November to May

Main attractions

:

Diving
Island hopping
Private beaches

Nightlife : Only during high season

Suitable for : Romantic, Adventure
Batanes is great for adventurers, who are looking for something special. Getting here is simple as the only way is to take a flight, but these are more expensive compared to most destinations in the Philippines, including El Nido and Bohol. It also offers different attractions than most islands, since the landscape is so different. Diving and island hopping aren't a highlight, and it's more about inland activities.
Special Batanes Package Deal
Customized by our experts for your specific requests. All packages include:
Best Accommodation on the island
Group tours and attractions
All transfers and logistics
VIP service throughout your trip
Limited time offer : Rates as low as 50 USD a day!
Bohol and El Nido on the other hand offer exactly what tourists to the Philippines look for: diving, beach resorts, island hopping and such. Batanes also has beautiful beaches, but they can't match those of Bohol and El Nido which are perfect. Instead, Batanes offers an amazing landscapes in the shape of green hills and mountains, distinct looking beaches, picturesque light houses, and traditional villages unique to this province.
We recommend visiting Batanes to people who plan a longer vacation, people who live in Manila or other parts of the Philippines, or who aren't first timers to the country. If you want to include this distinct destination in your itinerary, contact us for booking or free advice.
How Does Batanes Fit Into Your Travel Plans?
Batanes is a very remote destination. There is no way to get there from the mainland other than taking a flight from Manila. It stands as a standalone destination for tourists, which you can add to any of our usual vacation package and combine with other destinations.
If you love getting up close and personal with nature, local culture and people, and want to see a different side of the Philippines, Batanes might be just for you. Make sure you have enough time for it, because less than three days will not be close to enough. If you want to make Batanes a part of your travel itinerary, let us know so we could incorporate it in the best way possible.
6 Comments