The Hundred Islands national park is slowly recovering from the disastrous typhoon which hit the Pangasinan province in 2003. Tourism to the area took a major hit, even though the beautiful islands remained relatively unscathed. Luckily, this beautiful place is blooming again – hotels are springing up and tours become more frequent.
Only 5 hours away from Manila, the 100 islands tour is one of the nicer getaways from the city. Day tours are not recommended, and it's better to book an overnight package. Our hundred islands tour package includes transfers, hotels and resorts, as well as personally designed tours and attractions. The hundred island is an amazing attraction, perfect for couples, families and small groups. The area offer a solid mix of attractions and your whole tour package would be very reasonably priced.
Pangasinan Travel Essentials:
Location : Alaminos Municipality, Pangasinan province
Flights : Non available – take a flight to Manila or Clark, then proceed by bus.
Bus : Manila buses leave from Cubao and Pasay and take betwen 5-6 hours to get there
Best time to visit : During the dry season – January to May
Attractions : Island hopping, snorkeling, kayaking, local foods, caves.
Extra tips : Kayaks cost 750 Pesos for the whole day – and will allow you to explore the whole park on your own. If you prefer camping over hotels, we'll help you arrange a tent and other camping gear.
What to do in Pangasinan?
Our Hundred Islands tour package covers all the main attractions in the area. There are 123 island and islets to explore, and island hopping tours are fully customizable. It's better to plan ahead, but you can also speak to the tour operators once there. They'll help you plan an itinerary packed with adventure and beautiful sights.
Other than that, there a few other things to do around the province. If you decide they are worth your time, update in advance and we'll help you plan an itinerary. If you can afford to spend more than a day there, it's probably better to take two different island hopping tours than searching for activities in Bolinao and Dagupan.
The three main Islands – a cornerstone in most island hopping tours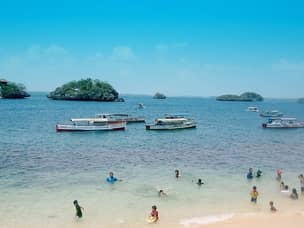 Governor's island is the first of the main islands and it stands out for two main reasons. It's the only island offering accommodation to its visitors – a lodge can be rented for 100$ a night. Secondly, the island also provides the only vantage point, from which you can enjoy a panoramic view of the whole area.
It's a long 250 steps climb to the top, but it's worth it for the spectacular view. Once you get there – you'll understand why the long trip from Manila was worth it. If you wish to sleep on the island, let us know in advance since availability is limited. Otherwise, you can always set camp at one of the island's beaches instead.
The second popular island is Children's Island – which is probably the best location for families. Its shallow waters and clean beaches are the perfect playground for children, while adults can bask in the sun and relax. The island also has some picnic tables you can rent for the day, and cottages are available for overnight stays.
Lastly, there's Quezon Island – the best place to go snorkeling. It's also another great place for families, as its shallow waters are teeming with marine life. Quezon island has the most developed camping areas – so if you wish to spend the night in a tent this is the best place to do so. Snorkeling gear can be rented for 200 Pesos, so there's no need to bring it.
Hundred Islands Hidden Gems and Secret attractions
For those of you who prefer nature and wildlife, the northern parts of the park are the place to go. This is where you can meet some of the most exotic inhabitants of the Hundred islands. Above all, make sure you visit Monkey Island – if you are lucky enough you might catch one of the shy monkeys who live there. The island is also a great place for snorkeling, kayaking and swimming. The only downside is this island doesn't have a real beach to lay at.
Just near to Monkey Island is Century island, which is a great place to hike in nature. This location is famous for its high dome cave which features beautiful rock formations and houses a large population of bats and snakes. If bats are your thing, why not visit Bat island as well? It's right next to Governor's island and known as the best place to watch these creatures, even during daytime.
Another great place which isn't far from Governor's island is Virgin island. This place has white beaches and a relaxing atmosphere, with 2 interesting twists that turn the whole experience into a wild adventure. You can reach the island by using a 546 meters long zipline from the peak of Governor's island – the longest zipline in the Philippines. Secondly, there's a helmet diving site nearby – where you put on a helmet and walk on the ocean floor. It's not as exciting as Boracay's helmet diving, but still a really fun activity.
For private beaches on smaller islands away from the tourists, there are 2 which are highly recommended. Romulo Island is nothing more than a white sand beach, while Cuenco Island is slightly bigger and also has a nice cave you can explore.
Lastly, there's Marcos Island – one of the most special places to visit during your time here. It's a great island which offers all the standrard attractions, as well as a unique cave called Imelda Cave. You'll go through a hole and into a a stunning cave with a deep swimming pool at its bottom. You can jump into the pool from cliff diving platforms at varying heights – between 12 and 20 feet (3.5 to 6 meters).
Other Pangasinan Attractions and Activities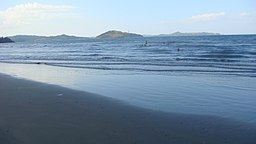 If your'e looking to spend a night near the beach, Bolinao is the best choice. This is where the best beach resorts are found, and it's close enough to Lucap Wharf, from which tours to the Hundred Island depart. On top of that, you could visit the Bolinao enchanted cave, a stunning underwater cave with a natural spring pool in it. Visiting the swimming pool could be a really refreshing end to a long day of island hopping outdoors.
Other great beach locations are Anda and Dasol. At Anda you can snorkel and kayak, and the beach itself is very nice. Another recommended activity is the boat ride to nearby Coral island – one of the best diving spots around. Dasol, on the other hand, is on the opposite side of the Hundred Islands, nearly an hour drive away. You can do a completely different island hopping tour here, with the main advantage being you'll get to avoid the crowded tourists spots. Alternatively, you can just stop by Labrador – it's between Alaminos and Dagupan and only a short drive away for either. Not much to do over there, but the beaches are amazing.
For those who wish to combine some mainland attractions with their island hopping and beach bummin' tours, the best choice is Bolinao. There are no less than 3 different waterfalls along the Bolinao river – appropriately named Bolinao Falls 1,2 and 3. The first one is the impressive, but they are each worth a visit and they all have a nice swimming pool you can have fun in. Combine that with a visit to the enchancted cave and you are all set for a day full of adventure.
How do the Hundred Island Fit into my travel plans?
The hundred Islands at Pangasinan offer one of the best island hopping experiences in the Philippines. Being so close to Manila and providing cheap accommodation are huge advantages as well. It's a great destination for large groups and families, who prefer to save on expenses and will likely spend most of their days outdoors anyway.
Taking the Hundred Islands package can be done in several ways. First, you can always visit it as a day tour out of Manila – you'll have to leave the city at midnight and take the night bus, but the upside is you'll witness the beautiful sunrise in Alaminos. Another option is booking an overnight tour package, allowing you to explore the area more throughly. Lastly, one of our most popular packages is the 3d2n tour of Pangasinan and Mt.Pinatubo – allowing you to visit 2 of the most special places in Luzon island, and experience each of them fully.
12 Comments