Bucas Grande island is also known by the name Socorro. It's a one of a kind island, with many small islands and islets which are very densely vegetated. It is home to many breathtaking wonders, such as hidden lagoons and caves, as well as strange animals such as schools of sting-less jellyfish you can swim around.
Socorro is a perfect destination for both day trips or longer stays. It really depends on your location, time and preferences. It is ideal for romantic vacations, and also for small groups. Bucas Grande is easily one of the most beautiful places in the Philippines, and should be on the must-see-list of anyone who travels to Surigao Province area.
Socorro Travel Essentials:
Location : Siargao Island, Surigao del Norte province.
Flights : Closest airports are in Surigao City and Siargao Island.
Boat : There are ferries from Surigao city, Hayanggabon Port, and Dapa in Siargao.
Getting around: Getting around Bucas Grande is done mainly by small boats.
Best time to visit : March to November is the dry season and the best time to visit.
Attractions : Nature, lagoons, caves, Sohoton cove, stingless jellyfish.
Extra tips : Renting a private boat is the most convenient and flexible way to reach and explore Bucas Grande; it's better to bring cash and not rely on credit cards and ATMs.
What to do in Bucas Grande?
In this section we'll present the attractions waiting for you. Choose your preferred activities, and we'll build your itinerary accordingly. Based on your selected items, we'll advise whether a day tour is enough, or a longer stay is needed.
Sohoton Cove Tour Package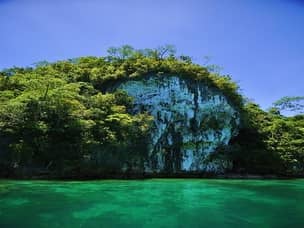 When you enter through the small hole appearing only during low tide, you feel like sailing into a realm of magic. It's a natural maze of islets inside, scattered in the crystal clear water. You might also see giant fruit bats flying above, or some stingless jellyfish floating around.
Sohoton Cove is only accessible during low tide, when an entrance appear below the tall cliffs. When visiting you have to register in the tourist center and be accompanied by an experienced local guide.
While you explore around, the guides will take you caving in Magkokoob. You'll climb and crawl inside, reaching the exit point to jump from a 5m high platform back into the water. Another stop in Sohoton is Hagukan Cave that you must swim into, and see it glowing in a mysterious way. The trip to Sohoton takes 2 hours, as you must leave the same way you entered, while it's still low tide.
Tojoman Lagoon Day Tour
The jellyfish sanctuary is as special as Sohoton. The critters scientific name is Mastigias Papua, but a more colloquial term is the Spotted Jelly, Lagoon Jelly, or Golden Medusa. Their color range from red to brown, with white being less common. The jellyfish don't sting and feed on plankton. They live around Bucas Grande all year, but the best time to see them is between March and June, when they're in great number.
In the sanctuary you will be guided by small paddle boats. Motorized boats aren't allowed in the calm cove where the Jellyfish live as it harms their population. You'll sail around thousands of these creatures, and can even touch and hold them for a very short period of time. Be sure to listen to your guides orders so you won't hurt them. Swimming around Tojomon Cove is prohibited, as these are sensitive creatures and protected in this area.
If you want to swim around these animals you will get the chance to do so responsibly. Tojomon is the place where they're mostly grouped, but you will encounter them in other places while snorkeling Bucas Grande. Just make sure to be responsible, don't wear sunscreen while swimming with them as it is harmful to them, and don't harass them.
Caving, waterfalls and island hopping tours
On top of the caves in Sohoton, there are also the Crystal, Bolitas, and Tundan caves. Crystal and Tundan are both open ended caves and a relatively easy trek. Crystal Cave earned its name because many of its chambers and formations are glowing when being lighted upon, as they are spotted with crystals. The Tundan Cave experience is a bit more challenging because you'll have to crawl upon entering it.
Bucas Grande Tour Package
Customized by our experts for your specific requests. packages include:
Transfers from Siargao
Private or group tours
VIP service throughout your trip
Limited time offer : Rates as low as 100 USD a day!
Bolitas Cave on the other end is close ended and challenging. Its chamber is small and the passage can only fit one person at a time. You'll have to squeeze in, climb and glide here, so expect a really good spelunking experience.
Tiktikan Lake is a short hiking distance from Bolitas, and if you are around it is definitely worth a visit. The lake is tranquil and surrounded by forested cliffs. You can paddle around, while enjoying the view, and there are also some huts where you can rest, or even spend the night at.
Island hopping in Bucas Grande is different than the standard in the Philippines. The islands around are small, and the beaches are secluded and hidden. It's common to spice the island hopping tour with some adventure. You can combine it with Magkahuyog and Kanlanuk Waterfalls.
Magkahuyog is a seaside waterfall that you'll see even before getting off the boat. You can alternate between bathing in salt or fresh waters, and gazing at the fall from the ocean. The second fall is a 3km trek from Kanlanuk Bay. When you'll reach the falls, you could climb and jump from the top of it to the pool below, or just relax in the water.
Those who wish to get a great panoramic view of Bucas Grande in a fun way, should head to Kapihan Nature and Adventure Park. There are several types of zip lines you can ride while watching the view.
How does Bucas Grande fit into my travel plan?
A visit to this magical place is suitable for people who plan to make a trip to Siargao or Dinagat, including it in your itinerary is a very good plan. We can either build a Bucas Grande tour package for you, or a full Surigao del Norte package if you like. If you're still feel puzzled, just contact us, and our experts will take care of you.
23 Comments