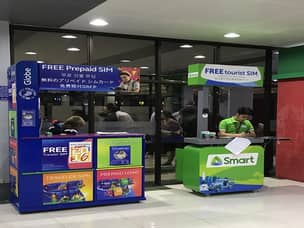 One of the most frequent questions our clients ask us is what's the best way to get phone signal in the Philippines. Even if you are coming for a fairly short vacation, it's important to be able to communicate with your friends and family back home. More importantly, you'll need to be able to contact us in case something goes wrong so we can provide immediate help.
The solutions available to you are basically two – either get a local sim card or purchase an international package plan and use it with your old number from back home. Getting a local sim card has many advantages and hardly any downsides to it. The only real issue is that your original number will be unavailable – unless your device supports dual sim functionality.
How to get and use a local sim card
There are two major mobile operators in the Philippines – Globe and Smart. There's a long and heated debate over here which one is better, but the general consensus seems to be Globe has the stronger signal and better coverage overall. This is especially true if you are going to spend time in Manila, Boracay and Palawan.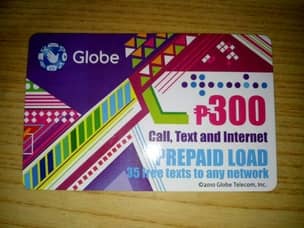 Moreover, since we all use globe for our personal phones, it is generally more convenient if our clients use the same provider. It'll make it easier for us to stay in touch with you during non-office hours and can make the difference between a 5 minutes delay and an hour-long one if you can't find your morning pickup.
Globe sim card are free and provided to tourists at Manila's international airport terminals 1,3 and 4. If your flights land at Terminal 2, you can either wait and get the sim card when you fly to the islands (terminal 4 is used for domestic flights) or go directly to any major shopping mall and get your sim card there instead. The globe stand is very visible at all airports – it is blue colored and usually located right next to the exit from the terminal.
There are 8 different packages to choose from, all offering unlimited texts to all Philippines networks and unlimited calls to other Globe devices. The difference between packages is only in the amount of roaming data you are getting. The most basic package costs 600 Pesos and only has 1.5GB of data, so it doesn't make much sense to go for that one.
The next package costs only 200 pesos more and there you will get 6GB. From our experience this is more than enough for most tourists, especially if you won't stay here for more than a week or two. If you want to be extra safe, pay 1000 pesos and get the 8GB package instead. Bigger packages going up to 26GB (2500 pesos) are available, but this are really not necessary since you'll have Wi-Fi when in hotel and when going on tours in the wild there's a good chance you won't have any signal anyway.
Alternatively, you could get cheaper packages that only provide internet, without texts and calls to local networks. These are also offered at the airport, but since packages with texts and calls are so cheap it doesn't make much sense to skip it.
If you didn't bother with texts and calls to local networks from your cellphone, you can always load this option later on during your trip. Simply go to any 7/11 or small cantina and tell them you need "load for Globe" – they will know how to help you. These load plans work on a daily basis and cost between 30 and 50 pesos per day depending on the plan you choose. After you load your phone with credit, make sure to subscribe to a daily plan immediately – otherwise any use of your mobile will eat away your credit very quickly. Before you load the card, make sure to turn off mobile data.
Calling home from the Philippines
Even if you do get a local sim card, which is highly recommended, there might be times you'd want to contact people back in your origin country. The simplest way to do so is by using an app such as WhatsApp, Viber, Skype and Facebook messenger. Our agents use these frequently and the signal and audio quality are excellent – we never had a problem speaking to clients even if they were overseas.
These apps are connected to a specific device and phone/account number, so you can install them prior to arriving and keep all the contacts even if you switch to a local sim. The only downside is that people won't know your new number so they can only contact you via these apps. If you'd like to be able to make long distance calls and receive SMS messages from home – getting a prepaid international mobile package is the only solution.
To arrange such a package, you will need to contact your cell provider directly. These are not available for all countries and pricing can vary dramatically. Keep in mind this solution is far more expensive and prone to technical difficulties so we don't recommend it unless it is absolutely imperative for you to be available for international calls throughout your entire trip.
How to stay in touch with us
As mentioned, the most convenient way to stay in touch is through messaging apps such as WhatsApp or skype. If you are at your hotel or in the airport you will have access to Wi-Fi so these apps should be sufficient. Once you book through us, the agent escorting you throughout your vacation will give you his personal mobile number – so you can always text him with any questions or if a problem arises.
In case of emergency, the safest bet is to immediately call us and that is why having a local sim is so important. Of course, if you are in your hotel you can ask the staff at the front desk to make the call for you, but sometimes that is not an option. We do support international calls as well and can call you if needed, but that is far less convenient.