As mentioned, the main attraction is the whale sharks. Oslob is one of the best places to see these magnificent creatures up close and in a natural environment. A standard trip to this place can be from a minimum of 1 night if you will be coming from Bohol, or at least 2 nights if you will be coming from the city of cebu or any similar distance of cebu.
Whale Sharks Encounters
Swimming and snorkeling with the whale sharks is one of the
most unique and exciting attractions in the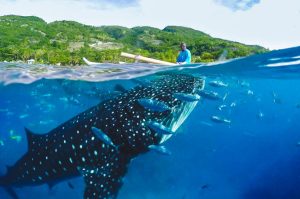 Philippines. This alone makes the trip worthwhile. With that being said, there are several limitations to this activity which you should really take into consideration. While spotting the whales is very common, it is by no means guaranteed. For that reason, some people choose to book two excursions instead of just one.
The tour is regulated and very eco-friendly. First of all, they set a limit per day and depending on the appearance of the whale shark if it's only 1 or 2 or more. If only one whale is spotted, you might be forced to stay at the pier and wait your turn. In such cases, they try their best to alternate between boats so that everyone has a chance to spend at least some time at sea.
Secondly, whale sharks are not always spotted in the wild. You should also be mindful of what you put in the water – for example it's not ok to wear sunscreen/ sun block before swimming with them as it can affect them.
The tour is suitable for anyone who knows how to swim or not as life vests are provided and mandated. The whales swim as they like and while they are not the fastest animal out there, you can't really follow them around if you have to wear a life vest. The minimum age is generally around 12, but younger kids can do this activity as well if they are good swimmers and properly supervised by their parents/ guardians/ and local guide. Our tour package includes transportation, boat with a guide, all fees, & common snorkeling gear (its best if you have your own snorkeling gear/ equipment).
Alegria Falls Canyoneering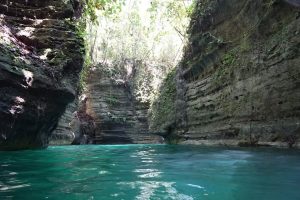 Alegria is another place located in Cebu, particularly located on the west coast of South Cebu with about 40 minutes travel time from Moalboal or 3 hours from Cebu City. This place offers a heart pumping, thrilling activity that can also be combined with Oslob, Whale shark watching in 1 day. So if you have a spare day to spend in Cebu before transferring to another destination, you can do this activity. Canyoneering is a type of mountaineering that involves travelling in canyons using a variety of techniques such as walking, scrambling, climbing, jumping, abseiling, and swimming and in this place the activity takes about 3-4 hours to complete the course.
The tour is suitable for anyone who knows how to swim or not, because life vests are provided and mandated. However there is an age restriction as the activity can be quite extreme. Tourists must simply be healthy to do this tour, they must be of 15 yrs old and above, but kids 15 yrs old below up to 7 yrs old requires an approval from the Municipal of Allegria and our local guide will be the one to talk to them. All these measures are for the safety of everyone and must be observed.