Choosing the right trek usually depends the most on how much time you have. The 3 days and 2 nights camping tour is the most recommended, but single night treks are also a lot of fun. Keep in mind these are more suited for people who are in good shape. You don't have to be a pro athlete but should be capable of walking in the sun throughout most of the day.
Specifically, the mountain treks involve quite a bit of climbing and range from medium to hard difficulty level. Prior experience in hiking and trekking is highly recommended. In terms of price, all of these are quite similar with the exception of the survival tour. That tour costs a bit more since it is exclusive and quite demanding from our guide.
Basic Jungle Survival Course
By far the most rewarding tour, but also one of the more challenging ones. The standard tour package includes 3 full days of trekking and outdoor activities, with 2 nights of overnight camping in the jungles of Cebu. The trip can be shortened to just 1 night or extended for up to a week, so contact us for special requests and we'll see what can be done.
The expedition takes you to the Babag mountain range, a rural area full of wildlife and stunning landmarks. During your time you will be trained in various aspects related to outdoors survival, such as nutrition, psychology and survivor mindset, water sanitation, using a knife, survival tool making, preparing traps and snares and setting up a fire and campsite. The tour also includes one session of nocturnal hunting.
Cebu 3D/2N tour package Itinerary:
Day 1
pickup from your hotel in Cebu at 06:00 AM and meetup at Guadalupe Church. Start of trek. Arrive to camp site at 9:30 AM. Day consists of setting up camp and start of survival training with lectures on topics detailed above.
Day 2
Full day at the Damazo camp site with lectures on survival as well as practical experiences.
Day 3
Wake up at 6am and prepare breakfast. Followed by training in navigation and adapting to local weather. Break camp at 11:00 and begin the trek back to Guadalupe. Stop for lunch along the way - estimated arrival to Cebu at 17:30 PM.
This guided tour includes pickup and drop-off at your hotel. A tent will also be provided by us. You should make sure to bring at least 2 liters of mineral water, some snacks and energy bars, extra clothes (especially socks!) and headwear. Price for this tour starts at 7000 PHP for a single person or 12800 for a couple. Larger groups enjoy further discount, please contact us for exact rates.
World War 2 Landmarks Overnight Trek
This is another interesting tour, taking you through the jungles as you explore the local wildlife and visit various sites that had significant importance on Cebu's culture. The main highlight of this trip are the guerrilla camps and underground tunnels used by Japanese fighters during WW2.
On top of that, you will traverse the forested ridgelines across the Babag mountain range and enjoy wonderful scenic views. Our knowledgeable private guide will educate you on local plants and bird watching is also a major theme throughout this adventure.
Cebu WW2 Landmarks Trek Itinerary:
Day 1
pickup from your hotel in Cebu 06:00 AM and meetup at Guadalupe Church. Start of trek. Arrive to camp site at 14:00 PM. Setup shelter and practice nocturnal hunting before making dinner.
Day 2
Wake up at 6am and prepare breakfast. Leave camp at 9am and begin the trek back, passing through Creek Alpha, Baskan and Banika along the way. Estimated time of return to Cebu is 15:00 PM.
Osmeña Peak Camping Tour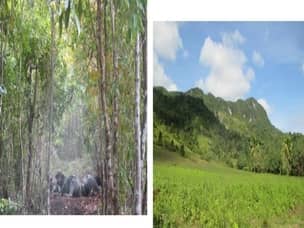 This is an overnight tour with pickup from Cebu city or Mactan. The tent is provided, and you should bring spare clothes, 1.5 liters of water per person, a hat and some sunscreen.
Osmeña peak is the highest point in Cebu and provides a stunning vantage point of the whole Visayas region. On days when the weather is good, you can even see neighboring islands such as Bohol, Negros and Siquijor. Hiking to the peak is fairly demanding and takes almost a full day to complete, but the view at the top is simply breathtaking.
Once there, you'll set up camp and spend the night at the summit. You'll enjoy breakfast watching the spectacular sunrise, before heading back. The descend is through the other side of the peak and you'll pass through Mantalongon valley where you can again enjoy breathtaking views of the Bohol sea. Our private guide will also stop along the way as much as needed for plant identification and bird watching.
It is possible to do this tour with pickup from Cebu or Mactan but that means you'll need to leave at 5:30am. For that reason, it's much better to spend the night before in Moalboal instead so you can an extra 2 hours of sleep in preparation of the long day which awaits you. The tent for camping is provided by us, and all you have to bring with you is 2 liters of water, some extra clothes and sun protection.
Osmena Peak Overnight Trek Itinerary:
Day 1
Meetup at Badian at 8:30am and start the trek from there. At 12:00 have a noonbreak at Saddle 4. Arrive to Peak at around 15:15 and setup camp.
Day 2
Wake up at 6 AM to prepare breakfast and watch the sun go up. Break camp and leave the summit at around 9am. At 12:00 you'll have a break at Mantalongon. At 13:00 leave for Dalaguete and then head back to Cebu from there. Estimated arrival at 17:00.
This is an overnight tour with pickup from Cebu city, Mactan or Moalboal. The tent is provided, but you should bring spare clothes, 2 liters of water per person, a hat and some sunscreen.
How To Include These Cebu Treks in Your Vacation
Cebu is a major tourist spots and a key transport hub in the Philippines. For these reasons, it is both very easy to include it in your itinerary, and also very recommended. The land-based attractions offered in Cebu provide a good diversity to your trip which will otherwise be comprised mostly of island hopping and diving.
Cebu is also where we offer one of our most popular tours – the Kawasan Falls canyoneering. This, combined with any of the tours above, will make for a perfect tour package for anyone who loves adventure and the outdoors. Lastly, you can also check our complete hiking based vacation packages and incorporate any of our Cebu treks in them.