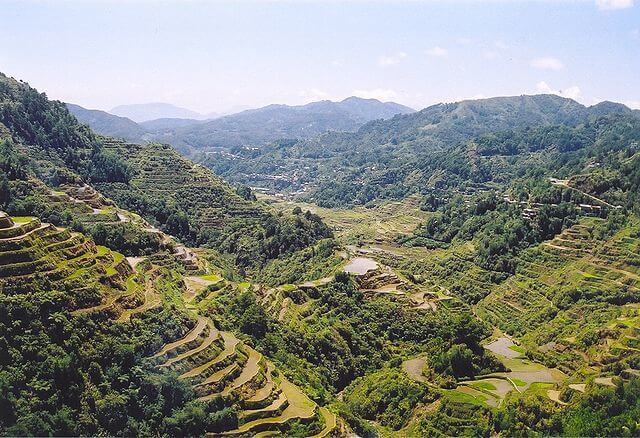 The main attraction in Banaue are the rice terraces themselves. However there are a few other things to do, and also a couple
of different ways to visit the terraces. Based on the time you have, and your personal preferences, we'll create the best itinerary for you.
If you don't like rough treks or you're short on time, it's best to visit the two main terraces, the one in Banaue Village where you'll spend your night, and another in Batad. Those two are the most beautiful ones, and therefore are more touristic. You
can also visit other sets of rice terraces in Mayaoyao, Hapao and Kiangan. Visiting each location will require a short hike that is suitable to everyone who's in decent health. Other great short trips are a visit to the Ifugao Museum, Tappiya Waterfalls, and the Awa Viewdeck in Batad.
If you like trekking there are more for you to do. Overnight or 2 nights / 3 days trekking is highly advised for those who want to experience Ifugao to the fullest. Not only you'll get to hike in spectacular mountain ridges marbled with numerous rice terraces, you'll also get to spend the nights in the Ifugao Villages, familiarizing yourself with their culture and habits.
Each of the tours and activities in this page can be booked independently if you're already in Banaue, or planning to get there on your own. Nonetheless, it's much better to book a whole tour package to Banaue for a much smother and better experience. We can include or exclude anything you'd like, to grant you a true VIP experience.
Banaue trip from Manila
For people who only have a limited amount of time, a short 3 days tour from Manila is the best way to visit Banaue and Batad. Since getting there takes between 8-10 hours, virtually one and a half days of your trip will be wasted on transportation alone. We make the drive as enjoyable as possible. We use new cars and vans, and also make sure to stop at the best places for panoramic view and food.
That being said, it is best to combine your visit to Banaue with other nearby destinations like Sagada. Not only it's a great place to visit, it will make the long way there much more worthwhile. If you have the time and the will you can even add Mt. Pinatubo to your package, and have one of the best trips Northern Luzon can offer.
Banaue 4D/3N tour package Itinerary:
Day 1 09:00 AM
pickup from your hotel in Manila. Overland trip to Banaue with a stopover in Dalton Pass. We'll also stop along the way for lunch, trying quality local cuisine.
Day 2
Visit to Batad Rice Terraces and Tappiya Waterfalls. Possible to visit the gorgeous village of Bangaan instead of Batad.
Day 3
Day trip to Sagada: Short 3.5 hour drive trip through the mountains with stopover in the Bontoc Museum. A guided exploration of Lumiang Burial cave, the Hanging coffins and Sumaguing Cave.
Day 4
Morning visit to Banaue viewpoint overlooking the terraces, and then an overland travel back to Manila. Estimated time of return, 7:00pm.
Inclusions : Air-conditioned car or van, local guides, 3 night accommodation in Banaue, breakfasts, environmental and entrance fees.
Not included : Lunch and dinner.
Price : Starting at 650 USD per person.
Day 4 in the sample itinerary above is optional. Meaning, if you want to go to Banaue without Sagada, your itinerary will end on day 3. As mentioned above, we strongly advise to visit Sagada as a day trip from Banaue, and that's why we present day 4 in the itinerary above. The prices mentioned includes a visit to Sagada as well.
Banaue Overnight Treks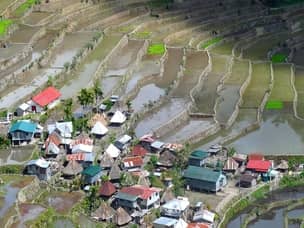 As mentioned above, overnight treks will allow you to experience the most out of your visit to the Ifugao land. Going through and staying overnight in the small villages is as close as one can get to the locals and their culture. You can choose between an overnight trek or the more popular option of 2 nights and 3 days, which includes one more destination and is much better paced.
All treks will start and end in Banaue. You'll be picked up in the morning of the first day from your resort by a local guide, and together you'll transfer to the starting point of the trek. You'll walk for about 4-6 hours each day. If you choose the longer trek, your first night's accommodation will be a native Ifugao house/bungalow, but in both cases it's a homestay style of hospitality. During the trek all meals and drinking water are provided.
3D/2N Banaue trek package itinerary:
Day 1 08:30 AM
Your local guide will pick you up from your resort. You'll transfer to the start of the Awan-Igid trail to Batad. After 4 hours of walking you'll reach Pula Village, where you'll spend the night in a native Ifugao hut.
Day 2
After breakfast you'll march for 5 hours, passing the village of Cambulo, eventually reaching Batad where you'll spend the night in a pension lodge. You'll also explore the rice terraces of Batad on this day.
Day 3
After your breakfast you'll visit Tappiya Waterfalls, and continue to the village of Bangaan, a tiny village surrounded by rice terraces. A tricycle will wait for you in Bangaan Village to take you back to Banaue. Estimated time of return 03:00pm-04:00pm.
Inclusions : local guide, transportation needed at the beginning and end of the trek, accommodation, environmental fees, meals and water, lockers in Banaue for your belongings, shower at the end of the trail.
Not included : Breakfast on day 1, drinks other than water, snacks.
Price : Starting at 160 USD per person.
Please contact us for longer trekking tours (including Mayaoyao Village) or a 4N/5D tour in northern Luzon, visiting Sagada and Kalinga as well.