The Banaue and Batad Rice terraces, also known as the Rice Terraces of the Philippine Cordilleras, are a UNESCO world heritage site, and one of the only remains of Filipino history before the Spanish colonial period. The terraces are one of the most famous attractions in the Philippines, usually incorporated into most vacation plans.
We offer this tour as a standalone item, which you can simply add to your wishlist. Our experts will contact you and help you build your entire trip according to your exact requirements. It is, however, advisable to visit the Banaue rice terraces as part of our Sagada package, so you can discover the entire area while enjoying the best rates available.
Discover the mountain experience of the Philippines, meet the Ifugao people in their villages, and climb these unique stairways to the horizon.
How to get to Banaue Rice Terraces?
where to stay?
Photos
Inquire
Getting to Banaue on your own is not a complicated task, but not an easy one as well. By booking the Banaue tour through us you will get a private/shared van departing from Manila, Making the trip both faster and much more convenient.
From Manila to Banaue, you should take the night bus from either Cubao or the University of Santo Tomas. Ohayami Trans, Florida Liner, and Coda/KMS are three good companies that offer the service. The bus takes around 9 hours to arrive, and leaves at 9-10pm, depending on the season.
Buses leave back to Manila at 6:30-7pm, and arrive there at 5am. Be sure to reserve your tickets at least one week in advance, because they do run out. When booking with us, we will do it for you.
From Baguio to Banaue, there are the Ohayami Trans 8 hour trip (leaves twice a day, 8pm and 9pm). KMS also provides a bus that takes 7 hours, twice a day (one at 8am, the second is at 9pm). There are also many other buses and vans that offer the same service from Baguio to Banaue, as it is a very popular route.
From Sagada to Banaue, it takes two rides – to Bontoc first, and then to Banaue. The Jeepneys to Bontoc leave from 6:30am until 1pm, and take roughly 45 minutes. The 2 hour van ride from Bontoc to Banaue leaves at 6:30am, 10am and 1pm, so make sure you will get to Bontoc at 12pm, so that you won't have to spend the night there.
Accommodation in Banaue is pretty basic, so if you insist on luxury it might not be the place for you. That being said, the cool mountain weather and the rustic lodges make most of the hotels and lodges pampering enough.
Go through our short but diverse list of hotels and choose the one most suitable for your liking. If you didn't find what you were looking for, contact us and we'll do whatever we can to assist you.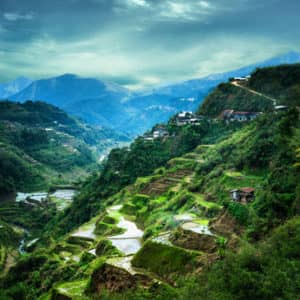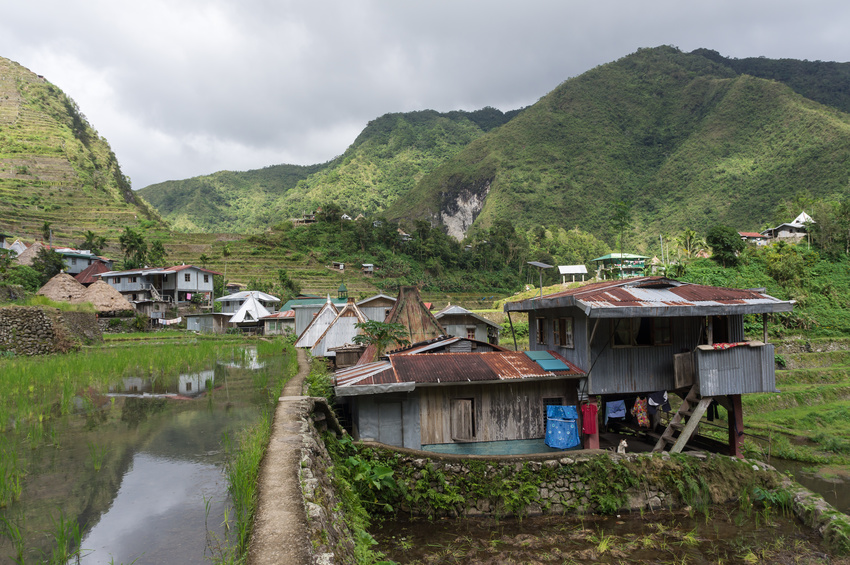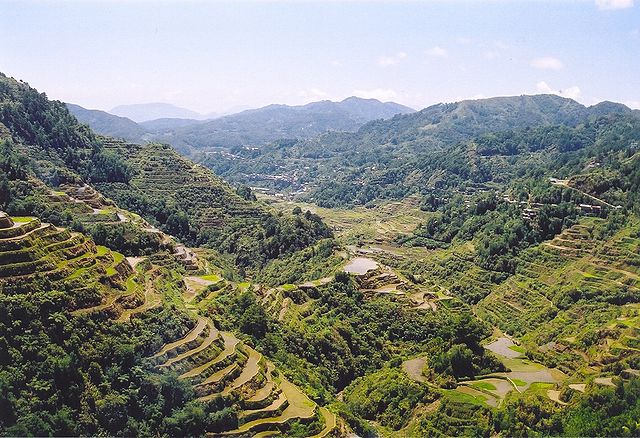 Philippine Rice Terraces essentials:
Location : Ifugao Province, northern Luzon, 1,200m above sea level.
Flights : There are no commercial flights to Banaue or any of the neighboring cities.
Bus : Night buses leave from Manila and Baguio. There are a few trips a day from Sagada too.
Best time to visit : The weather in Banaue is nice and cool all year around. The best time is during May to November when the terraces are green. July to August is the rainy season so it's better to avoid.
Attractions : Batad and Banaue Rice Terraces, Tappiya Waterfalls, Awa View Deck
Extra tips : Take a guide, bring cash, buy bus tickets in advance
History of the Cordillera Rice Terraces
When people talk about the Banaue Rice Terraces (sometimes spelled Banawe) , they usually refer to a cluster of rice terraces in and near Banaue. Batad Rice Terraces are considered the most beautiful and famous, and Batad is actually a UNESCO World Heritage Site, and not Banaue. Other than Batad, there are the Hapao and Hungduan Rice Terraces in that area.
The Ifugao Rice Terraces are dated to more than 2,000 years ago, in the pre-colonial era of the Philippines, and one of the few remains of that time. It was built by the Ifugao people, and believed to be built mainly by hand. It took a vast understanding of hydraulic irrigation systems to build these terraces, and was an outstanding feat at the time.
The terraces are in use to this day, and have been continuously from the time of their creation. The Cordillera Rice Terraces are an example of man's resourcefulness, and ability to be in harmony with nature.
What to do in Banaue?
The main attraction in Banaue are the Batad Rice Terraces. As said above, those are considered the most beautiful. In our opinion, all of the terraces in this area are spectacular, it's just that Batad has become more famous. Depending on your request we can take you to any of them, such as the Mayoyao, Hungduan, Kinakin, and more.
If you are into trekking, the Ifugao Province is an exceptional place to do so. If you want to restrict yourself to short day trips, there are many beautiful places the local guides we work with will be happy to take you to. Popular options include hiking to Tappiya Waterfalls from Batad and the Awa View Deck, where you'll get the best view of the Batad Terraces.
Longer treks are also available. For example, going from Banaue to Batad in the Awan Igid Trail, takes roughly 8 hours. It is best done overnight, in order to reach The Batad Terraces early in the morning, and explore the area around it.
Keep in mind to take your physical condition into consideration when trekking, and feel free to consult with us whether it's suitable for you or not.
How does the Ifugao Rice Terraces fit into my travel plan?
You can take the Rice Terraces tour from Manila, in a private van for maximum convenience and speed. Attractions in Banaue are limited, so we believe it is best to only spend 2 nights there. We also strongly advise you to incorporate your visit to Banaue with Sagada, another Northern Luzon retreat famous for itself, and make a mountain trip in the Philippines.
The Banaue rice terraces are one of the best trekking and camping sites in the country. There are however many other wonderful hiking spots you could consider visiting. We can help you build a full travel plan, focused on hiking and nature, tailor made to your exact wishes.